Vadim Kibardin – an artist, industrial designer, researcher, and craftsman – founded the KIBARDIN Design Studio in 2004 in Prague, Czech Republic. Under his namesake brand, Kibardin creates beautiful interior design pieces, including mind-bending furniture that examines the possibilities of recycled paper and cardboard in sculptural form. The KIBARDIN brand, which designs and manufactures everything from clocks to dinnerware and furniture to lighting, is represented in 27 countries worldwide and has been internationally exhibited, awarded, and celebrated by the design community, as well as was chosen by the expert council of Ambiente Frankfurt, the world's most important consumer goods trade fair, on the World's Trends 2021 list.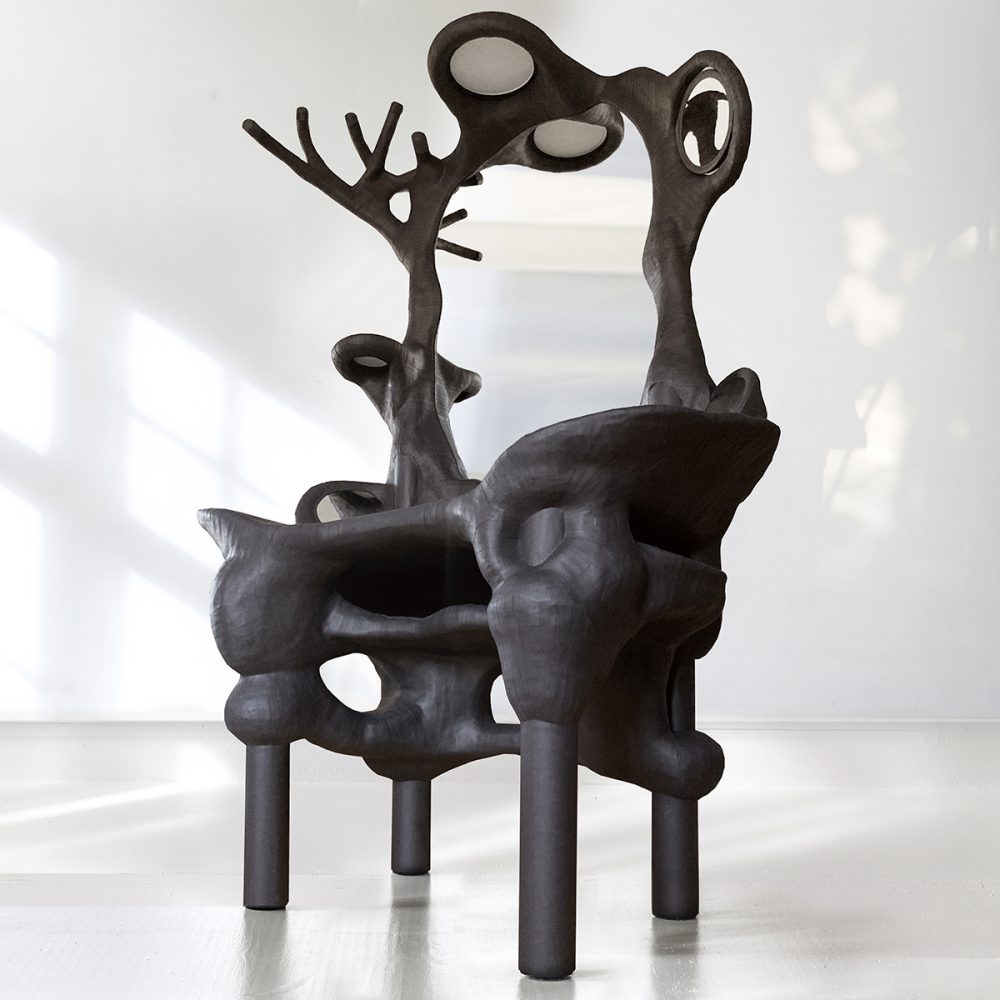 Kibardin's approach to design emphasizes both innovation and functionality. By exploring new ideas, materials, and technologies, and executing them well, Kibardin's work is highly artistic, thoughtful, and always inspiring
In his work ethos, Kibardin delves into a conscious and responsible approach to consumption. As a pioneer of circular design, he has developed a construction method that utilizes the underexploited properties of mundane packaging.
Kibardin's paper furniture designs are all handmade from recycled cardboard, with no molds ever used in their creation, as the designer shapes the individual designs himself. So each piece is one-of-a-kind, sculpted by the creator himself. The pieces are made by first hand cutting the layers, then meticulously gluing and layering over 30 sheets of cardboard together, forming a rigid body that withstands use the time. 
Kibardi has two collections in which he works with paper and cardboard waste as a sculptural medium. With his Black Paper collection, Kibardi offers his contribution towards achieving a circular economy, creating sculptural, highly aesthetic, and fully functional furniture out of cardboard boxes. TOTEM series includes the TOTEM stools, and a new, one-off Lolly chair – made solely of discarded packaging and designed exclusively for Mia Karlova Galerie. At COLLECTIBLE 2022 in Brussels, Kibardin premiered a new capsule collection named Black Mirror, which featured a one-of-a-kind set comprising of a chair and a coiffeuse table.
Kibardi's designs express a tense dialogue between function and aesthetics. Rational and emotional worlds collide to give birth to a burst of energy encapsulated in one functional art object. Finding inspiration in the sculptural shapes of organic structures and growth patterns in nature, there are no clean lines in Kibardin's work, as he believes that in this digital age, people crave imperfections, so a handmade quality has much more resonance. See and explore more of Kibardin's amazing work by following him on Instagram.