We love the sweet things in life – especially if they come in such beautiful packaging as MEIN HONIG (my honey), a brand of exclusive organic honey from Austria.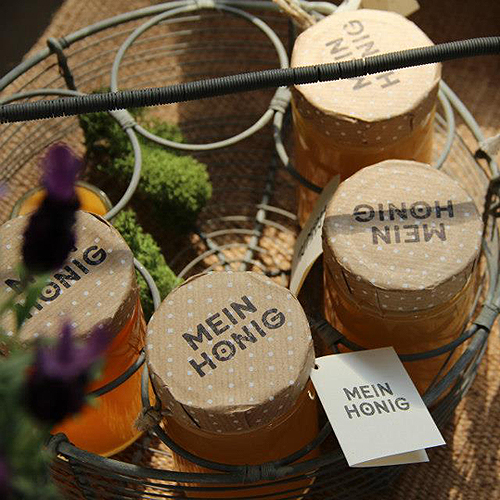 MEIN HONIG offers four exclusive sorts of honey (creme, flower, mix and forrest honey), all carefully harvested and traditionally pressed on the sunny hills of Upper Austria. An important part of the packaging was therefore to distinguish the different sorts of honey.
The whole MEIN HONIG product family 
"I wanted to stay completely colorless and organic and like the beekeeper, I tried just to use traditional tools for the production. I noticed that each sort differs from the other through the clear and beautiful yellow/orange tone. So, in the design, no differentiation through colors was needed. To specify the sorts, I decided to use simple geometrical shapes, which can be used as a pattern too," Thomas Lichtblau, the designer, explains.
Stamps, branding irons and embossing press are used as tools
Along with the packaging, Thomas Lichtblau created a whole stationery set for MEIN HONIG including business cards, certificates, envelopes, bags etc. The papers which he used, Munken Pure Rough and brown natural paper, perfectly complements the organic look of the brand. To personalize the printed materials, he uses an army of wooden, metal and embossing stamps, which add an individual and traditional touch to the otherwise minimalistic design. I especially love the Munken envelopes with the brown paper lining on the inside.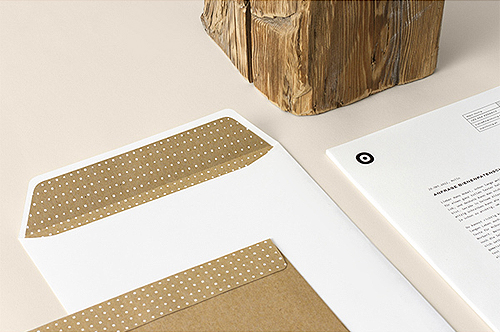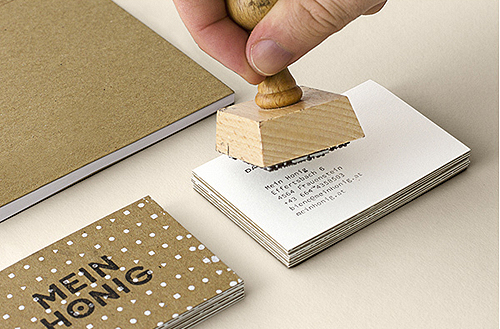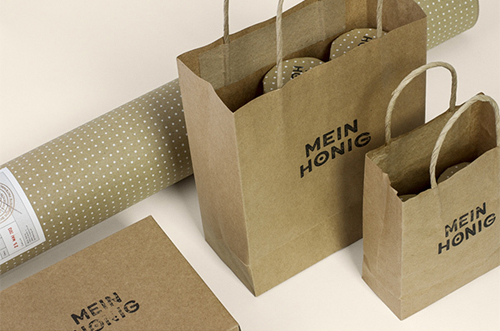 The corporate design from envelopes and letterheads to labels and packaging
The MEIN HONIG team consists of six friends: Next to Thomas Lichtblau, there are two copywriters, a developer, a sales manager and, of course, beekeeper David. If you want to be part of the team as well, you can become a "bee parent". As a bee parent, you will receive a wooden box including a certificate, a bee pass, 4 jars of honey, 2 wax tea lights, 1 key ring as well as an access code to the bee forum and the bee-webcam where you can check on your "kids".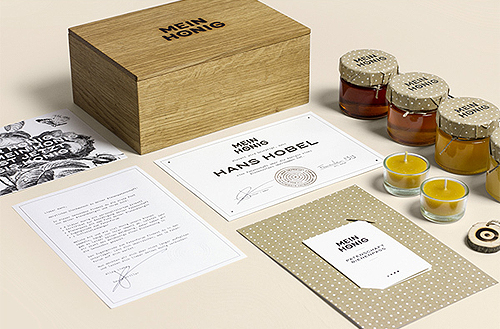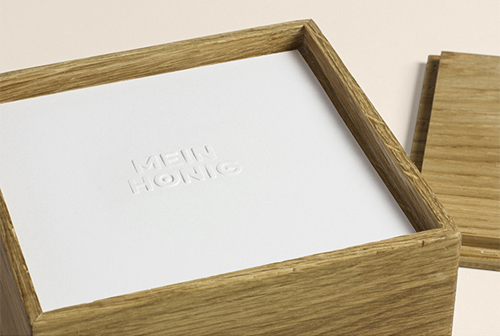 The box and it's whole content for the "Bee Adopters"
For more information visit the MEIN HONIG website, where you can also buy the honey and read about beekeeper David's adventures in Brasil, where the Rikbaktsa Indians showed him how they harvest the honey.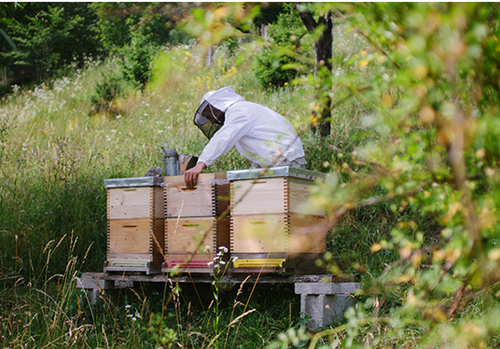 Beekeeper David
Photo source. MEIN HONIG