Dear readers, a new decade has begun and Europapier is celebrating its 50th company anniversary this year! In 5 decades we have witnessed an enormous number of developments in the paper industry and, above all, we have helped to shape them. 
A decisive advancement was certainly the new age of digitalization, which probably caused worries for some. What we know today: paper continues to enjoy not only undiminished, but even new blazing popularity! It will accompany us in the future as a multisensory medium and assume a dominant position when it comes to the emotional component of messages. It is particularly masterful when it comes to conveying value emotionally.
The undeniable advantages of paper are well known. Above all, the haptic experience of printing, the interplay of product, graphics, text, colour nuance and surface decide which emotions are channelled. Holding a high-quality print project in your hands, leafing through it and actually feeling the emotion of the product or brand in your fingertips intensifies the visual information many times over. In a world of digital senses overload, this will be intensified probably even more in the future.
Positive development for design papers
We have seen a positive development for years, especially in the area of design papers and the projects implemented with them! In the market, but above all in the Europapier market. Coming back to digitalization, of course this has massively changed the understanding of communication and advertising of our customers and ourselves. Nevertheless, many continue to see print as an extremely useful companion in a digital world. As in so many fields, it makes the healthy mix! Today, print is always used when the result should be premium. The print run can sometimes have less editions to save costs, but the main focus is high quality! And at last, here's where design papers come into play.
Paper producers continue to develop new ranges, keeping us in a positive mood and inspiring us. This happens precisely because paper will remain an important ambassador in the future. Therefore, we at Europapier are happy to present some new products from our range, even in this short new year!
2020 New Design Papers at Europapier!
A trend that we have followed from the beginning is the area of up-cycling, i.e. the reuse of waste products or useless fabrics for new products. Social change, particularly in the area of ecological topics, will make up-cycling even more important in the future. Because the reprocessing and careful handling of raw materials should be a central issue for all of us.
Favini is definitely a pioneer in up-cycling papers and cartons. The first collection in this range was developed years ago: Shiro Alga Carta. Due to the then harmful algae plague in the Venice lagoon, Favini found a resourceful method to include it in a new paper. The birth of Shiro Alga Carta. Another highlight was Crush, a design paper range made from 15% agricultural waste products such as almond, olive, lavender, to name just a few ingredients. In 2016 there was another new entry from this area: Remake made of 25% leather residue.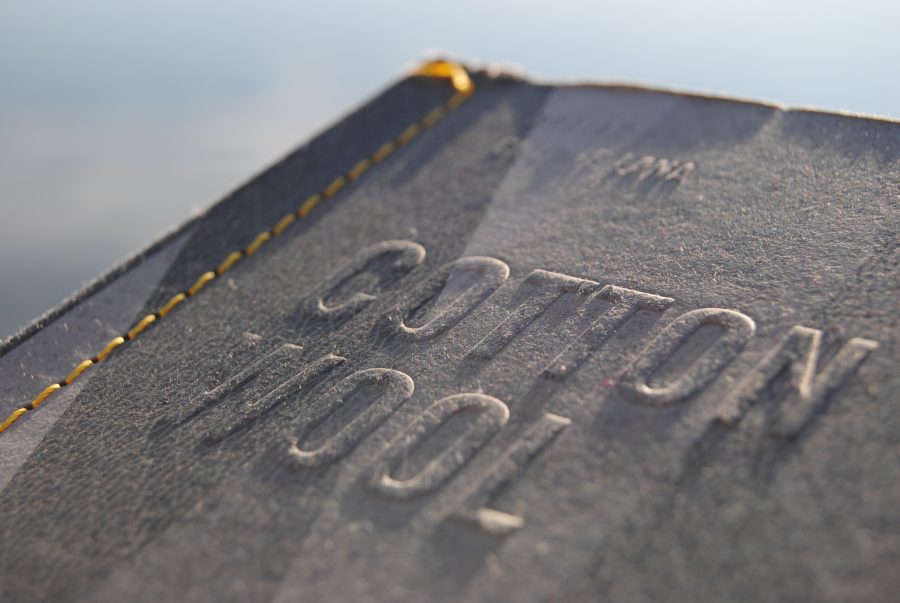 Refit, an up-cycling assortment made out of cotton and wool fibres
2020 is the next development: Refit, an assortment made out of cotton and wool fibres. Favini uses waste products from wool and cotton textile manufacturing processes, which often remain as fluff residue on the side of the machine. After a special treatment, these are then introduced into the pulp from which Refit is made. Refit "Wool" is so shaggy that it guarantees a completely new haptic experience in the paper sector. Refit "Cotton" on the other hand is more subtly tactile and captivates with the colours and inclusions of cotton.
We at Europapier are excited about these constant developments, particularly in the area of the sensible use of raw materials – the conversion of waste products to design papers, which can save a certain amount of fresh or recycled fibre.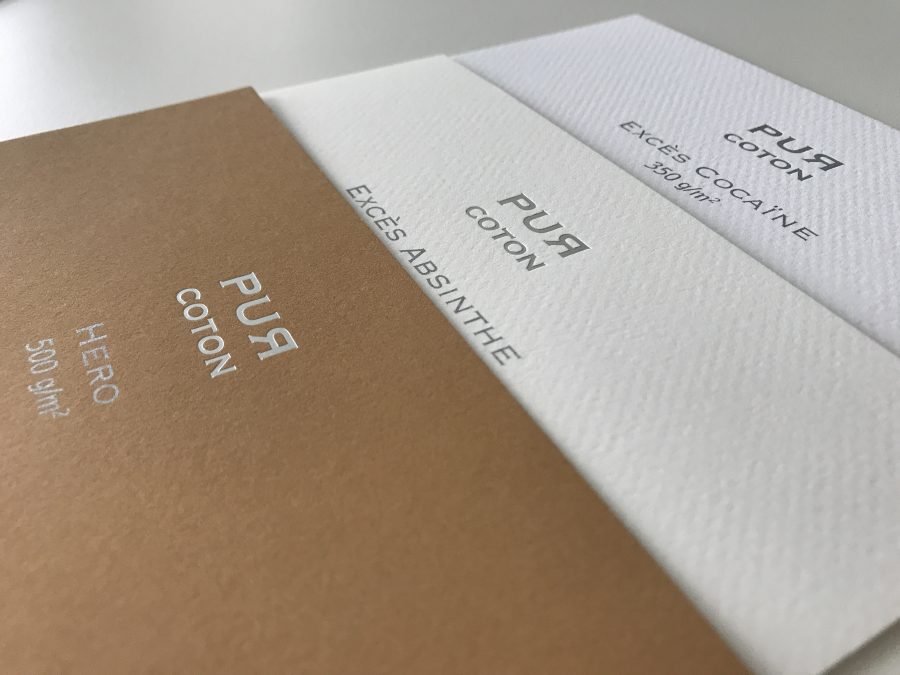 Pur Coton Hero and Excés – our novelties for elegant 100% cotton papers
Another trend that continues to this day and was truly revived in Europe a few years ago is classic letterpress printing. Fine stationery is produced using this old printing process, such as high-quality wedding invitations. Although there are hardly any limits to the choice of paper, cotton paper is very popular because the motifs can be printed particularly well on the soft surface of the cotton paper. This gives you incredibly beautiful, haptic results.
This year we are expanding our range of 100% cotton papers with Pur Coton Hero, a new elegant  cognac shade, as well as two new embossed variants of Pur Coton Excés with felt double-grain look.
Sappi Raw, the new incredibly rough surface
Since the trend towards natural papers started years ago, designers and customers have been looking for a paper that combines both the haptic advantages of uncoated paper and the printing results of coated paper. Until now hardly any quality could meet this wish: Sappi Raw was developed for this very reason. It is a double-coated paper with an incredibly rough surface, high volume, and high whiteness.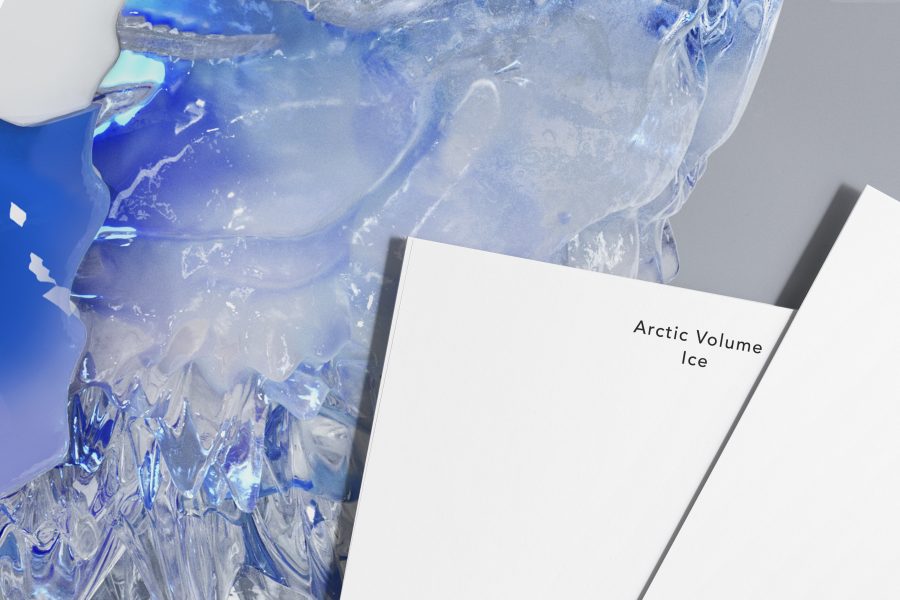 Arctic Volume Ice – the highest whiteness in the Europapier Design range of coated papers
Speaking of high whiteness: Arctic Volume Ice is our new coated premium paper with the highest whiteness in our range (CIE 145). A pure white colour that makes all print results shine. Therefore, we now offer Arctic Volume in 4 shades of white. The associations of different shades of white are very complex. A bluish white is perceived as cool, whereas natural white tones radiate warmth and are considered easy to read. And yet it can never be too much, because all shades of white find their specific projects.
Pergraphica® Infinite Black – the natural black shade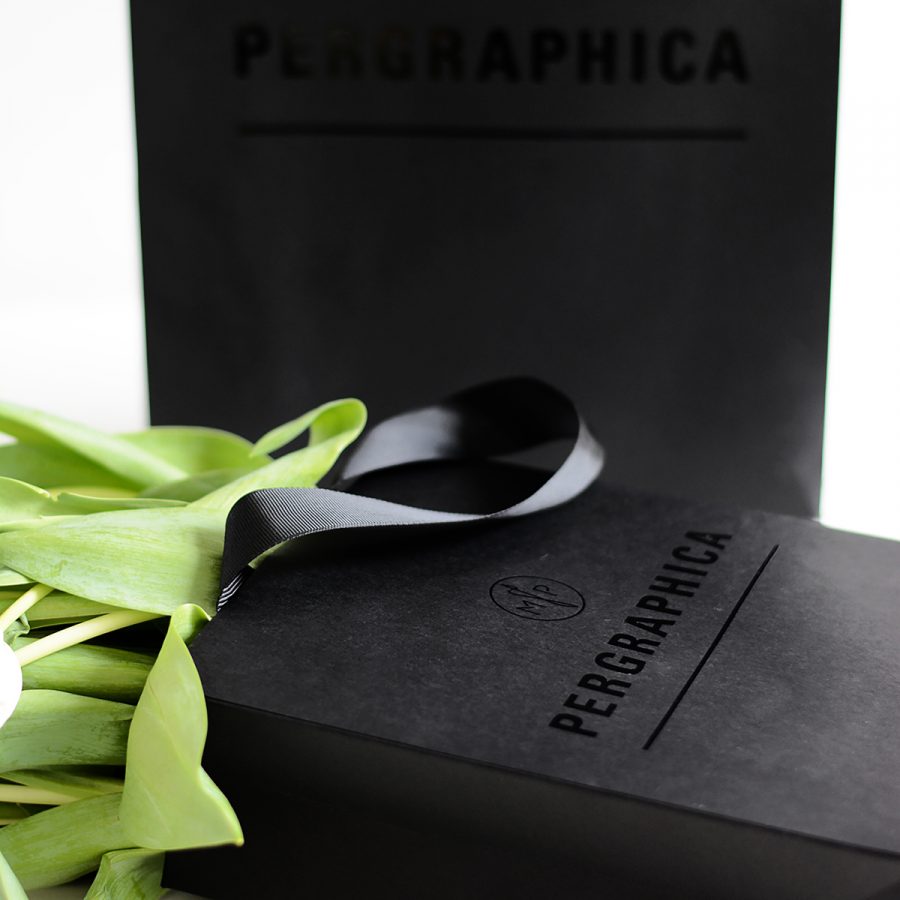 The same applies to coloured papers. When is a black the right black? There are many nuances even here. With Pergraphica® Infinite Black – another new addition to our range – we now have the most natural black in the area of black uncoated papers. It reminds me a little of the Tyvek surface, where the fibres are also clearly visible. But that's exactly how we see the USP of this new quality. It is a great addition to our range of black papers and has a real unique selling point due to its appearance. We all know ranges from deep black to ultra-black. And all have their place and reason. Sometimes it is good to take a step back and not to look for a new, deeper shade, but to focus on natural shades. This is exactly what makes Pergraphica® Infinite Black stand out visually, and the natural colour is at the same time a design element. In addition, it is distinguished by the excellent technical properties and performance.
These and many, many other outstanding news items will of course be found in our 2020/2021 design collection, which will be released in September 2020. Writing this article, I realize that this year will again be an incredibly exciting year – with all these news , and many more that will come later this year.
On that note: long live paper and our new exciting projects together this year!
Sandra Schmidt, Head of Design Papers, Europapier Group.