Wedding invitations are one of the most important parts when setting the tone for the big day but with so many options out there, it's head dizzying to choose one even for the bravest. And just like any other industry, trends come and go also in the wedding invitation business. From the use of calligraphy to envelope liners, gold foil to paisley and lace, we'll see detailed designs on better papers, turning each invitation into a work of art this year. Here're top 8 (+1) trends for 2016 wedding invitations for you to be inspired by!
Flora
The nature trend continues to be popular but in 2016 but this year it's all about wild flowers and meadows with a vintage feel. Less structure and more organic, not so refined and put together. This includes botanical illustrations – sketched imagery, hand drawings, which can be intricate and delicate. Color green rules over everything with pink being a popular match., and making it the perfect combo for a fresh, summer feel.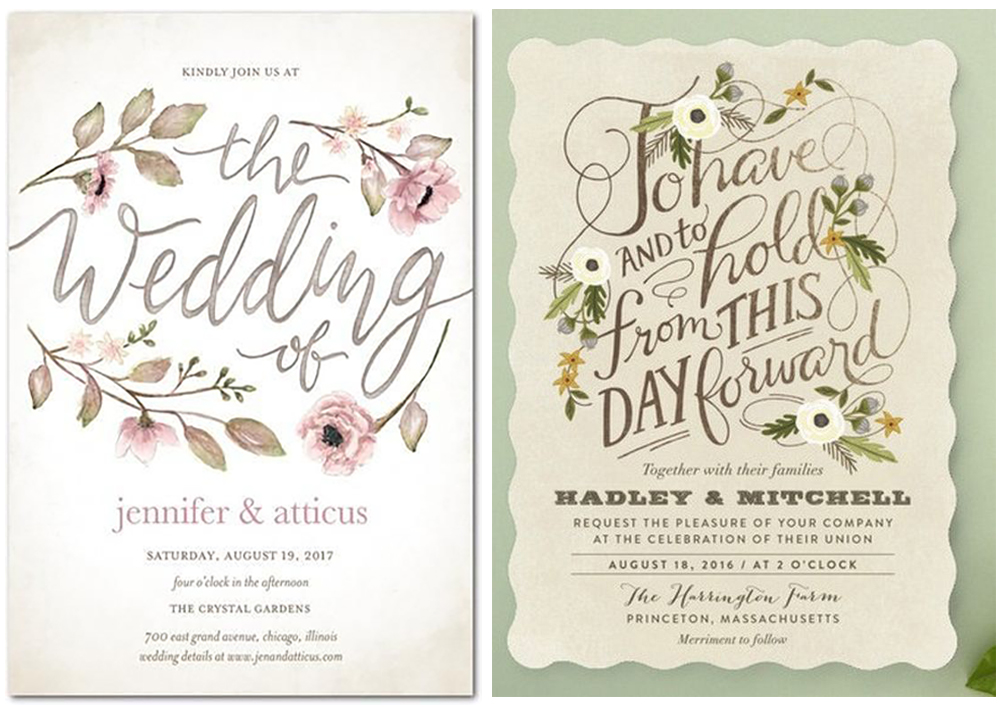 Calligraphy and Handwriting
There is no escaping this trend as it has over taken everything from branding to illustration, and now wedding invitations, all designers honing their hand writing skills to perfection. And even though it might be over used in logo design already, it's the perfect amount of sophistication and persolization when it comes to weddings.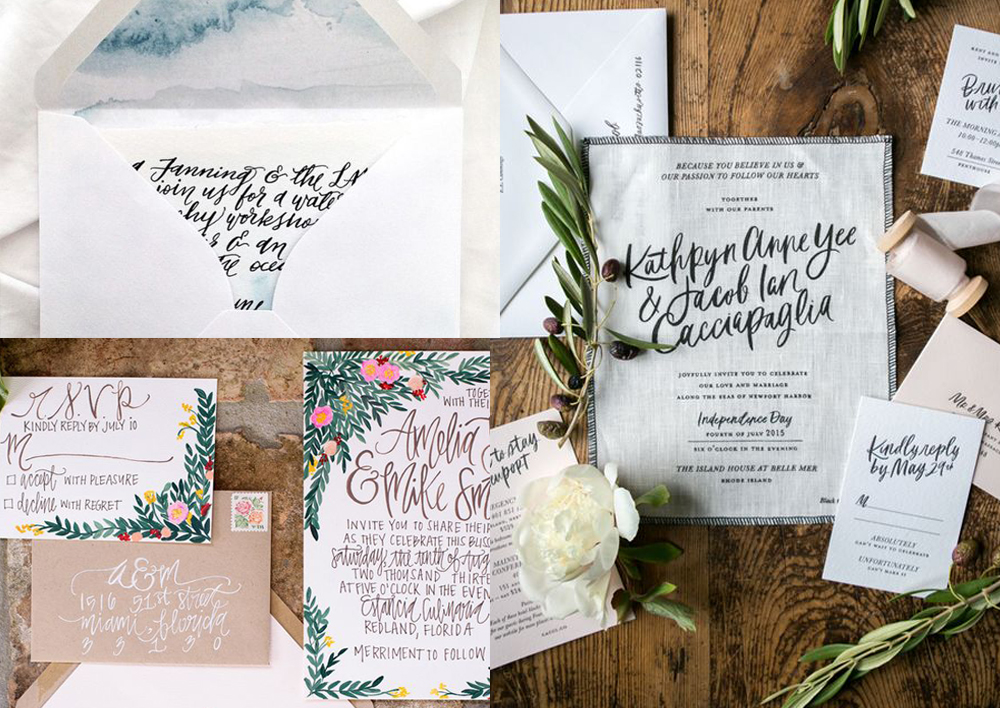 Indigo
Indigo has been making a come back for a while now, and it's presense can truly be seen during the upcoming wedding season. But besides the richand deep shade of indigo, all deeper shades of blue give a classic, sophisticated look. The color gives high contrast on it's own but can also be combined with metallics for glamour effect of bright yellow for freshness.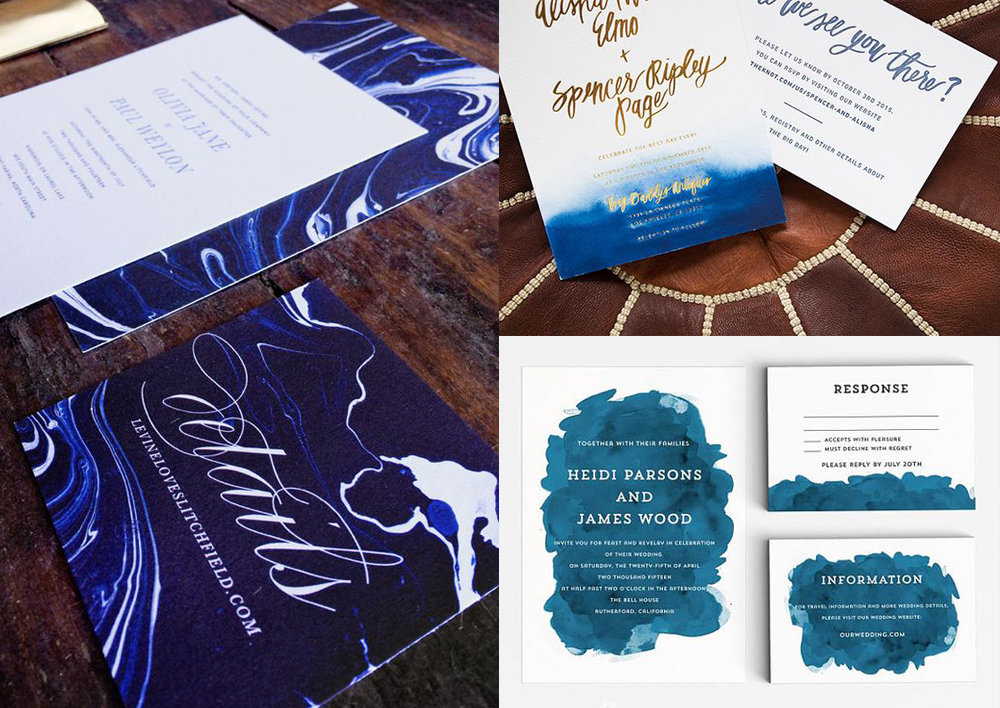 Lace
Used both in patterns and in laser cutting, the familiar trend for few years back is raising it's head again. Lace has many faces – the styles, colors and types vary from design to purpose, but what is common with them all is the feel of lightness and the decorative and ornamental look. And when combined with modern and minimalistic shapes and dramatic colors, it becomes very luxurious and decadent, reminiscent of its use in fashion.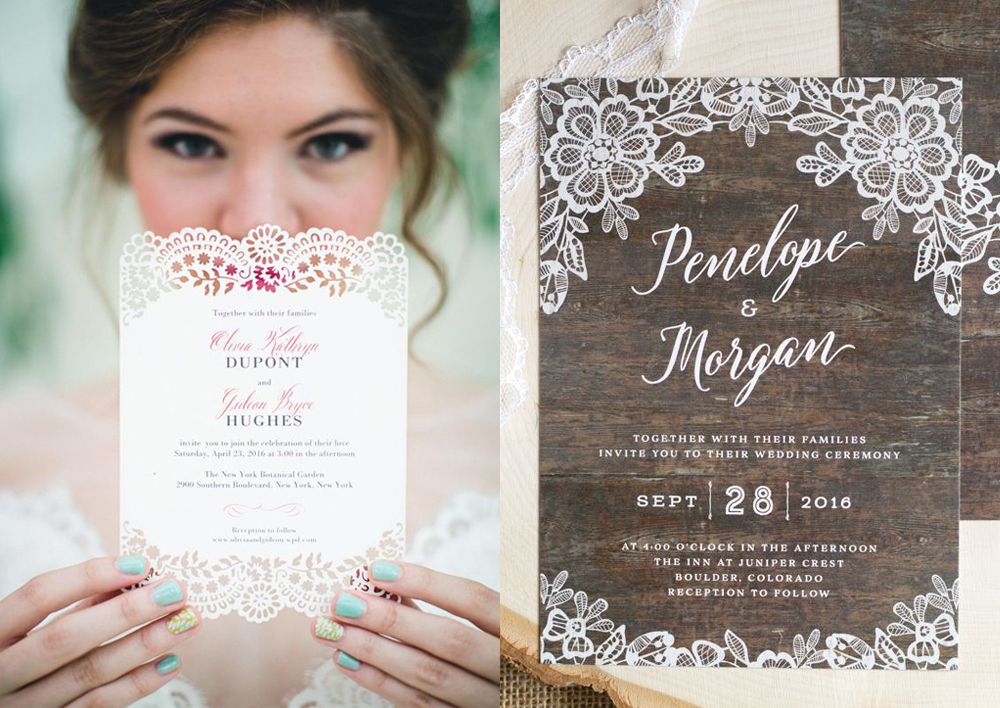 Paisley
Exotic and always in fashion, the paisley motif will be particularly on trend in 2016, says the experts. When used in bright, vibrant colours like emerald green or ruby red, it makes a dramatic statement but when expressed in soft and serene colours like mustard or pastels, it conveys lightness and joy of the occasion.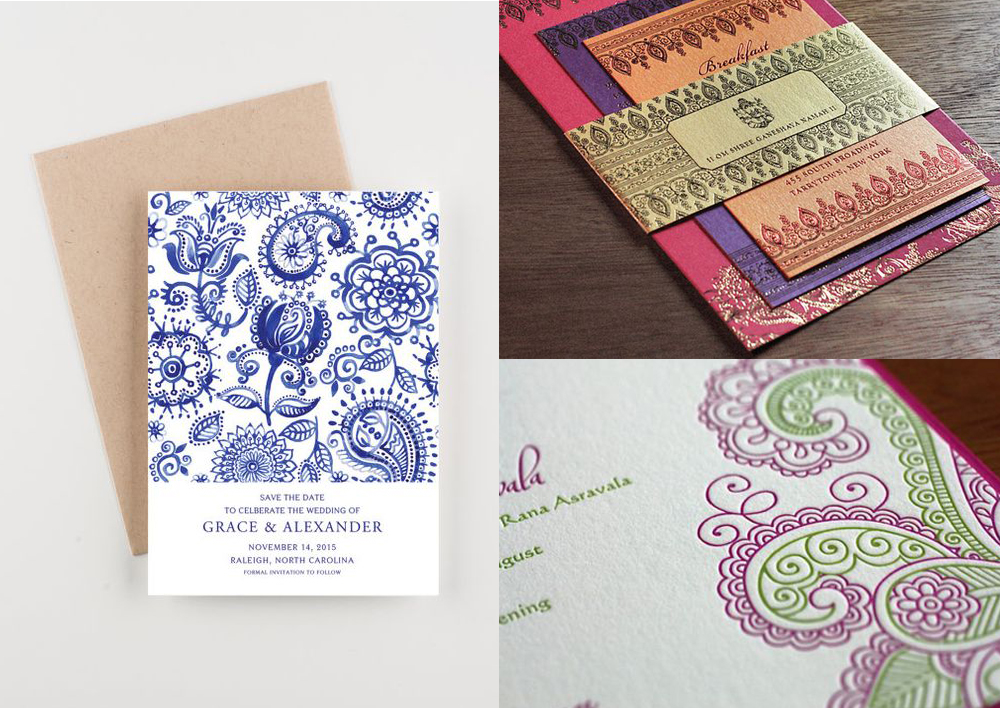 Foil
Many wish to keep their wedding invitations classic yet contemporary while yearning for something special to accentuate the festive occasion – this is when foil comes in use. Gold foil is popping up everywhere, from invitation text to small escort details. It can be adventurous with a heavily patterned gold design, or used to highlight the names or wedding date. And it's not just gold, silver and copper are having their moment too!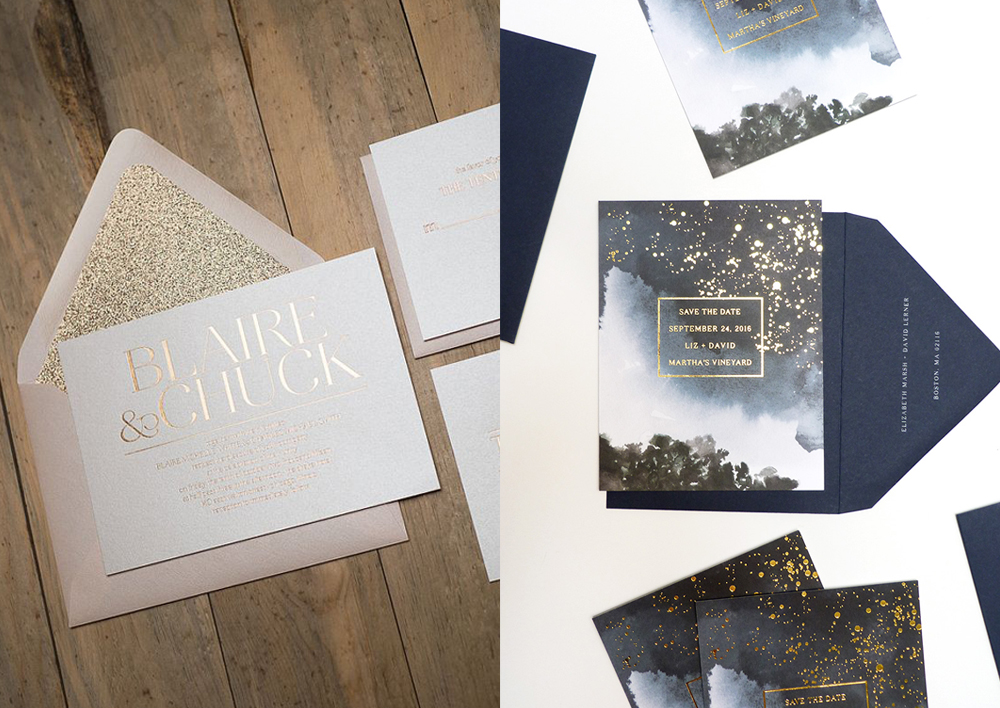 Watercolor
This subtle way of adding color to your paper has a delicate, romantic feel when done in pastels or a bold and wild vibe when brushed with bright hues. It can be used as a highlight element in the design or your envelope liner (see next!). And if you are opting for DIY, this is definitely the way to go to personalize your invitations.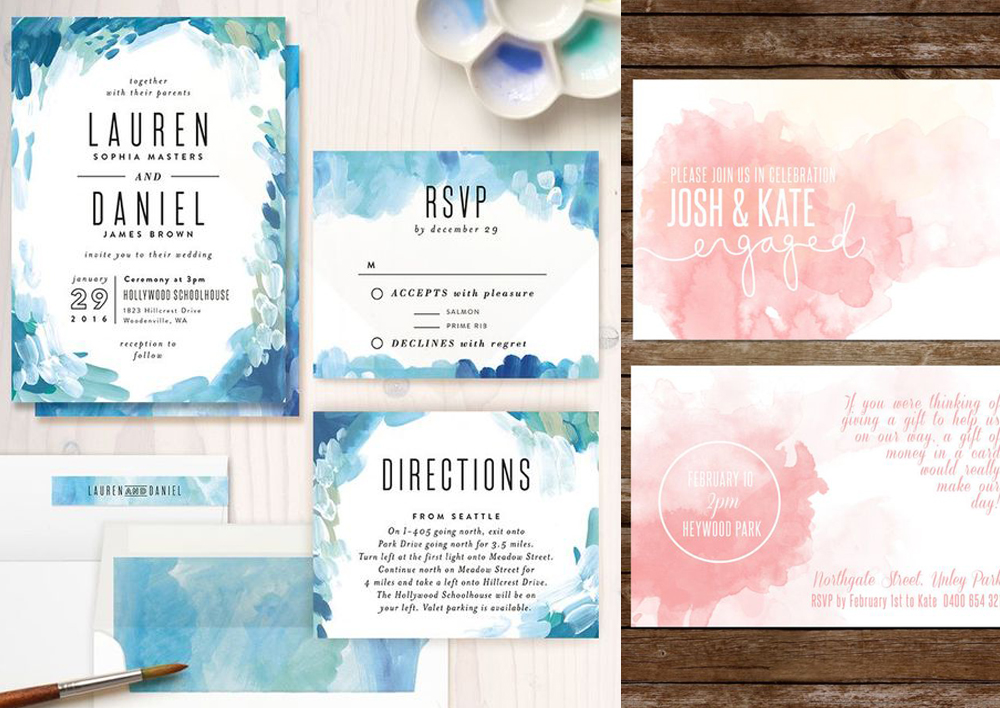 Envelope liners
The first thing guests will see when they open your invite! Whx not utilize this and add some character and pop to your envolope as well. It's huge among designers at the momemt so it shouldn't be hard to find one to fit your style and theme. Pair with a colored envelope for really eye-catching mail.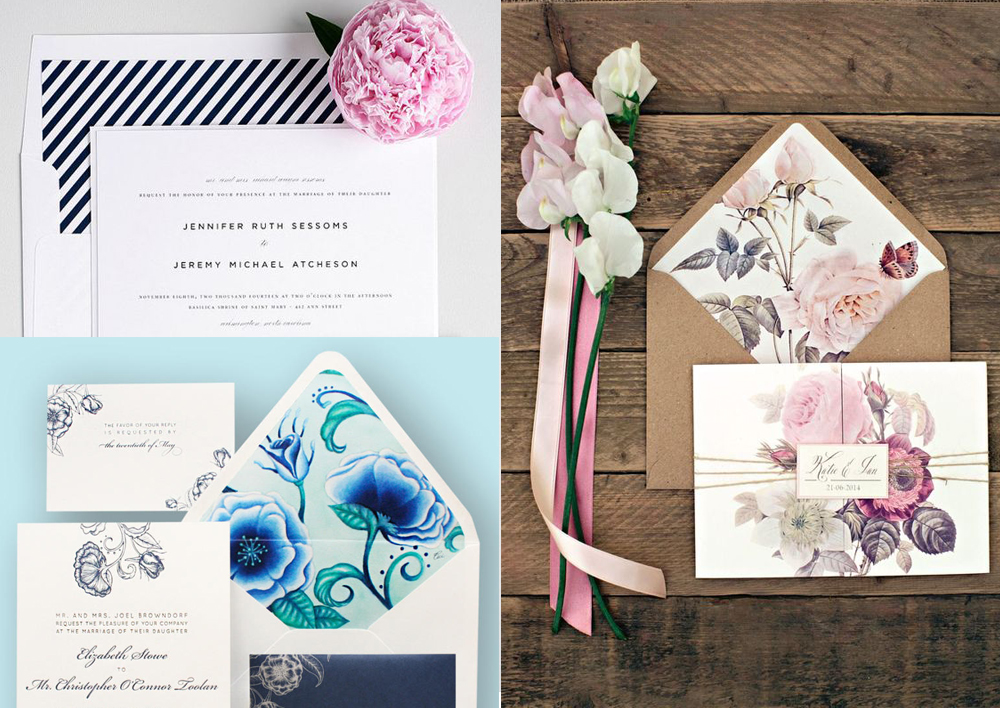 Dramatic & Moody colors
Last but not least, my personal favourite. Forget tradition! White, eggshell, cream, forget them all and opt for something more dramatic. A bold and moody color palettes of deep plum, dark navy and even black are taking center stage. Rich and deep tones are a perfect choice when wanting soemthing dramatic and eye catchy, while keeping the wedding appropriate. Especially the white and shiny foil letting looks amazing on dark backgrounds.