Barcelona-based illustrator Anastasia Kirsanova (represented by Lemonade Illustration Agency) began working as a graphic designer in the marketing field before turning her focus to illustration, which gives her a deeper understanding of creating memorable illustrations for branding and packaging projects, and skillset beyond her imaginative illustrative work.
Kirsanova's beautiful work employs simplistic shapes, and a wide range of textures that add depth and character, while skillfully utilizing harmonious, well-thought-out color schemes. "I usually paint in such a way that it's not clear in which era the story took place, because the most important thing is the very feeling of lightness that the illustration conveys, and it's timeless. My favorite projects are product packaging. I am very inspired by the idea that I can make the world more beautiful through decoration."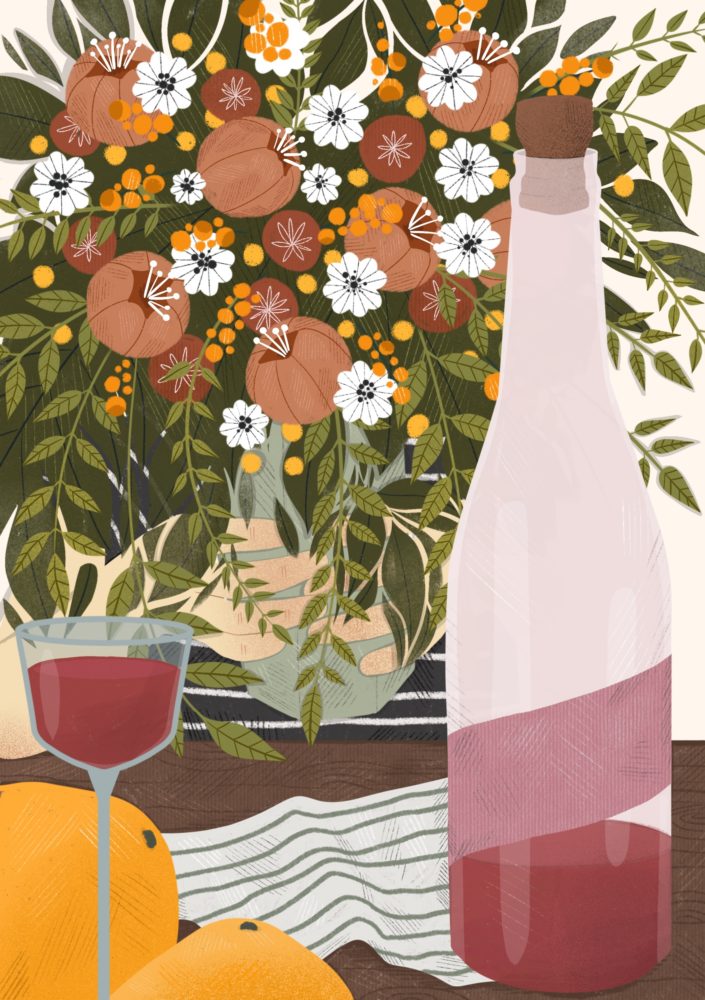 The themes for her work come from everyday life. From moments of enjoyment, beauty, and emotion. "More than anything, I love to draw about the little joys of life, whether it's making summer lemonade or shopping for a Christmas tree. I love making up stories and asking myself the question "What if…?" Kirsanova writes.
What if every fruit was carefully picked by a little person? What if my dog decided to help me prepare to celebrate the new year, make mulled wine, and decorate the apartment? That's how my illustrations are born. My mission is to give people warmth through them.
For Kirsanova, creativity is the magic door through which the creative escapes sadness and creates a world of her own, filled with what is truly important to her. "I try to observe and absorb every beautiful moment that happens to me in life, to then turn it into an illustration. I am inspired by the Mediterranean lifestyle, mountain landscapes, road trips, and human stories, snippets of which can be seen in train stations, airports, stores, and open windows. All of this is very important to me and my art." You can feel the joy and wonder of life in her work, as each piece seems to capture a seemingly random, yet special occasion. By immortalizing these fleeting moments in time she gives them more meaning and weight, like a gentle nudge to remind us all to slow down and enjoy like – as isn't that what it's all about?
The illustrator's extensive background includes creating children's illustrations, posters, postcards,  packaging illustrations, board game illustrations, and much more, but below you can see some of our favorite examples of Kirsanova's work, including both personal and client projects. You can enjoy more of the work by following her on Instagram.