Bring the Joy! poster project is the result of Croatian designer Alen Lipuš research for the possibilities of 3D typography. His playful approach towards his work and love of vivid colors creates designs which also give great joy to others, and there is no better way to start this weekend than with these colorful posters. Woo Hou!
"Joy is a feeling composed of satisfaction and delight, conditioned on many factors: physiological needs (food, water, warmth, rest), safety needs (home, security, employment), belongingness and love needs (intimate relationships, family and friends), esteem needs (feeling of accomplishment) and self actualization (achieving one's full potential – including creative activities)".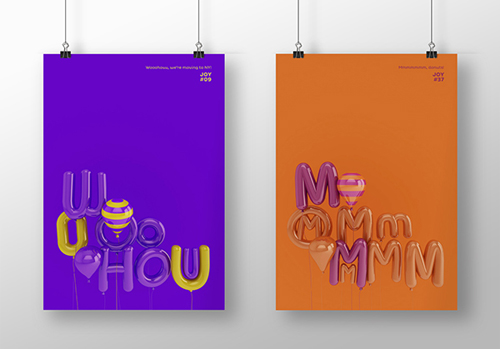 The Bring the Joy! posters represent joy through visualization of significant sifts, shouts and exclamations which are in form of an air balloons. There is 
OoOoohh, do that again!
 JOY #2, 
Mmmmmmm, donuts!
 JOY #37 and 
WoooHouu, we're moving to NY!
 JOY #09, but you can form any kind of words with the balloon looking letters. With such a simple design, Lipuš creates happy, up beat design that should bring a smile to anybodies face.My personal favorite is the orange MmmMmm poster, and for some reason I'm craving for some donuts now! Which one is your favorite?