During uncertainty and turbulent times, we all turn to things we know and love. We search for familiarity and nostalgia as we try to process tough and complex issues. The Broken Holiday Album offers that escapism in a form of a reconstructed family photo album. The photobook by photographer and visual artist Verna Kovanen takes you on a trip down memory lane to those summer holidays of your childhood when everything felt simpler and easier. But as things never truly are what they seem, and memories fade, the first impression of nostalgia soon turns into a juxtaposition, as you start seeing the melancholy and brutal beauty of the places that once typified beloved, happy memories.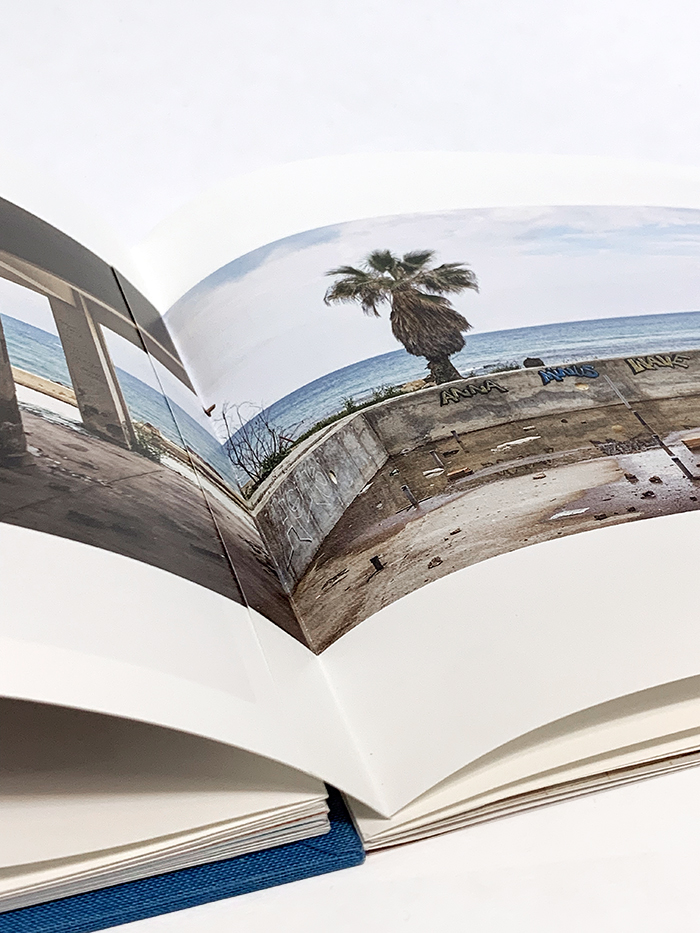 The photo diary-like Broken Holiday Album offers just enough familiarity that you feel at ease but simultaneously captures the decay and decline of a childhood paradise in a beautiful way
Helsinki-based artist and photographer Verna Kovanen has taken part in her family's ongoing tradition of spending summer holidays together in the south of Europe ever since childhood. But it was first a decade ago when the artist began noticing things didn't look exactly like before. By letting go of the idea of a relived childhood dream, Kovanen began questioning her own customs and how her gaze was directed through these trips. "I turned off the autopilot and began observing the surroundings and atmosphere around me in these places in a different way. Turning away from what the guides were suggesting to, I noticed the repetition in the aesthetics. The emptiness without people. How what once was a paradise for a child, now felt like a forgotten land of memories", Kovanen says.
While the original idea for the photo series was born in 2009, most of the images were taken by Kovanen between 2016 and 2019. The series was originally showcased at an exhibition at Korjaamo in Helsinki, where a visiting curator suggested the idea of turning the series into a book. This prompted the process which was assisted by Kovanen's University professor, and collaborator and technical adviser on the book, Juha Nenonen. The unique and technically demanding project is multi-layered, as it reminds you of the days gone past, and how collective memories can be. 
The minimal blue covers open to a delightful Leporello binding that enables a panorama view of a decaying paradise, while cleverly simulating the actual photo-shooting process of the artist
The book opens up with an impressive six-meter-long double-sided Leporello binding, which can be read in any direction one wants, adding to the experiential nature of the publication. Kovanen's visual photo story flows uninterruptedly through folds and pages without a beginning or an end, leaving the reader to find their own way through the decaying holiday resorts and palm tree-lined promenades. The book was printed on high-quality Munken Arctic Volume Ivory 130 gsm. While the gold insert, as well as the included mockup version of Kovanen's grandmother's passport (printed on Munken Lynx 90 gsm and Arctic Volume 250 gsm), add a layer of detail that urges the reader to delve deeper into the visual story. A lot is left for interpretation, making the photobook a cherished treasure, like the family photo albums it's echoed after.
Published by Kerber Verlag, an independent and international art book publisher in Germany, the Broken Holiday Album is a beautiful example of an ambitious, top-quality, contemporary photobook that makes no compromises.
If you happen to be in Paris at the moment, we encourage you to visit the ongoing Paris Photo Fair at the Grand Palais Ephémère and meet the author and photographer Verna Kovanen at the Kerber Verlag booth SE 29 (present on Friday 11.11 at 5 pm). Or you can purchase your own copy here.