Don't be fooled by the upscale location of the infamous Burg Ring, next to Burggarten and Kunst Historisches Museum, a modern Viennese café house BurgRing1 stands as shabby chic as they come. Opened about a year ago in the space of an old beer and gambling hall, the trendy and spacious interior where traditional Viennese cuisine is available from morning 'til the night is often filled with a stylish crowd.
After a few recommendations and a good friend insisting me to go and check out the place, I visited BurgRing earlier in the week. Without knowing how busy the place is I opted for the breakfast/lunch period and surprisingly found the place rather empty. I must have been the fifth customer in but this didn't bother me one bit, as it gave me a great opportunity to explore the place and hog the waiters time. And before I knew it, the tables started filling up.
Granted that the high rugged ceilings and exposed and blemished walls are a cornerstone of any trendy cafe/bar/restaurant these days and the light bulbs with bright orange cables hanging down in a mix-matched way are not a design revelation, the place does look great. It's the appealing combination of rough finishes with the classical Viennese furniture and café house styling that together forms an interesting whole. You get to choose from sturdy wooden dining tables, dainty diner type seating and slouchy sofas that suck you in and tempts you to waste away your afternoons by sipping coffee and playing board games, which you can find a cabinet full of next to the bar. The large and open space is somewhat unusual for a Vienna, which makes BurgRing1 all the more inviting.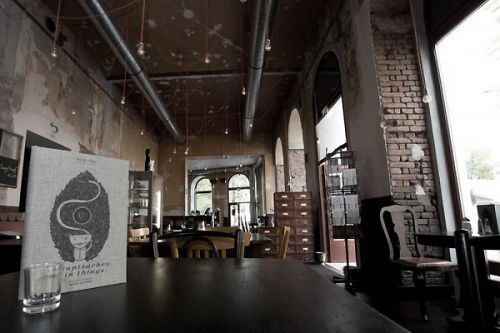 On my visit, I opted for a simple cappuccino and salmon bagel, which were filling and delicious and I must say I'm intrigued to go back and browse the lengthy menu again. Having a weekly changing dishes and very competitive prices considering the location I'm not surprised how the place started filling up as the day went on. Without even noticing I'd spend closer to two hours here and easily understood the lure of the place!
Remember to take part in the raffle to win a dinner for two by filling in your details to a card that you can find on each table. On your next visit, you just might see me sitting on one of those couches, with a computer in my lap, tapping away my next post!
BurgRing1
Open everyday 11am-2am