The latest contender in the hottest spot in town competition is blowing up fast. The BirdYard Eatery & Bar in Vienna's buzzing 8th district is the latest addition to the area known for its amazing culinary options. But the place is not just winning praise on its menu, but its incredibly dazzling design is turning heads in a normally modest city. In a combined effort by three creative heavy hitters: Tzou Lubroth Architekten, Atelier Olschinsky, and SADDO, the stylish three-story restaurant is full of discovery, impressive details, and brilliant inspiration, awakening all senses – offering a unique experience for the diner or visitor.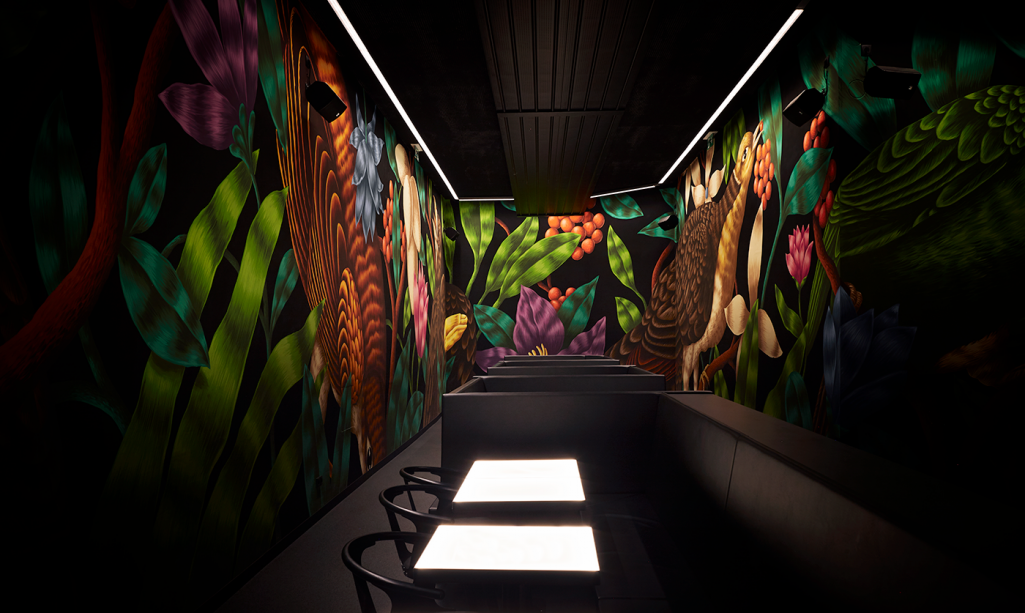 The BirdYard is run by the two brothers who are also behind the trendy and flourishing Mama Liu & Sons Hot Pot restaurant, the BirdYard combines a high-end culinary experience with a loungy bar atmosphere divided between the upstairs and downstairs areas. When the two top floors are dedicated to enjoying contemporary food in a cool, minimalist interior, is the bar in the basement a color explosion to the world of exotic cocktails.
Viennese architecture agency Tzou Lubroth (Yppenplatz, If Dogs Run Free, Miranda) was responsible for the restaurants open plan interior while Atelier Olschinsky (featured) created the concept and branding including unique typography, and commissioning the super talented Romanian illustrator SADDO (featured) to paint the lush, colorful murals which have become the focal point and symbol of The BirdYard. No detail was overlooked, no creativity left un-used neither in the kitchen nor interior, making the BirdYard a must visit for any culinary or design enthusiast in town.