Strategic design agency Moodley Brand Identity has won multiple awards internationally for their work in corporate and product branding. As one of the most prominent design agencies in Austria, we've featured their work numerous times before. Their talented team keeps pushing the limits and creating compellingly intelligent and emotionally appealing solutions for clients across borders, each time bringing something new to the table.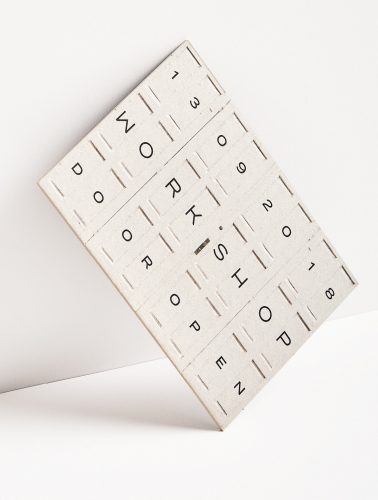 Prödl's Workshop in Vienna's 1st District
Their latest client is the new addition to the Prödl carpentry family: the WORKSHOP, a space in Vienna's 1st district that unites interior architects, craftsmen, designers, and manufacturers. 
The showroom and workspace are dedicated to planning, design, and implementation. It's a space for the creation of contemporary and customized furnishing concepts and experiences. Aiming at sparking innovation and inspiration, every single detail at Workshop, and in its visual identity, is meticulously thought out and beautiful. 
Finding inspiration on location
The beautiful inner courtyard location on Shottengasse inspired Moodley to create a visual identity full of architectural elements from the workshop, including the unique staple door feature that greets the visitor upon arrival. This feature is replicated from the business cards to the website, while the wordmark is utilized to its fullest potential, echoing the meaning and intention of the workshop itself.
The Workshop stands for innovative perspectives, diversity of materials and communication, all of which are represented in the branding concept – which inspires the viewer to create through experimentation.