Last May I wrote about the shining star on the Viennese creative sky for many local designers, creative entrepreneurs, and visual professionals –  the Forward Festival –  and all the things I experienced and learned during those 3 days. Besides listing 10 things I learned at the festival, I wrote about how impressed I was with the grand venue the event had grown into conquering and even confessed of one embarrassing, yet personally significant fan girl moment. But what I failed at, and am here now to correct, is shine light on the cool branding concept the festival was embraced with this year.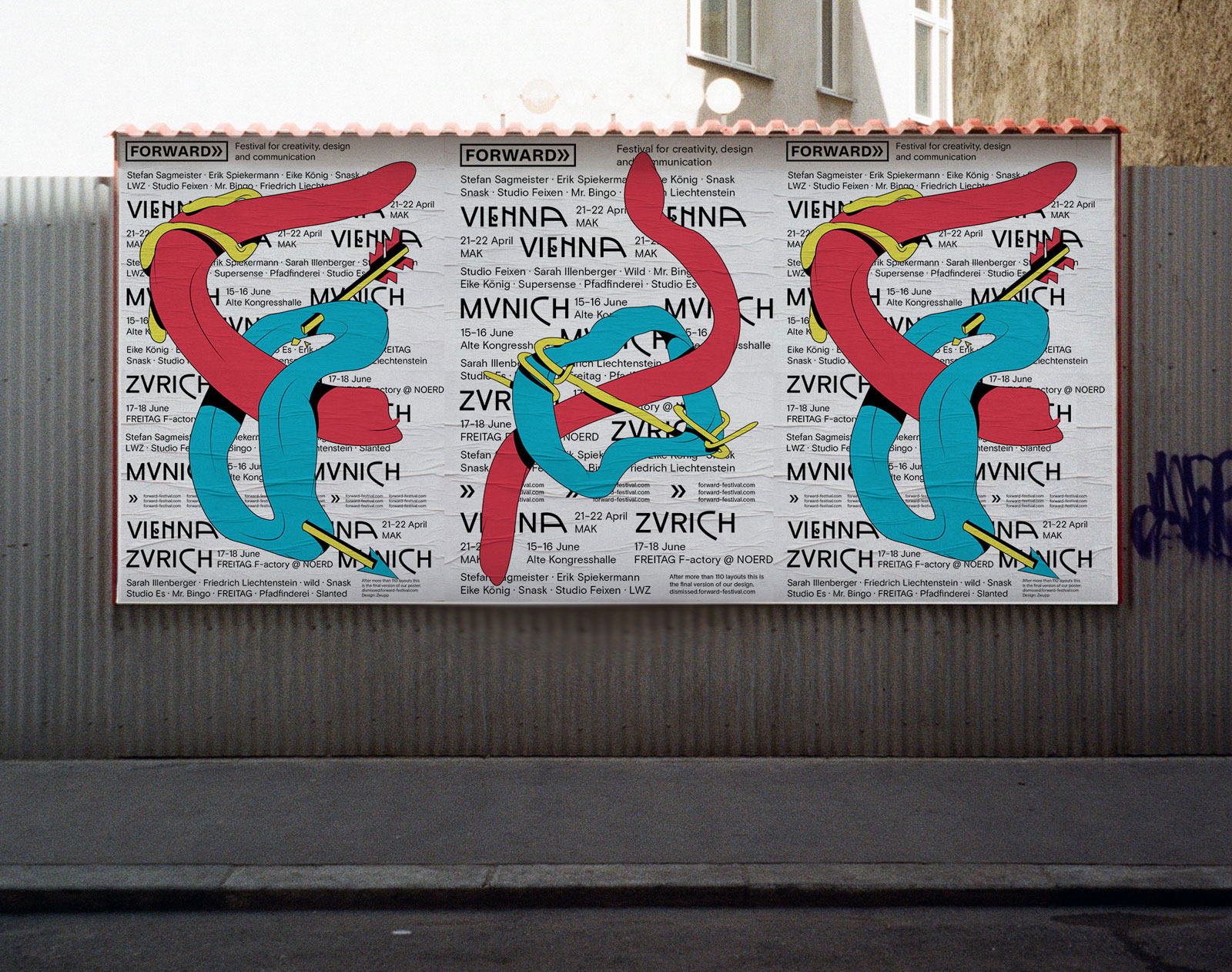 The primary colored concept is the work of local creative "studio" Zwupp. With the word studio in apostrophes, as they prefer to be called a Bude. The best Bude in the world to be exact. A graphic design bureau, film production, art collective and advertising agency all in one. A compote, a conglomerate, a canister filled with dedication who sings: Come on baby, light my fire!, as they put it themselves.
Being true to their unique vision and being inspired by this years topic, 'the birth of an idea' as well as the three cities: Vienna, Munich and Zurich the festival took place in, Zwupp created a adaptable concept resembling of a free-flowing creative process all too familiar to creatives. Three, separate, form changing objects moving in tandem as the key visual elements, a type transformation inspired by Wiener Werkstätte lettering cohesively supported the concept. The visual language was used in everything from promotional material to the festival guidebook as well as the visuals used on stage through out all three festival weekends. But maybe the best part of their work was the 'Gallery of Dismissed' exhibition showcasing all the other, ousted work, they had created in the process of producing the final concept. Something so often forgotten, and easily neglected was put on prime spot, perfectly honoured the festivals theme.
Images © Zwupp