Milan Design Week is one of the biggest design events, in the fields of furniture, architecture and product design. Every year hundreds of designers and studios showcase their latest products and innovations in Milan, in the end of April. As the dust has just settled down after this years event, we are in awe of all the incredible designs exhibited. We want to show you our favorites of the bunch, check out who made the shortlist!
Milan Design Week has been the premier event, the high-light of the design year since 1961. It's the place where known design studios launch their new projects, and a place where up-and-coming designers get a chance to mingle in the same circles with the old timers. Even though the event has been criticized lately for it's ever growing number of exhibitors and the sheer volume of things to see, no one can claim against the impact it has on the whole design world. This is the place where trends are set, and new stars are born. And this is also the reason we want to share it with you even though it is not strictly related to paper.
See below a few of our favorites, as there are hundreds of designs on display each year you might guess how hard it is to choose the few top ones. We just loved the designs that somehow caught our eye, with a surprising material or production techniques, anything that made us go Wow!
The Marine Light by Tel-Aviv based designer Nir Meir is made entirely out of dried see weed. Ancient cultures have appreciated and used seaweeds for different uses. These days, seaweed is cultivated and harvested on a commercial scale, as a result of a growing interest driven by environmental concerns.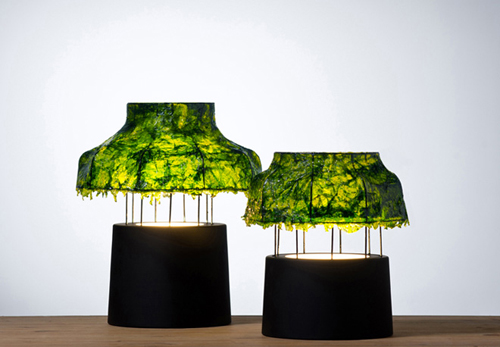 Source: Nir Meir
Hanging canvas seating by Japanese design studio YOY (Salone Satellite). A collection of two dimensional hanging furniture pieces which are made of wood and aluminum frames, covered in stretchy screen printed fabric showing different furniture pieces.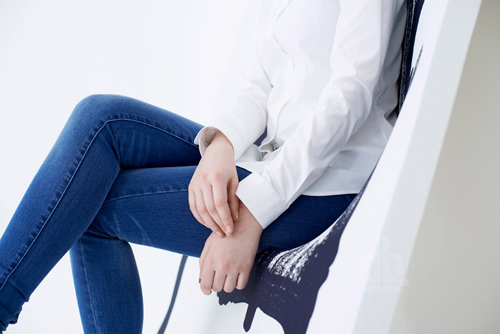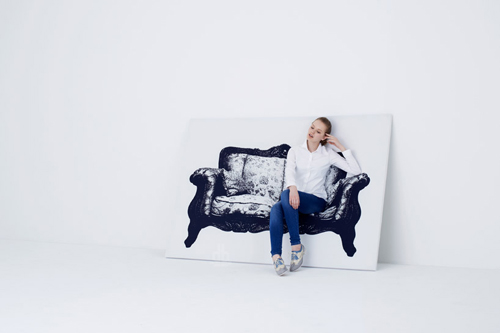 Source: Yasuko Furukawa 
RGB art installation presented by Missoni + Carnovsky at Missoni Showroom. The Milan based studio uses the Italian fashion house's fantastical patterns as their image source in which to apply their RGB experimentation.
The collection of robust furniture by Studio Joop  for moooi is made completely from a patchwork of paper, as its name implies. Honeycomb panels, paper and cardboard is combined to form a durable composite employed in the construction of the storage, lighting and table pieces.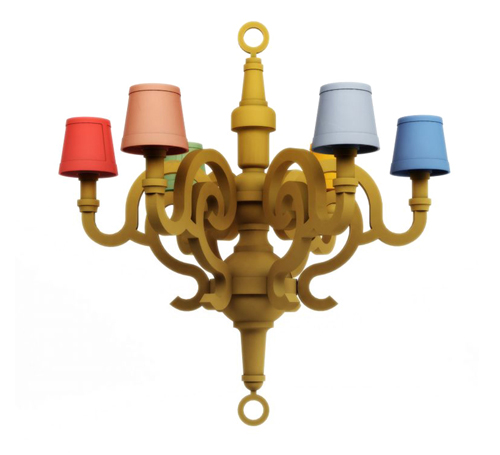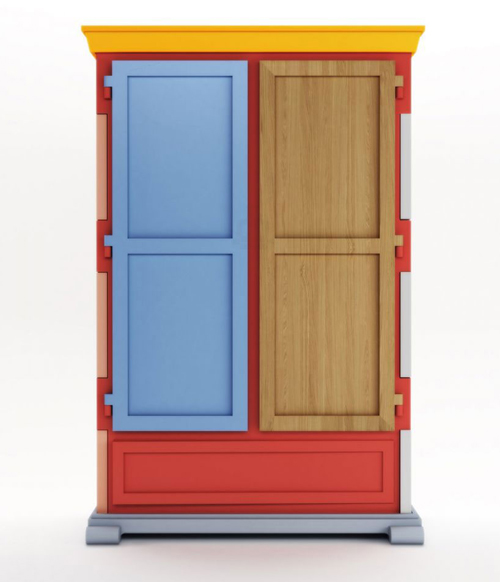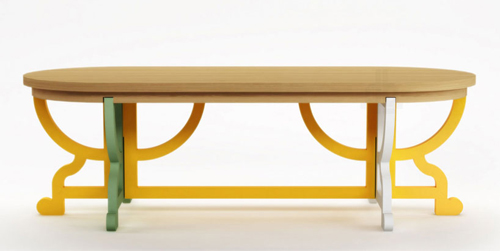 Source: Designboom
Kelli Collection by Swedish studio Claesson Koivisto Rune. They have gone all out with their oversized proportions in their collection of super cute chairs, inspired by American minimalist artist Ellsworth Kelly.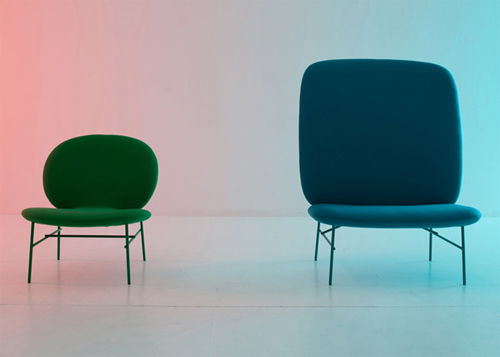 Source: Dezeen
Colonna is a classic of the Gulham collection by Studi65. An iconic column is slashed in three, so that when separated, its individual elements function as seating and tables.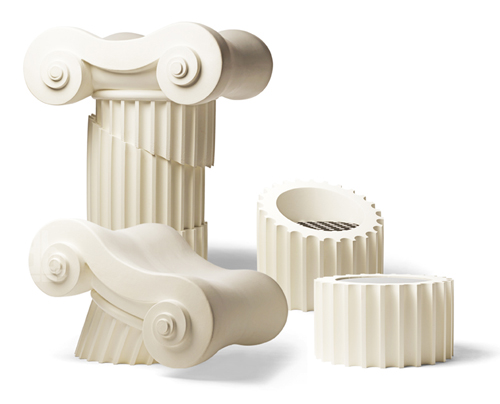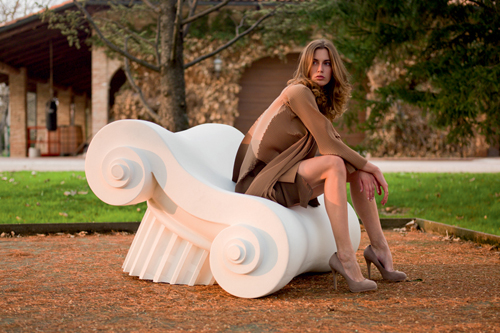 Source: Studio65
Terreca is a handcrafted line of products built with leather-bound walnut units of 4 x 4 x 4cm. Designed by Marc Baroud for Carwan Gallery in Beirut, Lebanon.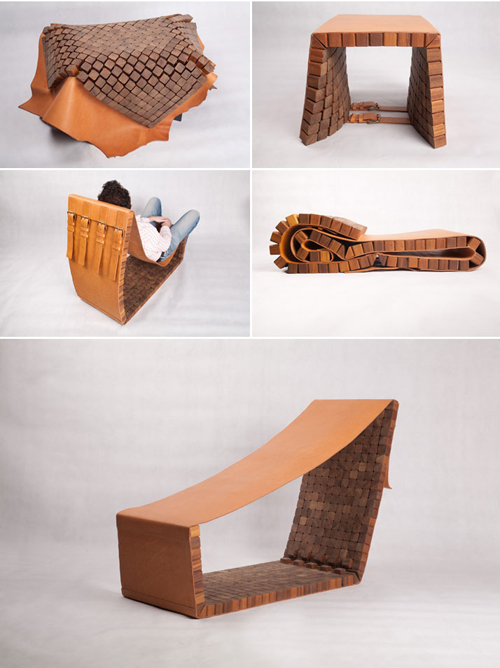 Source: Carwan Gallery
The Good Vibration storage unit by Ferruccio Laviani for Fratelli Boffi. Inspired by sound waves, the cabinet looks like an optical illusion or a photo manipulation at first but at a closer look you realize it's  real.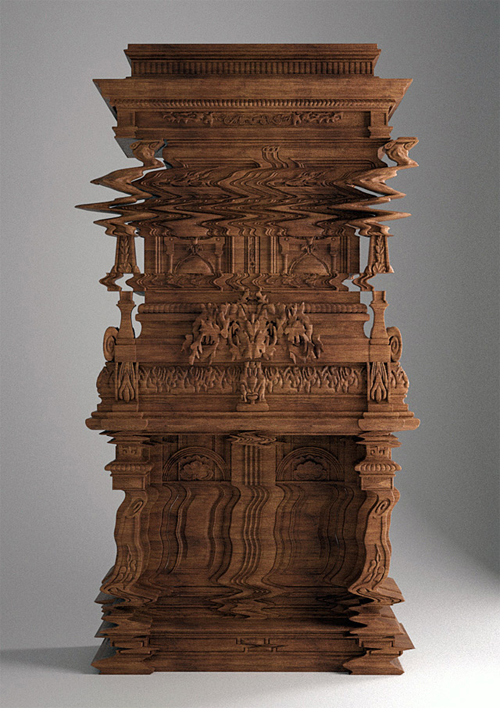 Source: This is Colossal
Ascent for Luceplan by Daniel Rybakken is the most hyped about lighting fixture showcased in Milan. The visual elements of the lmap are all recognizable, but it is the way you use it that makes it different from existing lights.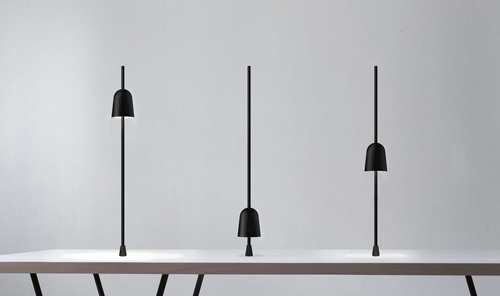 Source: Disegno Daily
Raw Edges Book Loom by Tom Dixon was commissioned by the British Council to design an innovative and bespoke way of displaying 80 of the "Best of Young Novelist" work at Most at Milan Design Week.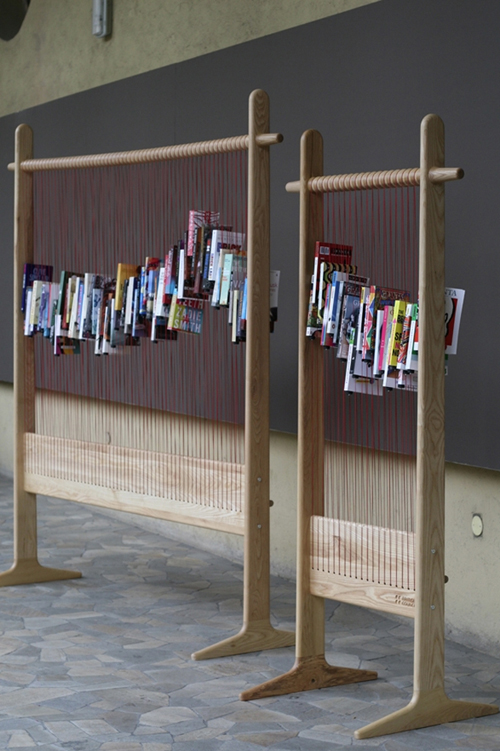 Source: Tom Dixon
Werner Aisslinger's bright chairs and modular furniture for Italian brand Moroso added a dash of colour to Milan Design Week. The collection, entitled Bikini Island is both playful and cool. We can't go past the gradient coloured Bikini Wood chair, covered by a fine piece of leather or fabric it is a vivid addition to any room.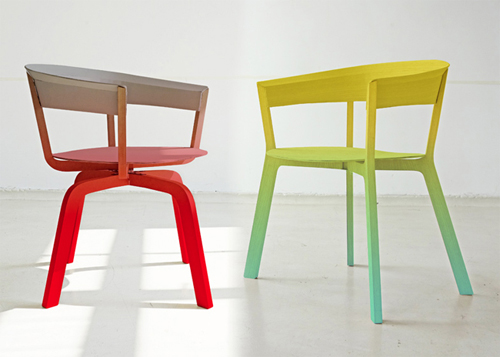 Source: Moroso