Today is Halloween, the scariest day of the year! On the eve of the All Hallows Day, the dead rise from their graves, zombies and other creatures walk among us, and as the custom goes, we try to scare the pants off each other. Apart from the trick-or-treating and dressing up, many people have the custom of watching horror movies throughout the night. These Paper Portraits of classic horror movies done by the street artist Eelus are so cool, I'd love to have one hanging over my bed tonight!
The hand-crafted set of fantastic paper portraits of classic horror movie monsters is done by UK street artist Eelus. The set of movie posters is part of his most recent display, fittingly titled Horrorshow, ongoing at the Ink_d Gallery in Brighton at the moment. So if you happen to be in the area, go and check out the show!
See the posters below, featuring such creatures as The Wolfman, Dracula, and Frankenstein, as they glower vengefully at you from their frames. Each of the pieces is painstakingly hand-cut and painted showing Eelus' craftsmanship and incredible attention to detail. Eelus is very talented in using colors, and the layered technique in which the pieces are built together makes a nice touch. He is known for his passion for the underworld in his art, as he writes himself:
"I live in a different world to most people. A world that is crawling with hidden magic and strange creatures; there are dinosaurs and strange beasts within the center of the Earth, Bigfoot is alive and well within the forests of many lands and the skies are full of beings from other worlds. There are gnomes in the mountains, secret bunkers in the desert and always ALWAYS monsters under the bed."
We certainly hope there are no monsters under your beds and wish you a HAPPY HALLOWEEN!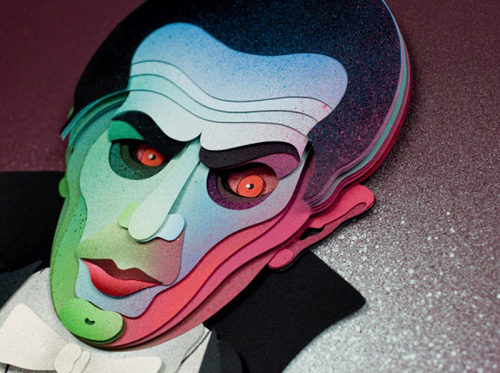 Photo source: Eelus