Two talented designers Violaine Orsoni and Jérémy Schneider run their own multidisciplinary creative studio Violaine & Jeremy focusing on graphic design, typography, illustration, and more. The duo is known for their beautifully refined, and timeless designs where typography is always given special attention. Their latest work includes the visual identity for the mythic Parisien Hotel Le Plaza Athénéé, which is the home of the new restaurant La Cour Jardin.
The crown jewel of the Dorchester Collection – a range of nine iconic and extraordinary hotels worldwide – hides a flowered, cozy, and elegant courtyard within, perhaps one of the most exclusive terraces in Paris. A romantic place where one feels like one emerged on another planet. The courtyard is entirely covered with Virginia creeper and red geraniums, making "this veritable cocoon an enchanted interlude in the middle of the summer humidity".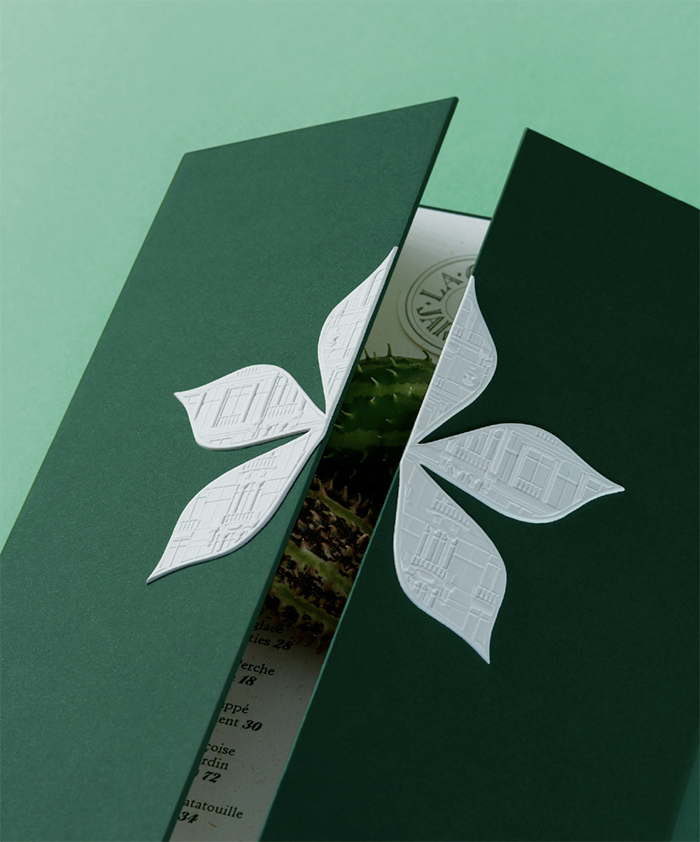 Hand-drawn pencil illustrations depicting seasonal vegetable flowers and fruit blossoms decorate the five different menus, while the famous hotel facade is immortalized on a Virginia creeper embossed design on the cover
Violaine & Jeremy worked on the artistic direction, logotypes, menu designs, and hand-drawn illustrations of the identity, trying to mimic the courtyard decor using vegetal imagery, similar colors, and natural-feel textures. The menu cover is decorated with a beautiful, embossed Virginia creeper leaf which appears as the mythical facade of the hotel. "We drew a custom logotype, with leaf-inspired serifs to perfectly fit the Courtyard covered with Virginia creepers", Violaine & Jeremy write about the custom lettering typeface.
We drew the Hotel facade on a Virginia creeper, the La Cour Jardin Courtyard emblem, as a multi-level embossing
Located on the prestigious Avenue Montaigne, le Plaza Athénée has one of the most recognizable facades in Paris. "We drew the Hotel facade on a Virginia creeper, the La Cour Jardin Courtyard emblem, as a multi-level embossing".
Recycled Pur Cotton Absinthe 500 gm paper (previously featured here) with delicate particles or a cedar pattern embossed is utilized in the concept, along with the various design papers that have been precisely and thoughtfully selected to remind us of the natural environment, reminiscent of bark and wood. In a herbarium style, Violaine & Jeremy hand-drew various vegetable flowers illustrating some dishes served on the menu. 
Pur Coton paper is also available at Europapier.