Out with the old, in with the gold. One of the hottest trends of the season has been metallics, especially shiny gold. With the rule being – the brighter the better. Competing for attention along with the sun, the season has seen every color possible converted into a mirror metallic. This trend reaches over the whole field of design, from fashion to packaging and interior to graphic design. And it looks like it'll be a trend that carries on shining, even when the sun sets on the season.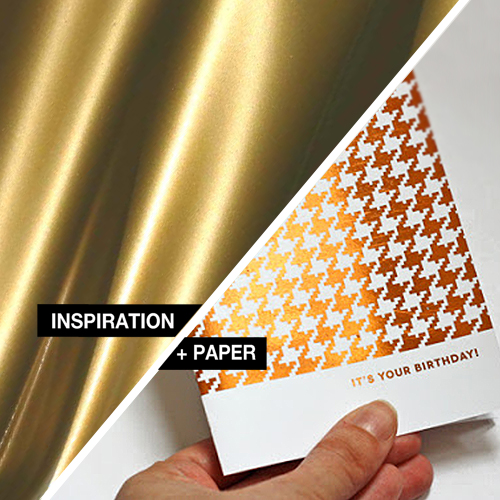 The trend is something referred to as a periodic trend, as it re-surfaces on a few year cycle. Metallics and mirror metallics have been around since the 80s, to which the trend is often referred to. With its modern and futuristic feel it's a designer favorite when looking for something with high contrast, boldness and provocative feel. It's not a trend for everybody as it requires a certain taste. But as it has spread across the design field, we thought to show you different examples of its usage. Basically there are two options, either use metallic ink, foil etc. in printing or use metallic and metallized paper.
The DIY foil cards by How About Orange seen on the main photo are done with transferable metallic foil. We love the fact that it's a DIY and the finished look is very clean and polished, hitting the metallic trend spot on! Check out how to make your own here.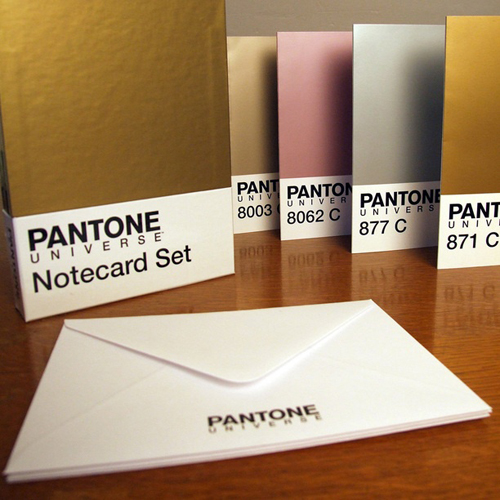 Pantone's metallic themed holiday stationery set looks incredibly expensive and modern, with just enough metallic reflection to make it super trendy and cool. And of course, who else to trust on color trends than the color connoisseur Pantone. If you want to get your hands on these notecards, visit here.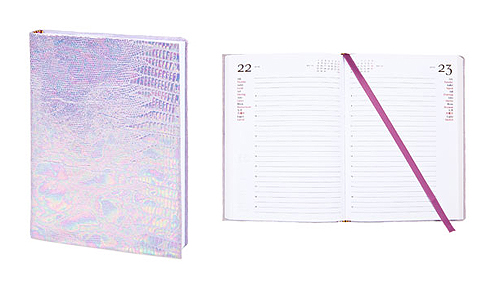 One step further in the metallic trend is the mirror metallics. They have mostly been seen in fashion and accessories design, worn by the most daring and fashion forward crowd. Zara Poland has used the trend perfectly in this stunning Shinny Snake Diary, which combines the reptile leather print with the reflective surface of seashells found on the beach. It really looks like a gem to cherish, find yours here.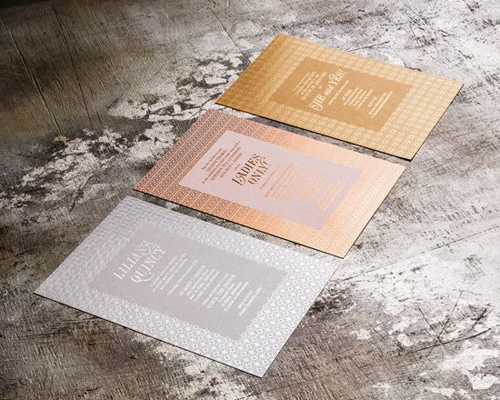 Metallics have also been seen in stationery and wedding invitation designs lately. The expensive feel it gives the design makes it very fitting for many occasions, but also the lightness and modern look makes it luxurious. The metallic wedding stationery collection by Zed Bee looks stunning in its simplicity.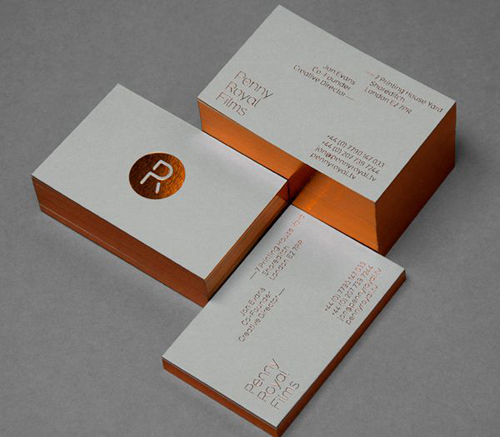 Of course the trend is also seen in graphic design, and these Penny Royal Films business cards designed by Alphabetical are the perfect example how to do it right! The orange metallic shine gives a high end, luxurious feel to the otherwise simple design.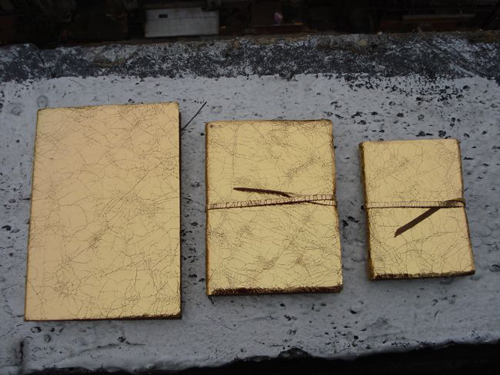 These cracked looking gold journals are incredibly stunning with the vintage leather mixed with the shiny metallic colors. Sold by Sweet Bella, they also come in silver, pewter and bronze. Choose your favorite one!
If you are into D.I.Y.'s, make sure to check out our tutorial from a few weeks ago, the Geoball! Our editor used Metallic Mirror Gloss paper (305 gsm) to make these small geometric containers for all her jewellery and they have been in use ever since! Other shiny paper choices for the Geoball are Bindakote, a cast-coated paper with a very smooth surface available in silver and gold, as well as Galaxy Metallic, a metallized paper availabele in a range of different colors.