Creative Issa Arts is a Zagreb, Croatia-based illustrator who creates darling illustrations inspired by everyday life and personal stories, that in all their simplicity, will steal your heart. Issa Art's illustrated special edition hiking diary contains an impressive 40 illustrated pages which include information about hiking, preparation, equipment, and important tips and trick to know when going hiking in the mountains. The diary also includes illustrations of animals, plants, and trees that you can spot and find in the Croatian mountains – with a checklist to mark the ones that cross your path – as well as small ideas and suggestions for refreshments to bring on a hiking trip to the mountain.
The rest of the diary is made up of pages for recording each trip, including the date, name of the mountain, conquered peak, duration of ascent, new experiences, etc., and pages to put stamps on and empty pages to write your thoughts and ideas on. At the end of the diary, you will find an illustrated list of the most beautiful Croatian peaks with tick boxes.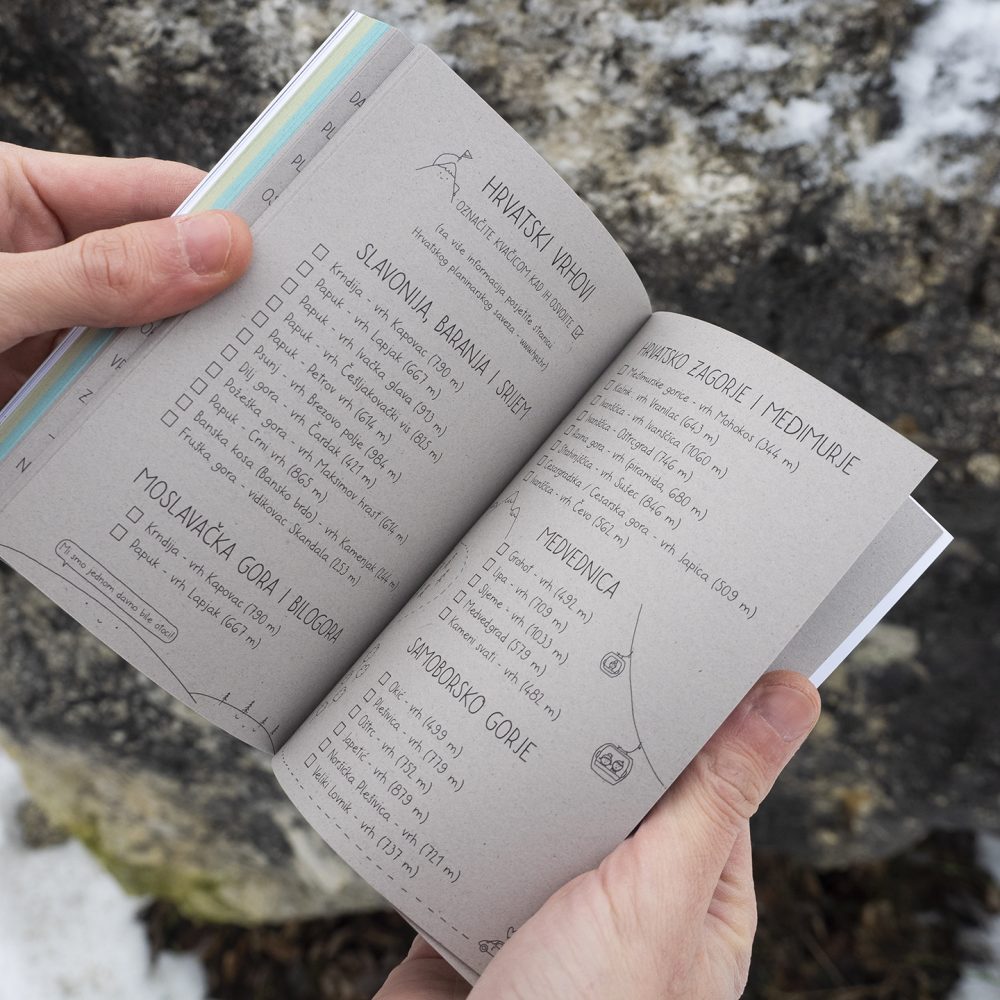 The Special Edition Hiking Diary is inspired by upcycling and utilizes eco-friendly Crush design papers made with industrial process residues from organic products
Upcycling is reusing or making new items from old, used items or from waste material, a method that helps reduce waste and CO2 emissions and preserve the environment. As a great nature lover, Issa Arts chose to highlight upcycling the special edition hiking diary by utilizing a conscious eco-friendly Crush paper range.
"What inspired us most when designing our hiking diary was the idea of ​​upcycling. Upcycling benefits the environment so it was a perfect choice for our product which celebrates nature. As eco-conscious nature lovers, we find great pleasure in emphasizing to our customers that the pages of the diary are made from agro-industrial waste (kiwi waste) and waste from the Italian leather industry. We chose specifically the Crush Kiwi, Remake Smoke, Remake Sky papers because they can be visually associated with nature: green – forests, gray – mountains, blue – sky", Issa Arts writes.

You can purchase your own special edition hiking diary here. Crush is exclusively available at Europapier Group. For a sample, get in touch with your local Europapier specialist.