Cabaret Typographie is a graphic design collective founded in 2010 by Laura Dal Maso, Mauro De Toffol, and Tommaso Pucci. The collective is currently in residence at the Atelier of Bonvini 1909 in Milan; an artisan workshop with a taste for experimentation, a passion for graphics, and an attraction for typefaces. Cabaret Typographie's works have been exhibited in various galleries in Europe and the USA, graced the pages of industry publications across media, and won numerous awards for their poster designs. 
The Atelier 1909 is a project by Fratelli Bonvini Milano Cartoleria & Tipografia, a historically renowned creative landmark in Milan. The shop specializing in stationery and printed goods was founded by the Bonvini brothers in 1909, originally designing and printing everything from letterhead papers to price lists and more. After a century in business, the now named Bonvini 1909 added a new space to their workshop, the Atelier 1909, a place dedicated to creativity and experimentation, housing classic letterpress printing machines and a vast collection of traditional wooden type characters.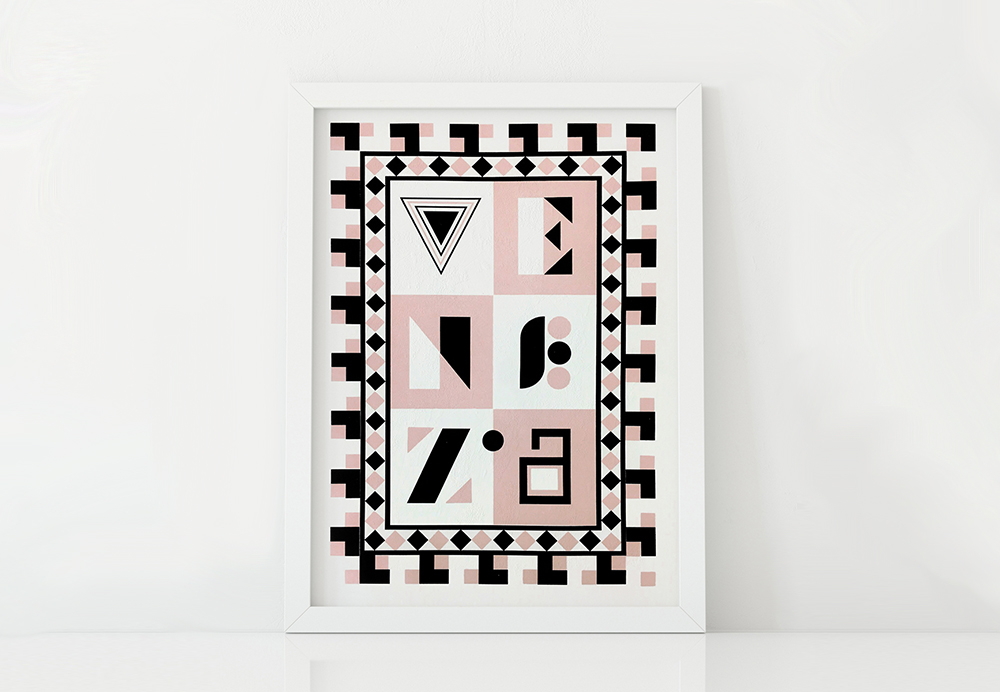 It's here, in Atelier 1909, Cabaret Typographie has created numerous beloved poster designs and other printed works. The hand-printed, limited series are sold in the Bonvini 1909 store and webshop, with their latest typographic poster series being inspired by the famously colorful paving tiles from the Italian cities of Milan and Venice. 
Typographic posters dedicated to the city of Venice, letterpress printed on Favini's Crush Corn paper
In the poster dedicated to the city of Venice, the composition and design of the alphabets are inspired by the work of Carlo Scarpa and the decorations of the floors of the Querini Stampalia Foundation, which he designed. The shades of pink and black recall the colors of the polychrome marbles typical of Venetian architecture. While the Milan poster is inspired by the refined decorations of the wall coverings and tiles of the Albergo Diurno Venezia, designed by Piero Portaluppi and built in the Porta Venezia area between 1923 and 1926. Peculiar structure, service center for travelers, the Albergo Diurno is an elegant example of Déco style in Milan.
Both posters are printed by Anonima Impressori in letterpress from laser cut MDF matrices on Favini Crush Corn 250 gsm – papers exclusively available at Europapier Group –  in a signed limited edition of 40. Also, greeting cards with both designs have been produced for sale. You can purchase the poster and cards at the Bonvini 1909 online store.