Combining the best properties of paper, film, and fabric, Tyvek® is ideal for a wide range of applications, including furniture. This incredibly versatile material offers plenty of opportunities for designers with its tear-resistant and durable construction, made 100% of polyethylene. Malafor, a Polish design duo created a series of award-winning blow-up style chairs and sofas with this special material. We like!
Tyvek® is made with a specially developed technique of spinning continuous strands of very fine fibers and then bonding them together with heat and pressure, forming a very strong material. It can be made in a paper-like or a textile-like style, giving designers a wide range of opportunities in its usage. The easy printability and other features of the material have made fashion and costume designers as Ildi Tihanyi, our latest interview partner, explore the opportunities of Tyvek®.
The material's tear resistance either wet or dry, and its uniquely strong structure make it perfect for furniture designers as well. It is easy to mold and can be glued, sown, folded and pulled, being perfect for heavy usage and abrasion. These characteristics come in handy when dealing with furniture. An object that has to be durable yet comfortable at the same time always needs to be designed from particularly good materials.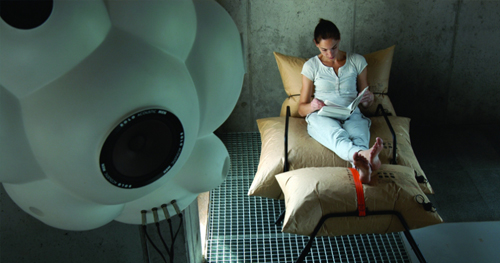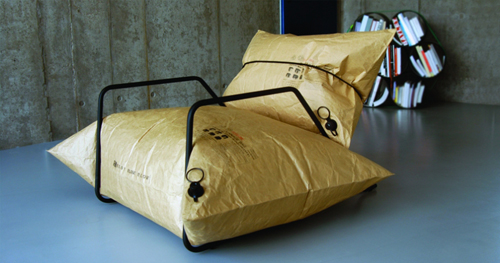 In Armchair by Malafor can be made with or without legs.
The Polish design duo Malafor, run by Agata Kulik-Pomorska and Paweł Pomorski, discovered these features and designed a range of characteristic furniture highlighting them. Malafar was established in 2004, right after the graduation of its two owners, and has since had great success in its home country as well as abroad.
Their Recycling Blow collection, a collection of inflatable chairs, sofas, and stools, are all made of Tyvek®. Coming either in white or brown, each design is based on the idea of inflatable Tyvek® bags and a black folded metal frame, which is easy to build and dismantle yourself. The designs are thought out very well, using the most interesting, sustainable and suitable materials, built in a way which saves costs in transportation without forgetting usability and design. It is no surprise that their Blow sofa won the infamous Red Dot Award in 2012.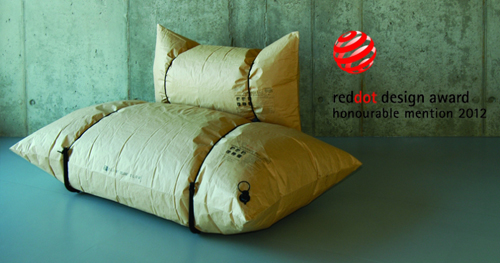 The Blow sofa has been exhibited at numerous shows and design fairs, winning the coveted Red Dot Awards in 2012
The idea and execution of Malafors collection
is
absolutely interesting and we are all eager to own our own IN armchair. We certainly hope to see more designers explore the opportunities of Tyvek® and can't wait to see what they will make of this material next.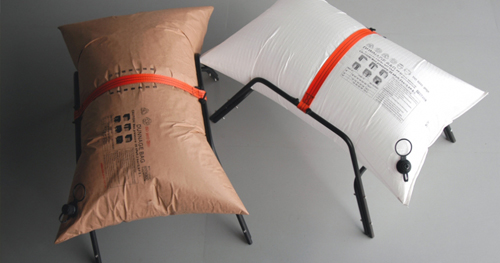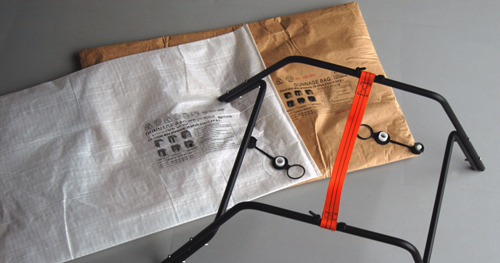 The latest addition to the collection, the recycling stool comes with two bags, a brown one and a white one, delivered in a flat package
The designs by Malafor are on show at MAK till the 6th of October as part of the Nomadic Furniture 3.0 exhibition. The exhibition refers to the popular handbooks Nomadic Furniture 1 & 2, written by Victor Papanek and James Hennessey in the 70s. These and numerous other pioneering projects of design history will be featured as important historical references. If in Vienna, make sure to visit the Museum of Applied Arts to see the designs in person!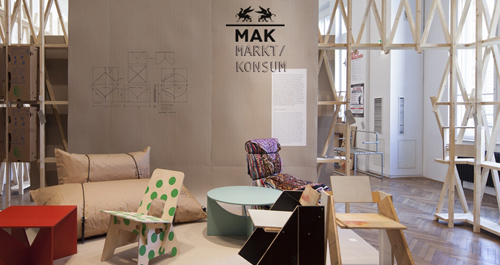 The Nomadic Furniture 3.0 exhibition at MAK till the 6th of October
Photo source: Malafor