Already earning the title of the first unofficial hipster Chinese restaurant of Vienna, Mama Liu & Sons specialise in Hot Pot, Dim Sum and Asian beverages, served in a cool and relaxed atmosphere. The modern interior and sleek visual identity goes hand in hand with the clientele. So if you have a soft spot for hot and spicy oriental cuisine, check out the place on the corner of Gumpendorferstrasse and Köstlergasse.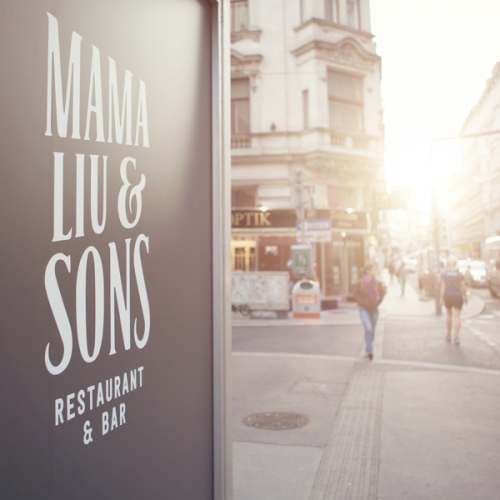 The Liu family has run a Chinese restaurant in the same premises for over 10 year, but only after the recent renovation and rebranding the place has become the new hot spot in town. It's the local Tzou Lubroth Architekten
who is responsible for the new fresh look of the corner restaurant. Mirrored stainless steel, minimalistic furniture, dark wooden floors and bare brick walls with delicate Asian inspired illustrations create a visually pleasing whole, where the concentration in on socialisation, conversation and the dining experience. You can choose to have a quick bite for lunch at the bar where free entertainment comes in the form of front row seat to the kitchen, or reserve a table for dinner (recommended!) under the black and gold steel lamps.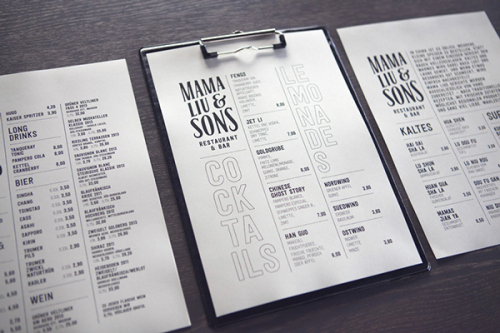 The changing daily specials and a range of small and large dishes you can combine to fit your taste are all spread out on the beautiful menus. The branding which includes the logo, stationery and packaging materials as well as online presence was done by none other than the Viennese Atelier Olschinsky. The visual identity hits three trends at once: mixing hand lettering and formal typography, combining monochrome with craft paper and using stamps as a printing technique. And it works like a charm!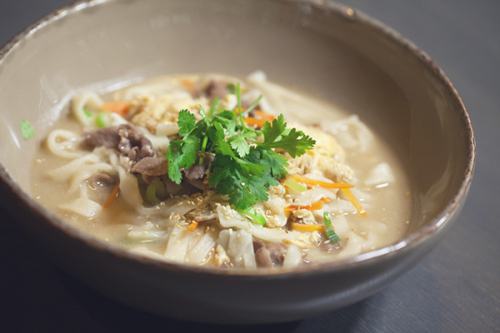 Even though Mama Liu & Sons is definitely not your usual tuesday night take away, it's a place to go when looking for something more. The venue itself might not be for everyone with the dim lighting and parse decorations, but the food will win you over. And if in a hurry, they do make take away as well, wrapped in a great looking packaging fitting to the over all style. You didn't think you'll get the usual plastic box did you? Not at Mama Liu & Sons! For someone with a never ending love for asian food and an appetite for design to match, Mama Liu & Sons is exactly what I've been looking for in Vienna. An up-scale yet relaxed restaurant where the high quality can be seen everywhere from the menu design, interior and definitely on the plate!