Katarina Alempijevic is a Serbian artist known of her paper cut pieces. Her works range from human-size exoskeletons to small installations, always having a poetic feel and deeper exploration of meaning behind them. We asked about her inspirations, her latest project Linea Alba and what paper means to her as a material.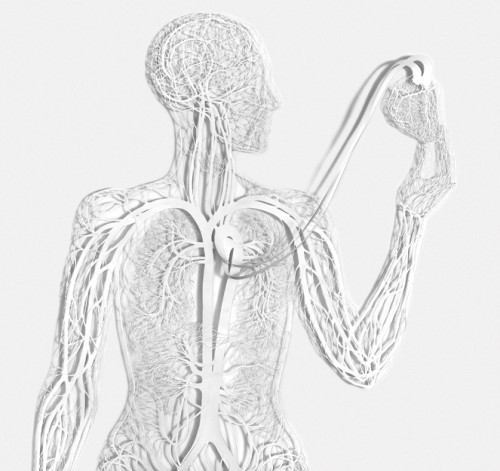 Please introduce yourself.
My name is Katarina Alempijevic. I live in Cacak, Serbia. In 2000 I graduated from the Faculty of Fine Arts in Belgrade (Painting Department) and in 2003 I completed my postgraduated studies (Drawing Department). I work in the field of visual arts. I have had eleven solo exhibitions and participated in numerous national and international group exhibitions in Serbia and abroad.
What do you like about working with paper?
What I love about working with paper is paper itself. I've been using it in the usual way, as a support for my drawings, for a long time. After a while, I became attracted by its material substance. I got involved in hand-making paper, which resulted in a cycle of art print combined with linocuts, where paper was not only the base material but an integral part of the works.
Then I started working on my cycle Linea Alba and exploring the potential of paper as an artistic medium in itself. Thus, the medium became a  piece of work,  giving me the freedom of develeoping an idea, while at the same time offering a challenge to overcome its limitations. Despite minimum working tools, paper creates a space for maximum expressivnes, with its material simplicity and nobility being open for multiple meanings. It is produced both by nature and culture, so I do love its organic materia, its herbal body, fragility, delicacy, power of tenderness, but also its ability to transform itself into an idea, a meaning.
Where did you study the art of paper cutting?
One can say that I am self-taught. I didn't formally study the art of paper cutting, but my sensibility, explorative impulse, fondness of linear drawing, tendency towards the simplicity of artistic expression lead me to paper cutting. Certainly, I used literature on the topic and the internet as source of  information.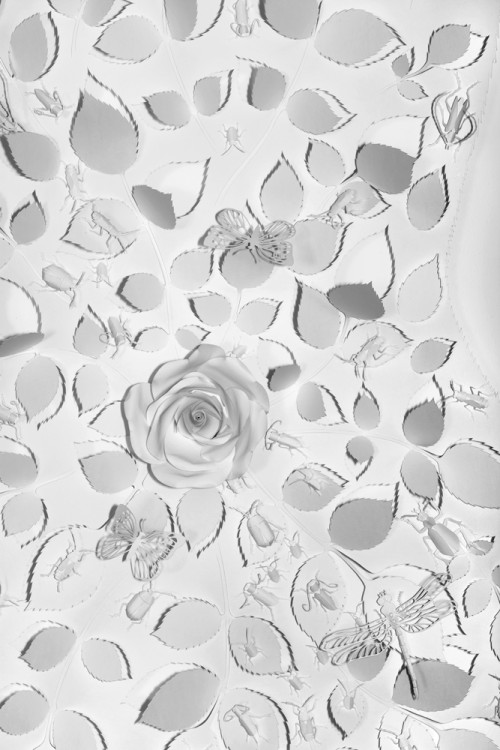 What was the inspiration for your latest exhibition called "Linea Alba"? And how did you prepare for this project?
The motif starting point of the LINEA ALBA cycle is the female body, examining the poetic spaces of the body and their corporeality and multiple meanings. The attempt of harmonizing meaning and plastic structures is accentuated by the delicacy of the material of the works – paper – as well as by the creative process – cutting – which, by its irreversibility reflects the fragility of life, dreams and aspirations, especially of the female subject, and, finally by shadow, which is a significant building element of the concept.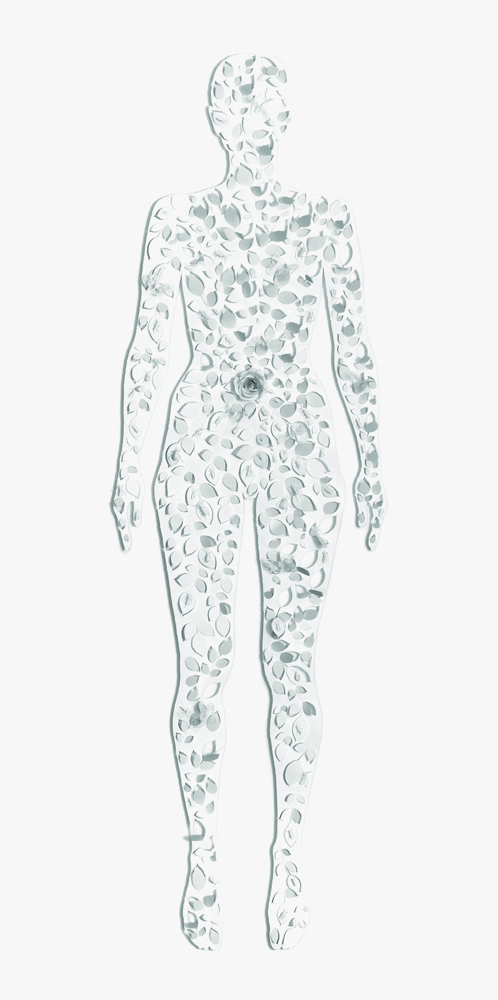 The exhibition is made of three segments: ten paper cuts that suggest real and imaginary anatomy of the female body (200 x 100 cm), thirtythree miniature objects (dimensions are up to 20 x 20 x 20 cm) made of kozo paper and natron paper (motifs are dresses in the wardrobes), as well as three large objects – natural size dresses made of neobond (dimensions are up to 260 x 100 x 150 cm) that float in the space of the gallery. The works are without frames in order to gain an additional dimension of meaning by being very exposed and unprotected. In medicine and anatomy LINEA ALBA (white line in Latin) is the name for the line located in the centre of the abdomen, made of connective tis­sue and descending vertically from the breastbone to the pubis. This line is the surgical entrance to the body.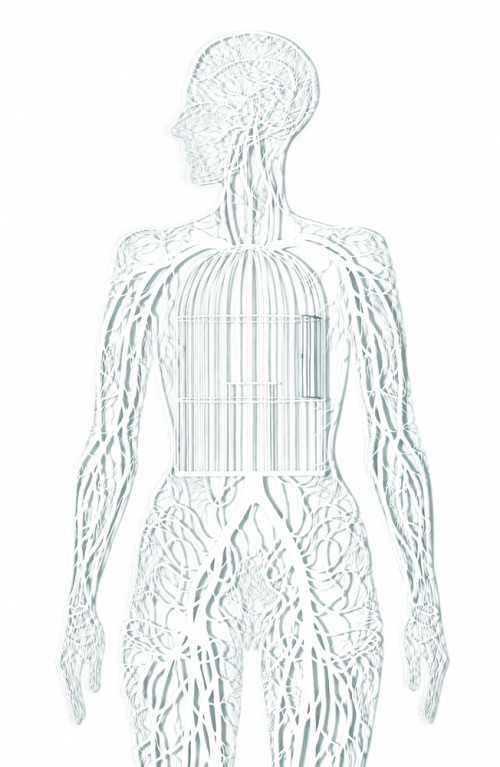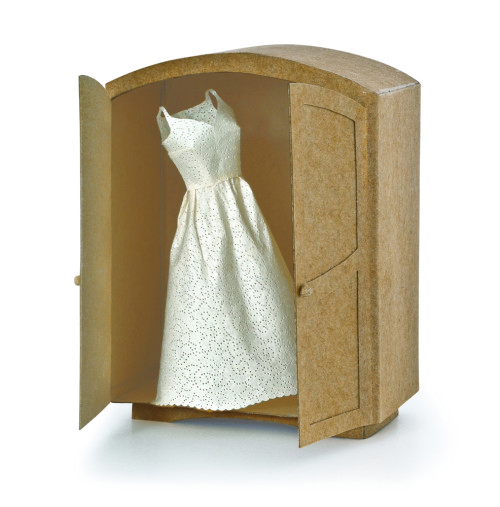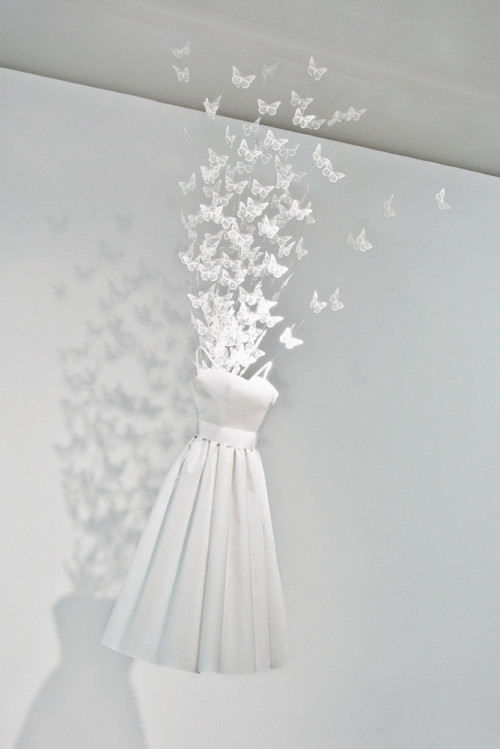 Your works vary from very large to super small, is there a reason for this?
The reasons for that  lies in  the need to realize the concept on several levels, to deepen the visual and metaphoric play of the meaning and to emphasize the tension between the sensitive and miraculous by the different sizes of the works.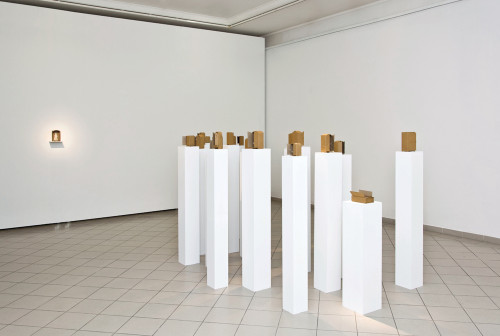 Why do you work mainly with white paper (white on white)?
I use white paper in order to emphasize delicacy both of material and motif. It is a matter of purity, light, spirituality, female principle and other symbolic meanings.
How long did it take you to cut one of the human bodies?
I didn't measure the time of cutting the works intentionally, but the whole process of creating the cycle took a bit less than four years (2009-2013).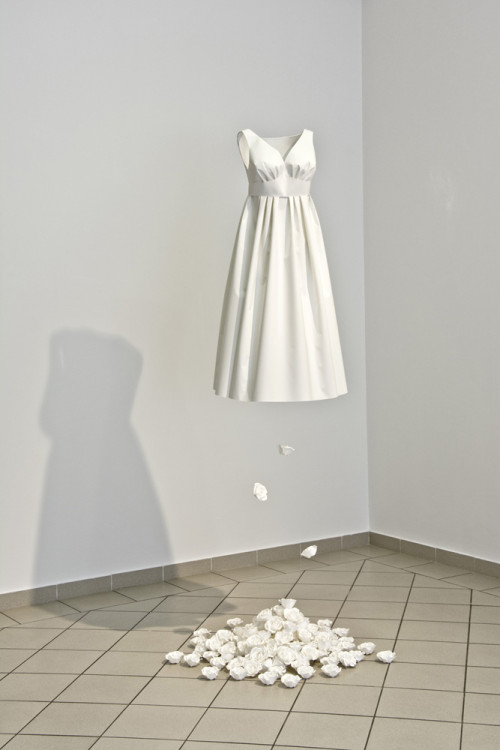 Where can our readers see your works?
Some of my works can be found at Zepter Museum in Belgrade and Gallery Nadezda Petrovic in Cacak.
In which place of the world would you love to exhibit your art?
Anywhere in the world. I like to believe that my works are able to communicate to all sensitive and imaginative personas.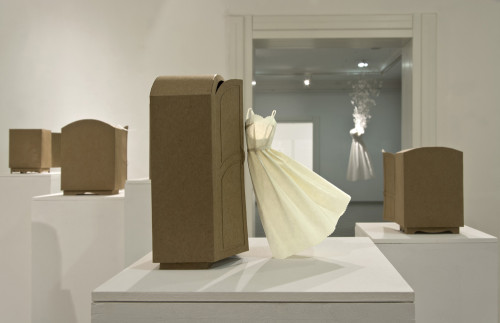 Thank you very much for the interview!
To see more photos of Katarina Alempijevic's impressive paper cuts, click here.
Photo courtesy Katarina Alempijevic