We at Design & Paper are crazy about beautifully printed magazines and good food. Our latest interview partner combines them both: Smak is a Polish quarterly for culinary adventurous and creatively demanding readers. We had the pleasure to meet Kamil Antosiewicz, one of five persons behind the magazine. He told us about how he and his partners were bored with Polish culinary magazines and decided to found Smak, about the distinct style of their magazine and he revealed some of his favorite dishes and restaurants in Warsaw.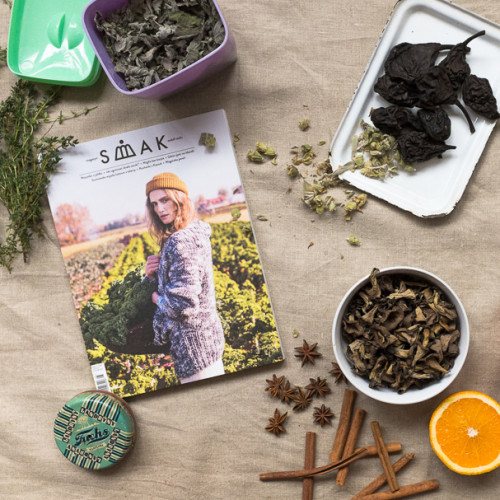 Can you briefly describe what Smak is about and who are the people behind the magazine?
Smak is a quarterly for culinary adventurous people. It was established in 2011 by two couples who shared passion for food places and people and their contexts: Kamil Antosiewicz & Monika Powalisz and Monika Brzywczy & Krzysztof Kozanowski. Our art director is Magda Piwowar. Among us are two experienced journalists (I've been a music journalist since the late 90s), a photographer and a playwriter/director with magazine experience. We came from various fields and were amateur food aficionados with no food magazine experience. Actually we felt that the Polish culinary magazine scene is so conservative and predictable that we decided to start something new ourselves. So we did it.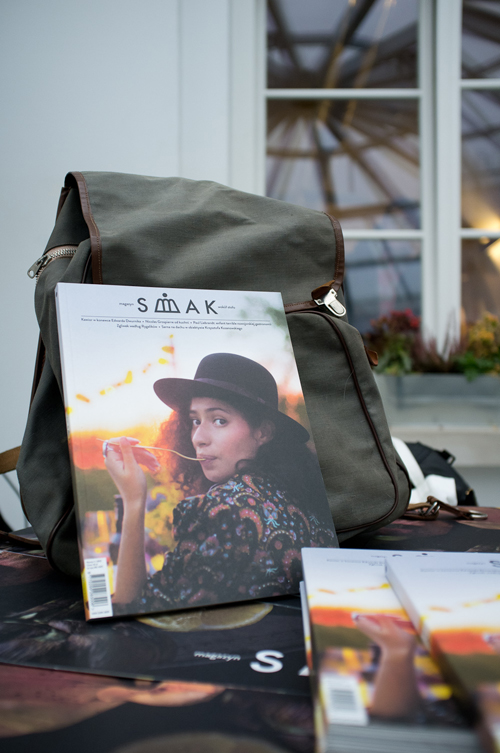 Cover of Smak's first issue
Who reads Smak and what distinguishes it from other food magazines?
We were not interested in starting another "cook book" magazine –  there are zillions of excellent recipes online and we did not want to compete with all those fantastic bloggers and mainstream titles in Poland. Instead, we decided to do something more creative for a demanding reader. We publish long articles and photo shoots. We cover various fields related to food and eating: politics, anthropology, design, culture & arts, etc. Who reads it then? Those for whom the recipes are not enough, and those who like reading while eating.
Who designed your logo and what does it symbolize?
We've been asking many graphic designers for a logo and none came up with anything even close to what we expected. Finally Jakub Jezierski, who's our long time friend and for whom food is a pretty important part of life, showed us his first draft and we and immediately liked it. We believe it is the letter "m" portrayed as a cake with a cherry on top although some people see a rabbi over a Torah 🙂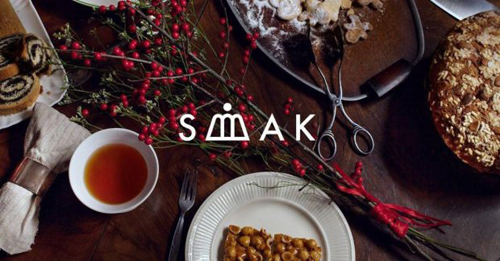 Smak logo by Jakub Jezierski
How would you describe the style of Smak?
Look at all this food photography in mainstream media and the advertising industry – it is tweaked in Photoshop to the point that it no longer resembles anything edible. So photography is an extremely important part of Smak. We loved the warm, inviting, intimate atmosphere of food styling/photography in magazines like Gourmet (R.I.P.) and this is the direction we chose: natural lightning, basic styling. You don't need to overstylize food for it to look delicious. The person responsible for this is Krzysztof who's a very picky creative director in our team, he takes care of all the visuals in Smak.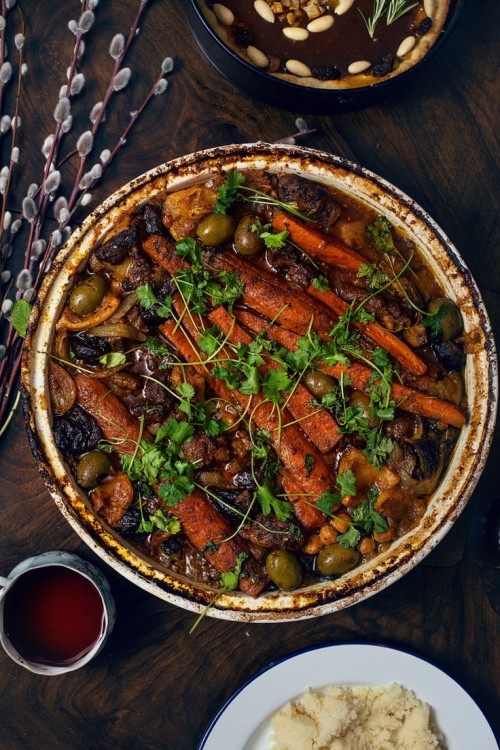 Smak' Easter menu: Lamb with olives, carrots and coliander in tagine
What role does paper play for Smak and why did you decide to go for Munken, an uncoated premium paper?
A year before the first issue came out we knew it would be printed on matte, uncoated paper. We  experimented with Munken Lynx and Munken Print White and finally we decided to work with the latter. We knew it would be much more difficult paper to work with, requiring more skilled art directing and post production of photos. Regardless of that, after some trials and errors we mastered this paper to the point that we are now satisfied with the result: it has pretty good contrast and colors look fine. Besides, it has a warm feel and look, people who are tired of gloss (which is virtually everywhere) just love it.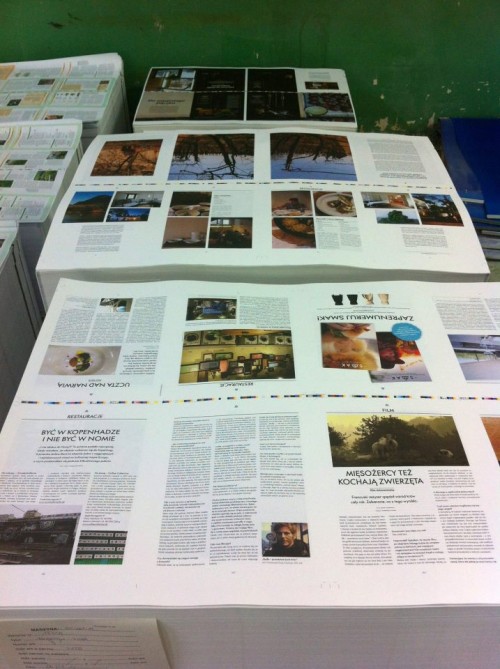 Priting Smak on Munken
We have been devouring your fourth issue? What is it about?
The fourth issue is about summer and all we love about it: fruits, picnics, ice creams, travel, summer festivals (there's an interview with Artur Rojek, Polish musician who's behind OFF festival – an eclectic though interesting alternative music 3-day open air feast). The cover was shot in Scotland where we travelled this year and shot a movie for one of our clients, but, like in the previous issues, the cover story does not dominate the content. We recommend lots of restaurants and food places in London. We interview Carlo Petrini – the founder of the Slow Food movement (he's a one weird guy, believe me!). We write about love-it-or-hate-it coriander and ask ourselves a question: why do we love it or hate it actually (there are some classy Portuguese recipes for both fans and loathers). We write about Mongolian red & white food: meat and diary, from a more anthropological side. We travel to Sicily with Giuseppe Tomasi di Lampedusa's book in the hand. That's not all of course, there are 144 pages to explore!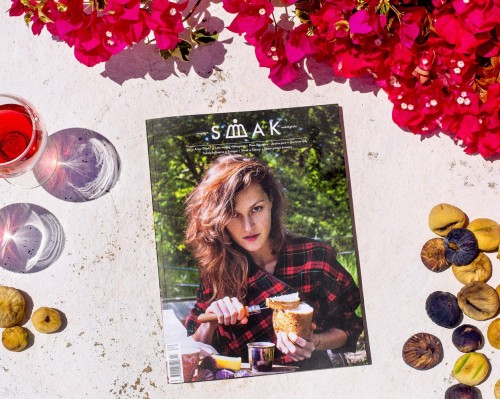 During your culinary explorations you meet many interesting people with whom you share the pleasure of taste. Is there anybody you met who particularly influenced you?
I'll speak for myself here. The most interesting people I met during our travels were locals, simple people. A trip to the restaurant on a small, smelly scooter in India, talking to guys running a curry joint in Kuala Lumpur, Malaysia, a glass of home made wine with goat cheese producers in southern France, asking a waitress for something for a terrible hangover in Tbilisi, Georgia, and her face when she server tripes boiled in milk with garlic on a huge plate – those real life situations inspire you more than a visit in a two star Michelin restaurant.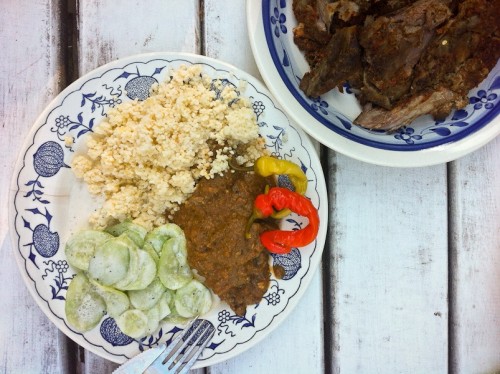 I have the simplest taste. I'm always satisfied with the best – Oscar Wilde
If you could chose 3 dishes which you would have to eat for the rest of your life. Which ones would you chose?
Bigos made by my mother – a traditional Polish cabbage stew with various meats, a home made dark bread baked by Krzystof with sourdough (I'm having a slice right now) and a good camembert for a dessert.
Which books and magazines (other than Smak) lie on your bedside table?
At the moment I'm learning from "Paella" by Hernando Herraiz (Phaidon, 2011) that this Spanish classic is a much more elaborate dish than I previously expected and I'm reading "Cooked: A Natural History of Transformation" by Michael Pollan. This is a great book about the basic processes that shaped all culinary traditions: cooking, baking, grilling and fermentation. As for magazines: There's a pile on my desk, some back issues of "Meatpaper" which unfortunately has just folded, recent "Gastronomica", "Gather Journal" and "Kinfolk" for visual inspiration.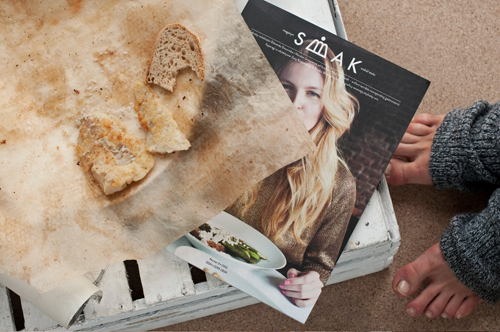 In Smak there is an extensive section dedicated to restaurants all over the world. Can you recommend your favorite restaurant(s) in your town, Warsaw, to our readers?
For a high-end culinary experience you should check Atelier Amaro – the first restaurant which got a Michelin star here, just make sure you book a table in advance! For a hangover you should go for a pho soup in one of the bars scattered all over Warsaw. For a quick, good burger from well-seasoned meat you should try Barn Burger at Złota street right in the center of Warsaw.
Thank you very much for the interesting interview!
Want some more Smak? To order Smak's latest issue, number five, as well as all previous issues click here or check out their growing list of distributors here.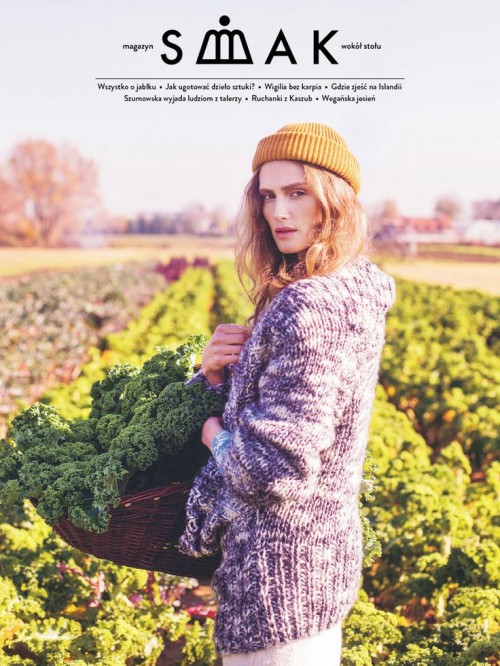 Photo courtesy by Smak