Meet Stella, the purple haired girl behind the adorable Konglomerat Design. She creates, she blogs, she is inspired by everything she sees, and on top of it all, she has her own online shop where she sells her hand made notebooks. A creative mind, and a designer who doesn't shy away from a challenge. As she says herself – there is nothing she does not try! Konglomerat is our featured blog of May, and we wanted to find out a bit more about the girl behind it all. Read on about her passion for food, photography and paper – and how she combines these in her work!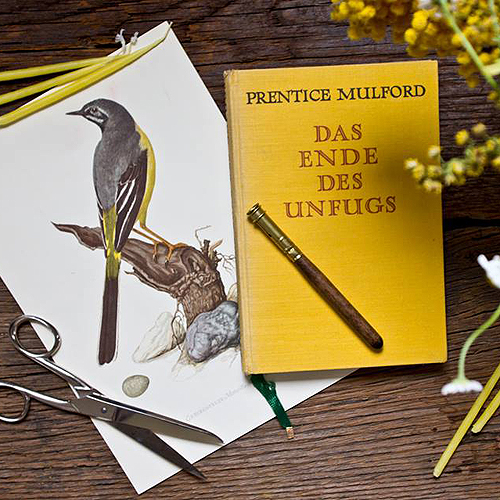 Just finishing her studies as a Communications Design major in Hamburg, she loves to make and create beautiful things, not limiting herself in methods or projects. She makes and sells adorable handmade notebooks made of old up-cycled books, and all kinds of other paper designs, which she also sells through her website – Konglomerat. The way she writes and shows her passion for her work in truly inspiring and we could all get some of that in our lives!
Can you briefly describe yourself and what you are doing?
I am an almost 24 year old Communication Design student from Hamburg. I have pastel pink hair and love everything old school. As of right now I am in the middle of my final exams and thinking about getting a studio and my label going, so I might be able to live from what I love someday.
Since when have you been writing your blog and why did you start it?
I started my blog in February 2013. I am not the "big" writer, but I thought it would be nice to let people know what is new in the shop and what inspires me. I like to take pictures and style the set to the max. If the day didn't end or I didn't have to eat, I would probably do that all day long.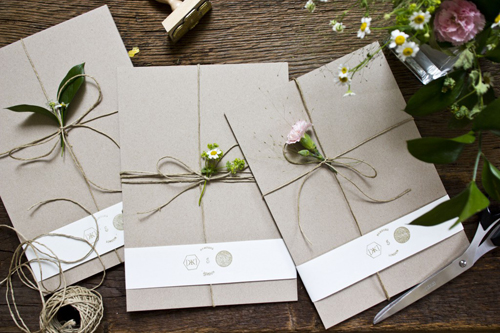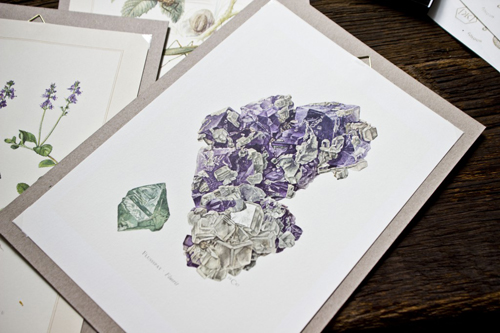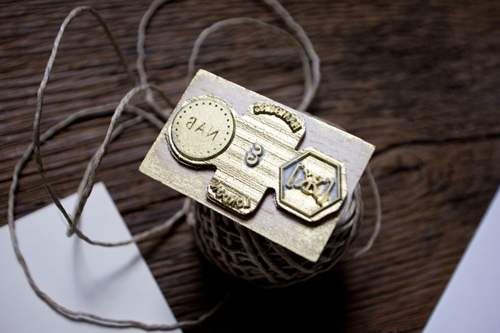 Collaboration with Notanotherbill
How did you discover your love for design and creating?
As a kid I used to draw all the time and explore new things. When I had to choose, what to do after high school it was clear for everyone that I was going to be a designer of some sort. Going through life, I absorb colors, textures, typography and I feel inspired almost every second of the day.
Which projects are your favorites, would you tell us something about them? ..and is there one you a particularly proud of?
I love everything handmade. So projects with actual products are the best. Branding, Product Design and Packaging are totally my world. Styling and shooting those products is my favorite part. I'd love to get more involved with food/product styling and photography. I flourish in every part of it and buy props whenever i can.
That is why my online shop is my absolute favorite project to work on. I have so many ideas for the label, that I want to realize. I hope I can establish the shop as a place for creatives and vintage lovers.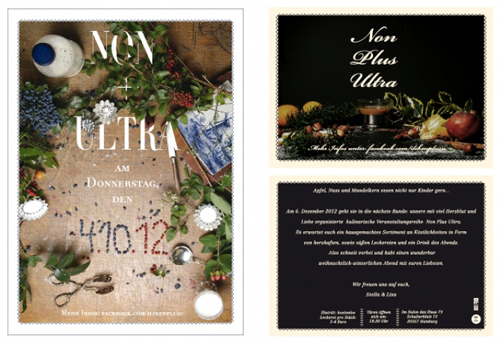 Flyer, logo und image design for Non Plus Ultra
You have done so many beautiful designs, what would be your dream project to work on?
First of all, thank you for the compliment. I find it very difficult to be satisfied with my work. But I suppose that is normal for a creative person. It's hard to tell, what would be my dream project, everything paper related would be amazing. I admire the design Agency Paperlux and of course Sagmeister & Walsh. So a collaboration would be fascinating. I just love to work with other creatives and learn from them. Most of the time those are the best projects. Also, a styling project with Nikole Herriot is something I would be keen on. She is just so amazing and my absolute styling-hero. A project involving paper, food and styling would probably be my dream project.
What inspires you?
As funny as it sounds, but I am totally inspired by nature. Food, flowers and animals are the best inspiration I can get. I love to travel and see other cultures, colors, recipes and of course animals. There are so many different approaches to design. So why not go and explore them.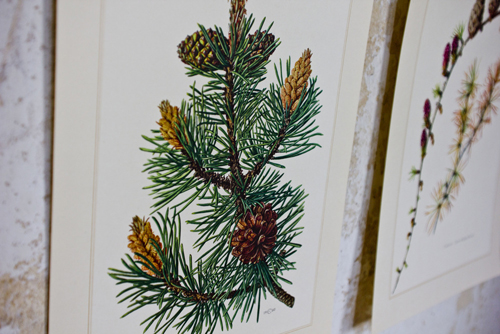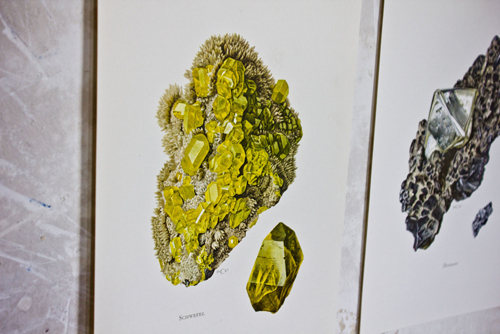 Bäume No.1 & Mineralien No.2 art panels, available here

Do you have any design idols, or people who's work you look up to?
As already said, I am obsessed with Paperlux as a design agency and Nikole Herriot as a stylist. These two subjects are my favorites. I'd love to combine them and start my own business someday. Kinfolk is very, very inspiring and I would love to be a part of it.
Which advice can you give to designers and other creatives who want to open their own blog?
Just go for it. Sometimes that is the best advice to give. Most of the people don't even know what is hidden inside of them. Maybe you are an amazing writer or an outstanding photographer. Who knows? Your readers are the jury and they will let you know if they like it or if they'd rather see something else.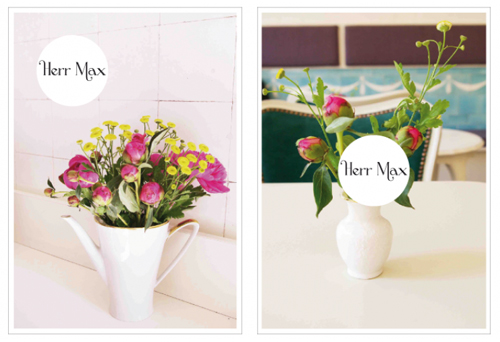 Brochure, poster and postcard design for Herr Max
What role does paper play in your work?
Though question. It is difficult for me to get this together in just a few sentences. I could go on and on about paper and what I love about it. It dominates almost everything I do. Ugh, I just get this feeling in my stomach, when I think about paper. It is like a huge crush, that will never end. Some even call me a paperhoarder. So, what can I say? Paper is my world.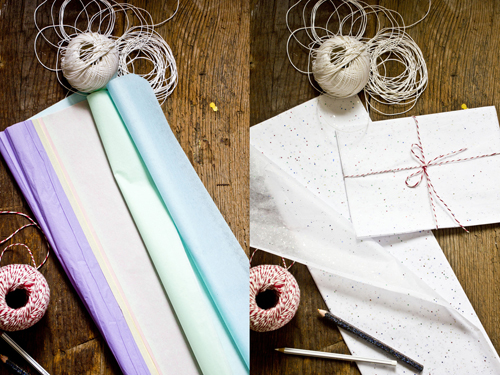 Silk papers in pastels and with glitter, available here
Among other things, you offer hand made notebooks in your shop. Where did you learn this craft and what makes them special?
Well, they are special, because they are handmade with love and a lot of time. They are old and I look for them in libraries, flea markets or antique shops. I actually never really learned how to bind. An old bookbinder gave me a little how-to book and I just studied it. Learning by doing. The first book I made was for a good friend of mine. It was a birthday present and it didn't turn out so good. I used way to much glue and the book broke at the spine. That was so frustrating. But I practiced and the books got better by time. Now, I am not even nervous anymore when I get an order.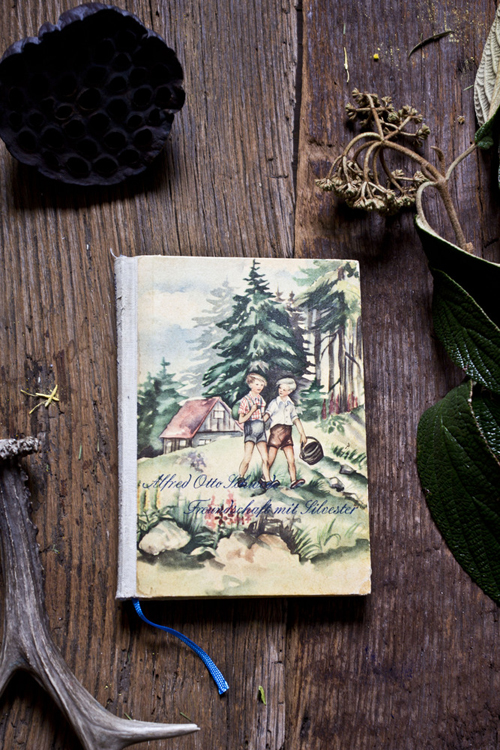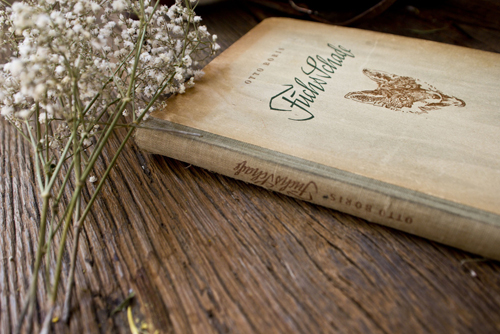 Up-cycled notebooks made by hand, available here
I read on your blog, that you have your own screen printer. What do you like about this technique?
Screen printing is such a nice technique. Even though it is really time-consuming, it is pretty easy and you have the possibility to print your very own small batch. The best part is, that you can do it any time and you don't depend on anyone else. It has a nice handcrafted feel and look. Is just love to see my designs on paper and the feeling that I created something unique with my own hands.
Food seems to play an important role in your life and on your blog, too. Would you share one of your favorite summer recipes with our readers?
Food is amazing. I like to try new things. As I would love to be a food/product stylist and photographer someday, I just keep trying as much as I can to reach my goal. So my favorite summer recipe would probably be a Wildberry-Salad with rose-vinaigrette. Here is what you need:
* fresh baby spinach
* lollo rosso
* arugula
* blackberries/strawberries/rasberries
* pecan nuts
* parmesan
and for the dressing:
* ¼ teaspoon salt
* 1 tablespoon honey
* 2 teaspoons rosewater
* 1 tablespoon mustard
* 3 tablespoons walnut oil
Just wash the 3 salads, mix in the berries and nuts. Then stir the first 4 dressing ingredients together and add the oil at the end. Then drizzle over the salad and toss. Top off with a little bit of grate parmesan. Happy summer!
Have you considered also writing in English, to broaden your audience? And what does the future hold for Konglomerat?
I definitely want to write in English very, very soon. There are more and more international clients. In the future there will be amazing products, handmade paper, a lot of collaborations and more books. It is my dream to have my own studio and host workshops, dinners and gatherings. Hopefully there will be space for some food/product photography shootings and a lot of props. I just love props and would love to rent them to students and people with low budget. I also want to be able to have a letterpress for high quality prints, that everyone can afford. I am excited and hope everything works out.
www.konglomeratdesign.de
Kongloremat facebook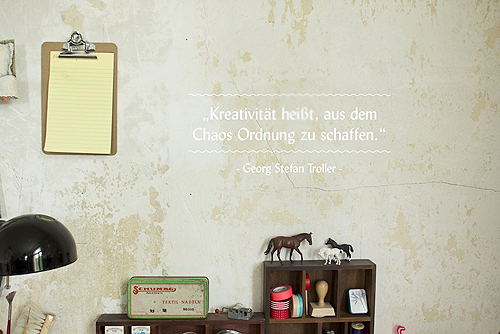 Thank you so much for the interview Stella, we at Design & Paper are just stunned by your beautiful photography, and your true passion for design and paper! We are sure to hear from you in the future!
–
Photo courtesy by Konglomerat.