American artist, designer, and award-winning author Monica Ong is known for her stunning visual poetry works, as well as the founder of the micro-press Proxima Vera. Proxima Vera specializes in creating fine press visual poetry broadsides and literary art objects with a very distinct visual style and playful technical and printing innovation, many of which have been acquired by institutional collections, museums, and private collections worldwide. Ong's work has grazed the covers of many publications, and currently, her astronomy-inspired visual poetry is on view at the Planetaria exhibition taking place at the Poetry Foundation in Chicago. See below some of our favorite designs by the creative, and explore more here.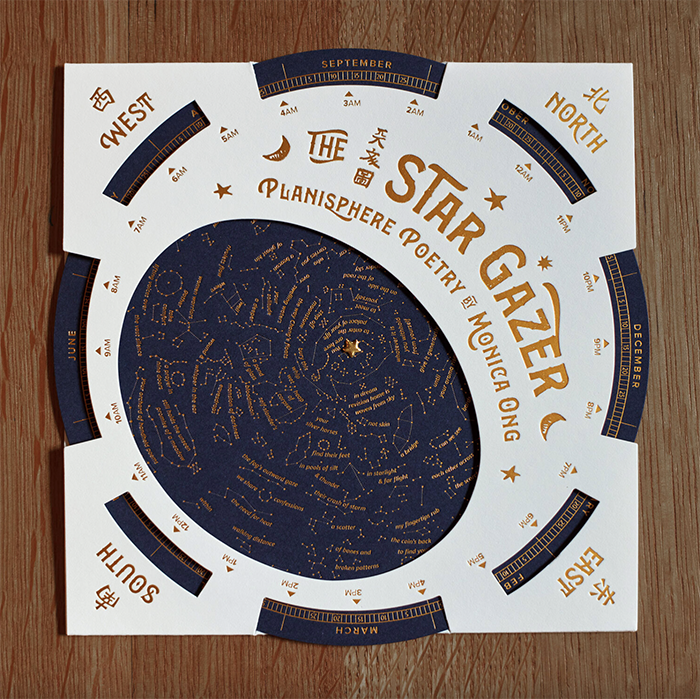 Why visual poetry? To expand the ways of seeing and holding each other that history cant even fathom but the future urgently needs.
– Monica Ong
The Star Gazer: Planisphere Poetry by Monica Ong
Based on the Soochow Astronomical Chart of 1193, this planisphere depicts the Chinese night sky as seen from the northern hemisphere. To view the stars, the viewer turns the disc to align the desired date with the hour of the night. Face south and hold the planisphere overhead with the corner marked North facing north, and the map will reveal a celestial poem that awaits you among the asterisms. Let the eyes wander and read aloud to someone dear. The design utilized letterpress gold foil stamping, and die cutting, and is assembled by Boxcar Press in Syracuse, NY. Comes numbered open edition packaged with a signed colophon. Learn more here.
Lunar Volvelle
This interactive poem takes form of a lunar volvelle. As the moon reveals its ever-changing shape, so too does the poem that radiates from the volvelle's heart. Fear not. During the full moon, my father's mother will watch over you. The multi-layered design utilizes digital printing, letterpress gold foil stamping on natural flurry 1-ply cover stock, and die cutting, and was assembled by Boxcar Press in Syracuse, NY. Comes numbered open edition packaged with a signed colophon. Learn more here.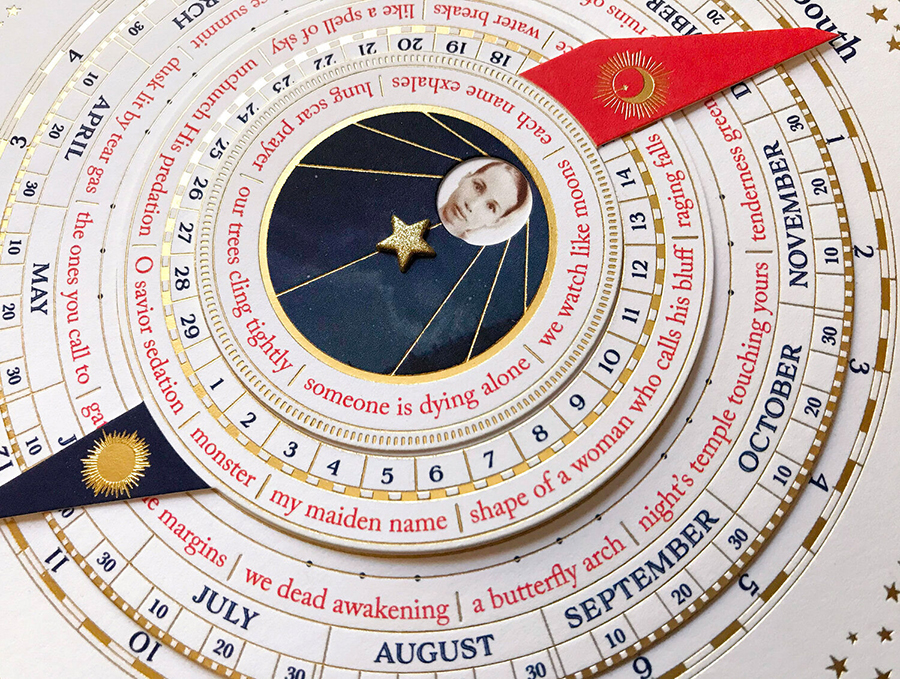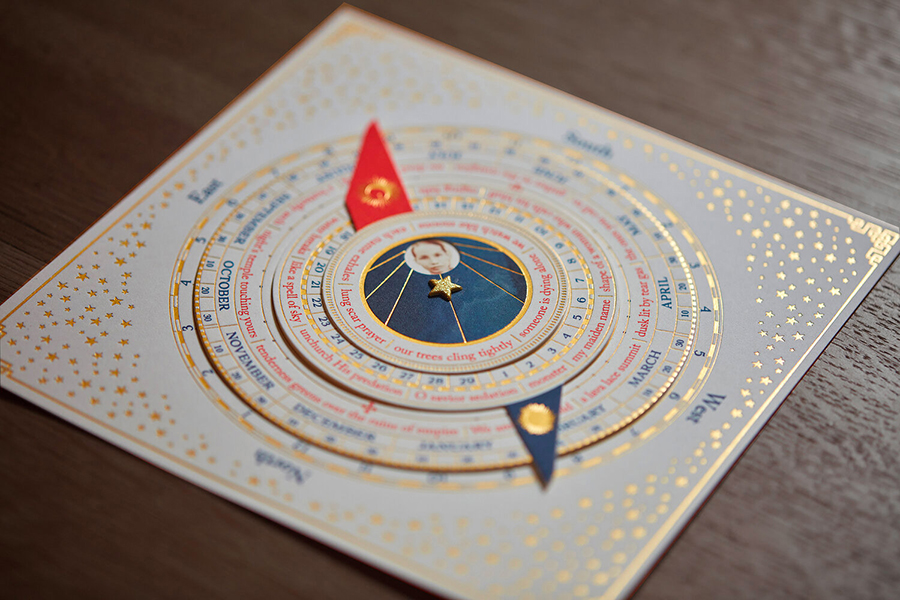 Purple Forbidden Enclosure
This poem by Monica Ong, which was originally published in Permafrost Magazine where it was named the 2020 New Alchemy Contest Winner, rewrites the constellations of the Chinese northern celestial pole from a female gaze, considering each asterism a stop on the precarious map of womanhood. The beautiful design utilizes gold & silver foil stamping, and custom letterpress print on royal blue cover stock. Each broadside is signed and numbered by Monica Ong. Learn more here.