"My work comes into being in the space where science fact and science fiction meet and merge". This is how Rogan Brown, British-born now France-based paper sculptor describes his work. Fascinated by natural forms and the crux of art and science, Brown creates incredibly intricate paper sculptures reminiscent of microorganisms, whether from plant life or the human body and its cells. Hand-cutting patterns in layer upon layer, building interlaced labyrinths of organic forms which surely seek to emulate the life – as the artist works without a preconceived direction or plan.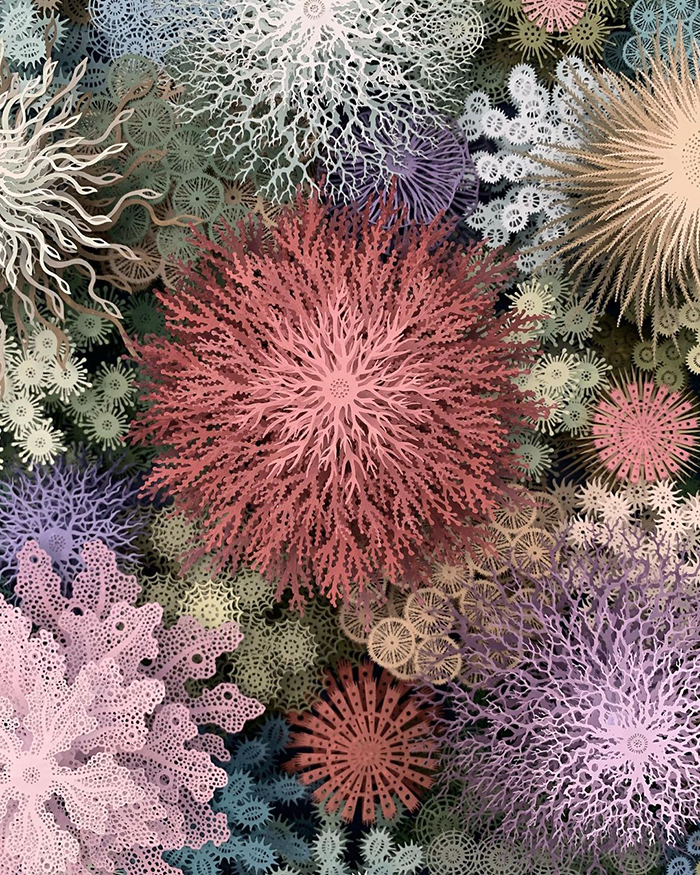 There's something cosmic about Brown's work, as the seemingly endless structures feel uncomprehensible in their complexity yet mesmerizing at once.
Hugely time-consuming and labor-intensive, Rogan Brown's paper sculptures can take months to create as they are piece by piece hand dissected from sheet after sheet with a scalpel knife – in a truly scientific manner – while the artist emphasizes the importance of the creation process and has called the finished works "only the ghostly fossilized vestige of this slow, long process of realization". 
Inspired by the narratives of scientific discovery and innovation that increasingly dominate contemporary culture Brown's work is an attempt to visualize, comprehend and assimilate these new ideas and new ways of seeing the world, whether it involves our changing perception of bacteria or the paradigm shifts in our comprehension of the physical world that emerge from quantum physics.
Paper embodies the paradoxical qualities that we see in nature: fragility and durability
Brown has chosen paper as his medium of impression for its accessibility, simplicity, and unique ability to capture the mixture of delicacy and durability, that for the artist, characterizes the natural world. The transformation from ordinary to something extraordinary that paper permits parallel the radical idea science can bring into our awareness.
"Paper, my chosen material, embodies the paradoxical qualities that we see in nature: its fragility and durability, its strength and delicacy; there is a pleasing poetic symmetry in taking this material that was cut from the forest and by cutting and transforming it once again returning it to its origins", Brown writes.
Make sure to follow Rogan Brown on Intagram for his latest works, especially an incredible collaboration project with fashion designer Iris Van Herpen.