Shapely Odded is a design collective and a brand aiming to represent various art products while creating a community of curious minds through exploration, the connection between different art and design fields, and the joy of creating together. Formed of students from the studio of Hollóka Grafikai Műhely Graphic Design School in Budapest. Design student Panni Fehér created a playful visual identity for the brand, which consists of black, white, grey, and orange elements decorated with hand-drawn characters and free typography.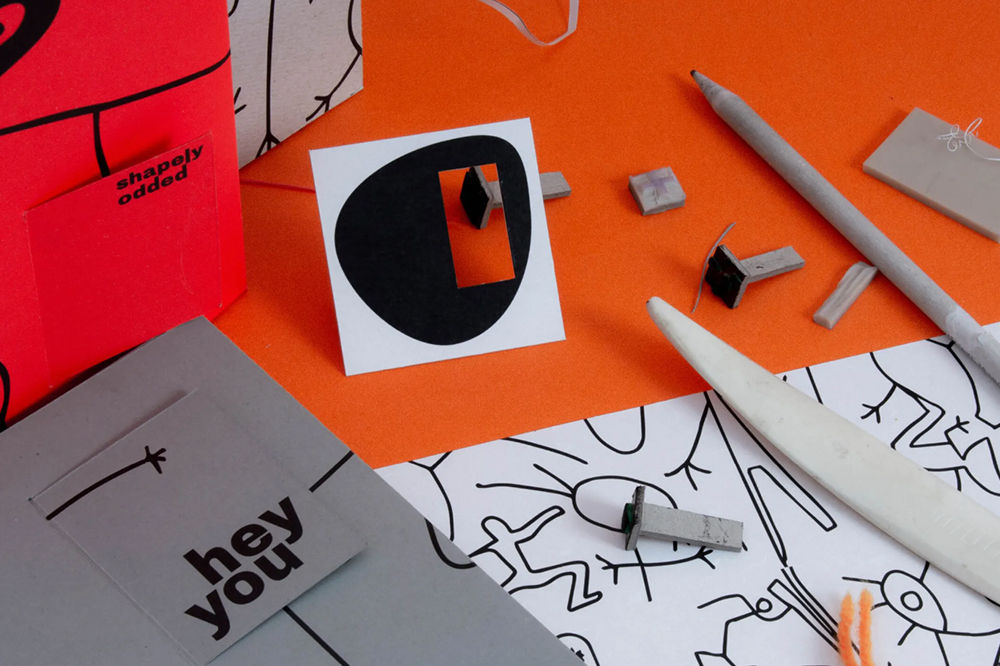 As part of the concept, a series of handmade, unique notebooks were made to celebrate the randomness of creation
The traces of creativity seen on discarded papers left behind by students in the school's studios led to the creation of the brand Shapely Odded. Its first product is a line of unique notebooks made from these strangely beautiful, imperfect papers full of everything oddly shaped, and mismatched, things that don't fit in or are just different from the normal. Sustainability – a core value of the brand – appears in the simple, glue-free structure of the booklets' packaging.
Different colors and textures of the box packaging give a first impression of the character of the products hidden inside. Illustrative elements appear on the packaging similar to how they have been wandering through the whole visual identity. "The brand's characters have surprises in store, as they communicate with us with funny, personal messages", the designer writes.
"The scale of these graphic elements and icons stamped on the inner sides of the flaps, referring to paper types, are our guides in finding the notebook that can be our companion in a creative journey. It also communicates that each product is unique and unrepeatable, made by hand and with a lot of love, complete with the date of manufacture and the maker's signature".
Learn more about the project here, and explore the wide range of creativity of the Hollóka Grafikai Műhely Graphic Design School on Instagram.