Design and food are always a good combination. A great example for that is the collection of spices by Barbara Wild. The award-winning branding and packaging design realized by Austrian-based agency zurgams combines simplicity and functionality with a humorous touch.

Each day Barbara Wild serves delicious food at her own raustaurant, the Wälderhof in Lingenau, Austria. In order to share her passion for food with a wider audience she teamed up with the creative minds at zurgams to create a collection of five signature spices. The names of the spices, which are animal sounds, already suggest the perfect application for each of them. ROAR, symbolized by a small stag inside the bold black font, is for instance perfect for dishes of wild game, whereas OINK with the small pig is rather suitable for meat dishes. Next to them there is MUH (dairy products), PIEP (poultry) and RRRR (libido mix to spice up potatos & co 🙂 ).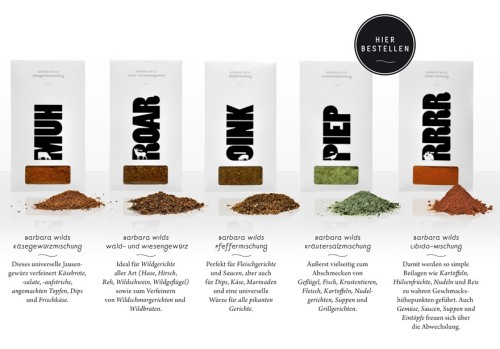 We very much like the branding and packaging design by zurgams. Kept in black and white the customer focuses on the colorful spices which you can see through a small window on the front of the packaging. The bold black font is given a playful touch by the small white animals inside. Last but not least we love the logo, an antlered W (for Wild). It comes as no surprise that the little spices won the prestigious reddot design award in 2013. Our resume: A treat for the eyes and the taste buds!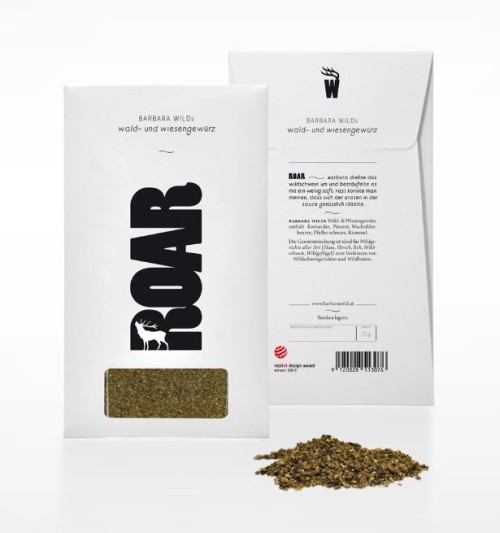 If you are looking to buy Barbara Wild's spices, our friends at fromaustria are selling them on their webpage for 6,95 € a piece.
Photos © fromaustria & Barbara Wild