I've been amused at the ongoing battle between restaurants in Vienna, each declaring to serve the absolute best burgers in town. But as the saying goes: so many men, so many minds. I'm here to speak mine. The latest contender on the scene, Swing Kitchen, swept me off my feet with the first bite I had. Let me tell you why!
Burgers are my favorite food. Let me rephrase that: I would serve burgers at my wedding. And when I get to enjoy an especially tasty one in a relaxed and laid back atmosphere, among stylish decor and in good company, there are a few places left in the world where I'd rather be. Schottenfeldgasse 3 is exactly that place. Tucked away on a side street off the buzzing Mariahilferstrasse in the 7th district of Vienna, Swing Kitchen catches your attention, as well as your taste buds.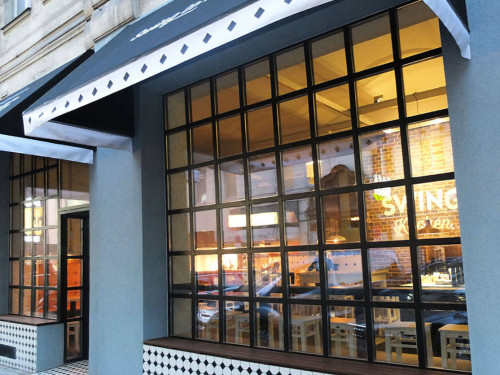 Before you even get to the first bite of food you can't help but notice the trendy design of the place. Best described as 1920's New York inspired industrial chic, a great combination of a big city loft feel with a downtown diner ambiance. The large iron framed windows invite you into a high black&white space with bare brick walls, timber floors and heavy vintage lampshades hung low above small wooden tables. I positively took note off the clear typographic design on the large menus hanging on the walls. The self-service practice works effortlessly with the staff happily explaining you the procedure. You order you wait, you enjoy. Don't be expecting white linen tablecloths or silver forks and knives, everything is eaten by hand, the way burgers as meant to be enjoyed. The menu is short and simple, just like at any other fast food joint. With only one significant difference: everything on the list is vegan!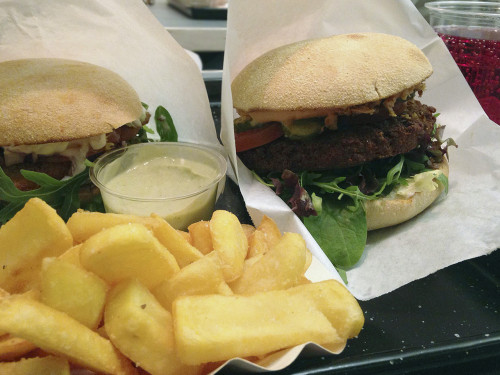 Swing Kitchen offers the ultimate soul food. It'll heal a broken heart just like it'll do good to your conscience. They follow the guidelines of sustainability by only using plant-based high quality produce preferably from local suppliers, Fairtrade certified coffee and juices, all packed in environmentally friendly materials. No plastic is used, only decomposable materials such as corn starch, sugar cane and recycled kraft paper.
If you want to enjoy something good while doing good, this is the place to go. And if you happen to see me there, you better not cut in line!
Open Mon-Sat 11am – 10pm
Swing Kitchen facebook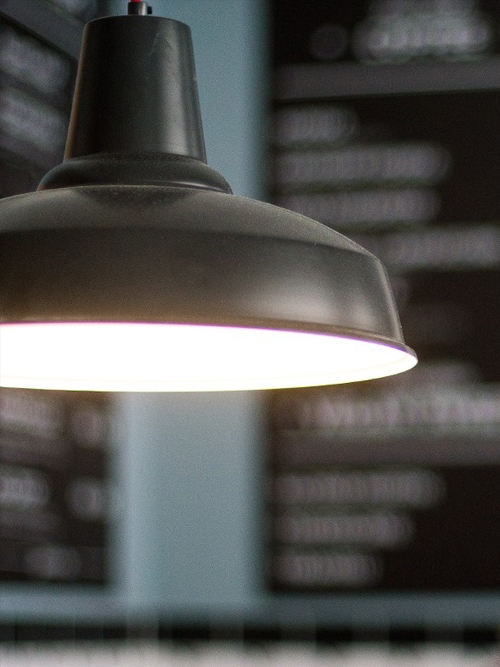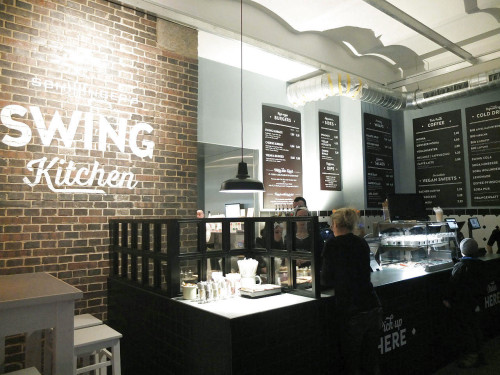 Photos via Kurier, Design&Paper