Award-winning Makerie Studio is run by Julie Wilkinson and Joyanne Horscroft, two massively talented creatives designing bespoke paper sculptures for various features, including advertising campaigns, window displays, editorial, as well as private collectors, all around the globe. Splitting their time between New York, London, and Oslo, Wilkinson and Horscroft are known for their show-stopping paper sculptures full of details and pizzazz. Inspired by forgotten worlds, rare prints, and the beauty of details, creating three-dimensional showpieces with uniquely developed techniques, precision, and passion with the finest and rarest of design papers, Makerie works with giant brands such as British Airways, Gucci, Nike, and Vogue.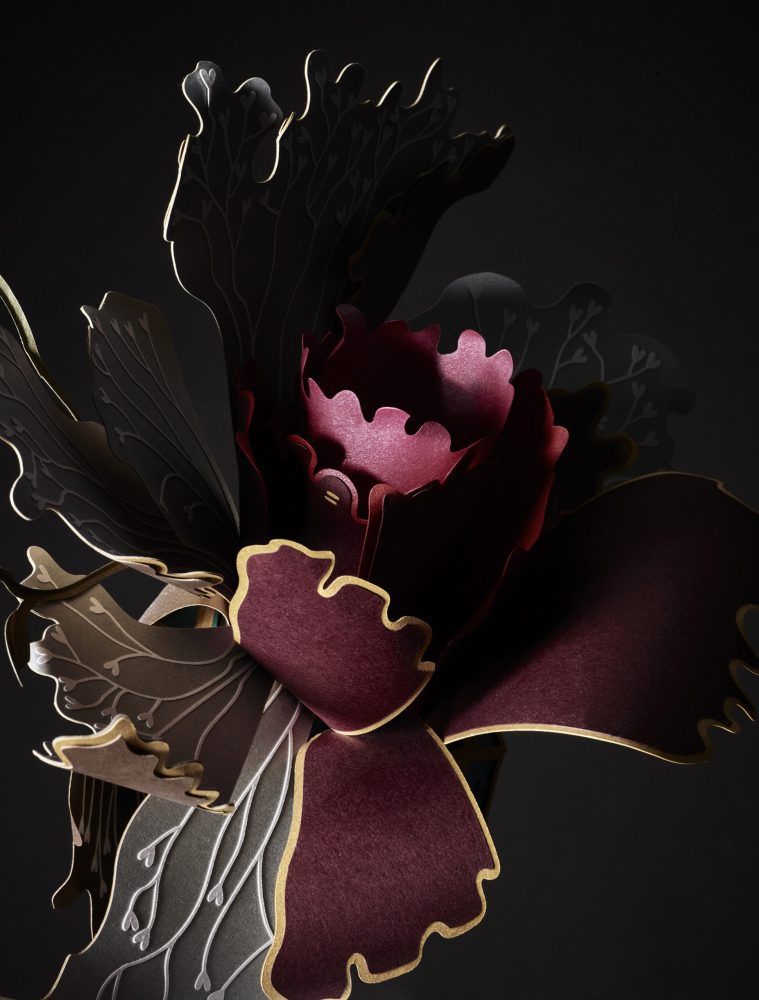 Dramatically elegant paper flower bouquet sculpture feels frozen in time and space
Inspired by the dramatic, botanical wallpaper "Artemis" by the British luxury interiors and lifestyle brand House of Hackney, Makerie decided to bring the beloved wallpaper alive in a paper sculpture form. Intended as a tribute to House of Hackney's classic wallpaper pattern, the sculpture took weeks to create, with much attention put in each element and detail. Made of dark and gloomy, jewel-toned design papers, the paper bouquet feels dramatic and elegant, frozen in time and space, offering a masterful show of the two paper creatives' talent and imagination.
Having always loved House of Hackney's Artemis wallpaper, we decided to visualize it as a 3D object. The project took weeks of art working and building, with each unique flower designed in Illustrator and then built entirely by hand", Wilkinson and Horscroft write.