Layla May Arthur is an internationally exhibited paper artist who is currently exhibiting her show "Paper Dialogues" at the National Nordic Museum in the US. Born in Jersey C.I, now based in the Netherlands,
Arthur has recently begun to work as a commercial set designer and window installation artist, for clients such as Rituals, Groningen Museum, ArtHouse Jersey, and more. The creative's work is recognizable with its incredible intricacy and the mind-boggling amount of details, that both mesmerizes and capture the viewer.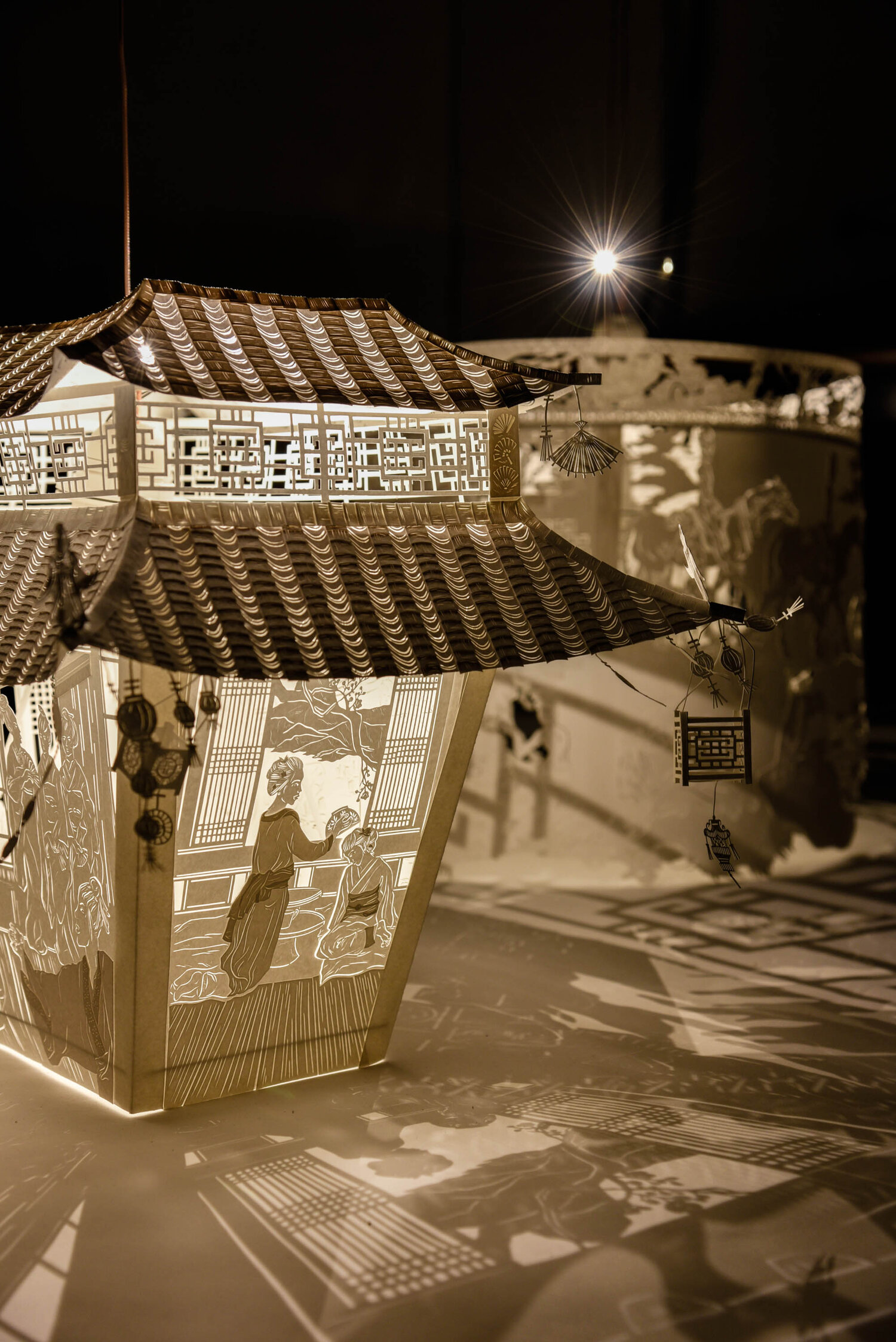 For the paper and light installation "The Storyteller, The Listener, and Our Story", Arthur dives deep into her childhood
Arthur found her inspiration for this work in the stories her parents told her as a child growing up on the island of Jersey. Her parents traveled frequently before she was born and as she grew up, shared with her stories from faraway lands. Arthur spent her childhood fantasizing about the lives and lands in these stories and imagining from her parent's words exactly what they looked like. She would frequently act out the stories in childhood games, where they would become entirely new narratives as she dreamed about the possibilities these stories could hold.
As a viewer, you step into the shadows of the work to find yourself absorbed with the intricate imagery and slight movements of the shadows as they play over your skin. You temporarily feel as if you are in a dream-like place, where the stories around you breathe and you become immersed in the narrative dialogue.
The stunning installation is meticulously hand-cut paperwork, which is theatrically illuminated to create an otherworldly environment
Arthur's signature technique of meticulously hand-cut paper illustration is given a new dimension and life through light, as the installation elements are illuminated within – bringing out details and layers not first visible to the eye, while breathing life and movement to the piece.

The artist invites you to step into her world of stories to think back on the stories you already know and to dream of your own new narratives 
With her work, Arthur encourages the viewer to use their own associations and interpretations of her imagery to dream about where the narrative has come from and where is it going.
The installation presents stories as possibilities, where the viewer uses their own assumptions to guess at which stories are shown and then to dream about where the narrative is going. The stories have no titles, no beginning, and no end; leaving them open for the imagination to create entirely new narratives of possibility. 
Follow the artist on
Instagram
for more paper art inspiration.