We love all geometric shapes and forms, especially when it comes to interior and object design. Often inspired by origami and the art of folding, the trend is here to stay. These D.I.Y. geoglobes are great for holding small things – candies, jewelry, anything! And you can easily make any size you wish. They are so simple to make, just cut, fold and glue!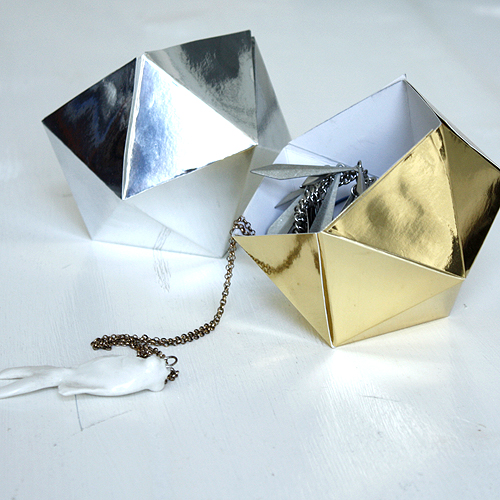 The cute little Geoglobes can be used as storage for your office supplies on your desk at home or work, or as cute decorations for a shelf or table in your home. So many different uses and so simple to make. It's perfect D.I.Y. for a rainy Sunday or some thing fun to do with friends.
We got the inspiration from the Weekday Carnival blog, who had done the globe with the simple means of drawing out a hexagon on cardboard, filling it with triangles, cutting it, folding it and gluing it in place. It looked amazing, but a bit too simple for our taste. So we decided to do our own Design & Paper versions,  a very colorful one, and a few shiny gold and silver ones. We Love it!
Specially for you we have a few templates in different colors which you can choose from, or a simple one with only the outlines to guide you. With the easy downloads, you don't have to worry about having to draw it out yourself. We thought the geometric shape goes amazing with bold colors, so there is quite a few to choose from: shades of blue or red, pink and turquoise or with a touch of grey. If you like more of a simple look, and already have a paper in mind you wish to use, then you can easily print out of the template with only the out-lines.
Just remember to print it on the backside of the paper, so it wont show on the outside.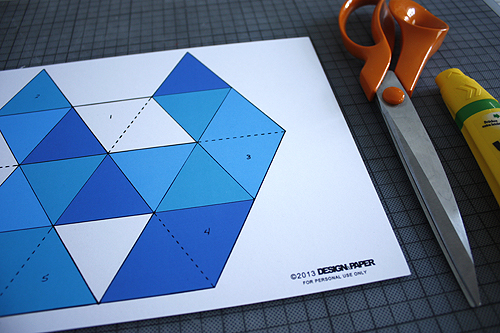 Three easy steps to follow:
1. Choose a templete you wish to use and print it out
2. Cut it out by the outlines, and the dotted line.
3. Fold it and glue it in shape. It's easy to follow the numbers to get it right
...And your done!
Templates:
blue geoglobe
grey/pink/yellow geoglobe
pink/blue/yellow geoglobe
red/pink/orange geoglobe
outlines geoglobe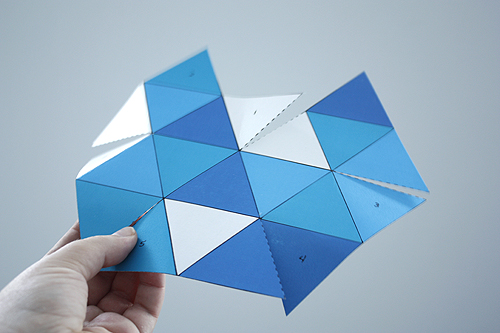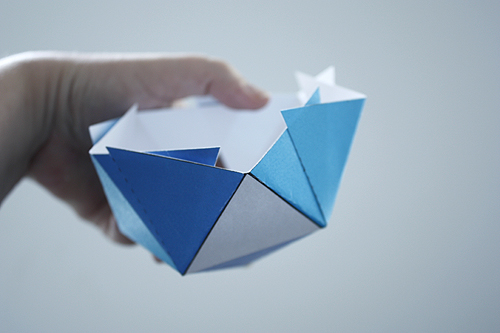 For our versions of the geoblobe, we printed the colored pattern on IQ Selection Smooth paper (300 gsm), and also tried it out on Galaxy Metallic white (250 gsm) to get more of a shine and texture on the paper. The colored versions turned out great, and are perfect for parties and childrens play. For use they ended up on our sowing table, holding all the small rolls of thread that always normally go missing!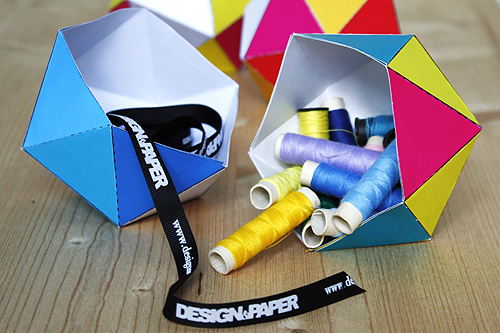 For the shiny gold and silver ones we used Metallic Mirror Gloss (305 gsm).  Both of which have already found their place on our dressers, where we storage all out favorite jewelry! Looks amazing, doesn't it?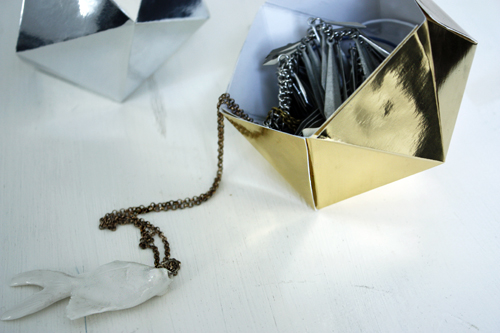 How many of these are you going to print out and make? And in what color?
We would love to see your own versions, so please share them!