Sometimes inspiration comes when least expected, and today it was the grey and rainy Viennese weather that made me think of a new colorful D.I.Y. I've seen quite a few versions of all kinds of garlands online, but I wanted to make my own version of the raindrop garland. To make it a bit more interesting, I made it into a 3D one, giving the drops more of a shape! 

Garlands are one of the easiest and fastest D.I.Y.s and often the most fun. There is very little room for error, so you can make them with children or friends, for birthday parties, Carnival, Christmas or just for fun!
This is such a simple D.I.Y., all you need is paper, scissors and some string. Make sure to use over 200 gsm paper – the heavier the paper, the better the drops will hold. I opted for 230 gsm IQ color in different shades of blue, going from darker to lighter, giving the garland a nice flow of colors.
But why not try out different versions, mixing all kinds of colors to make it super bright or a black and white monotone one for a more grown-up taste. It's also perfect for children's' rooms, you can hang it up on the window or above a baby's crib as a mobile!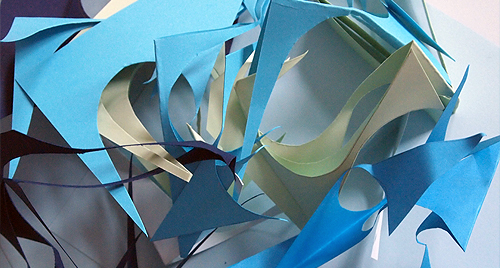 How to do it:
Choose the paper you wish to use and draw a raindrop of the size you want to make. Use that raindrop as a stencil for the rest of the drops. I found it easiest to simply fold an A4 sheet of paper in three and draw as many raindrops on it as possible and cut them out (I managed 4, which made 12 altogether). 
For the 3D version, remember to cut small cuts on each raindrop: Half of the drops need a cut on the bottom, the other half a cut on the top. Simply slide the two pieces together to make a whole raindrop!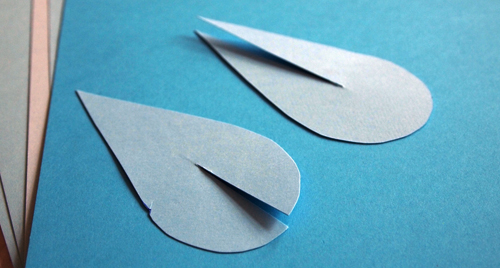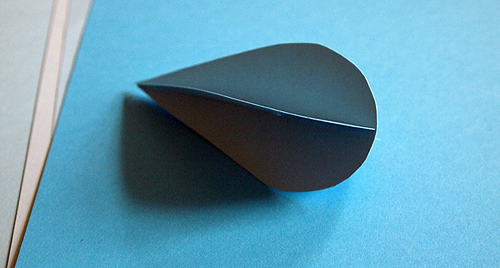 After you have all the raindrops ready, cut out pieces of string, approximately 1-1.2m length. Starting from the bottom, take the string and twist it around each raindrop in the order you wish to have them. Space them out evenly and tie the end of the string in a loop so it can be easily hung on something.
DONE! How easy and fun was that! 🙂