We're all in the middle of either enjoying or planning our summer holidays, browsing through maps to see which corner of the world we want to explore, which route to take to our next destination. Inspired by yesterdays beautiful cut-out maps by Claire Brewster I gathered together a sequel to last years DIY Maps post. 10+1 fun map inspired DIYs for you to try out!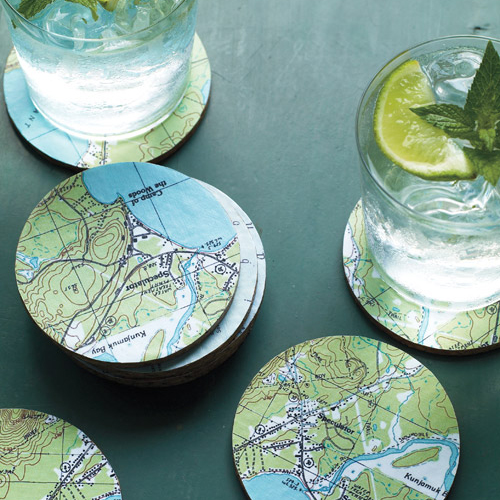 This trend is showing no signs of slowing down. And why would it? Maps are such a creative way to give a touch of personality to everything from coasters to party decorations. You can use them in larger scale when you are not afraid of a bigger visual impact, or if you are a fan of more minimal style, they can be used in small details like the map covered glass coasters by Design*Sponge. Here is ten different ways to use maps in your interior, packaging or fun DIYs, and to see more, check out my previous post about map inspired DIYs here.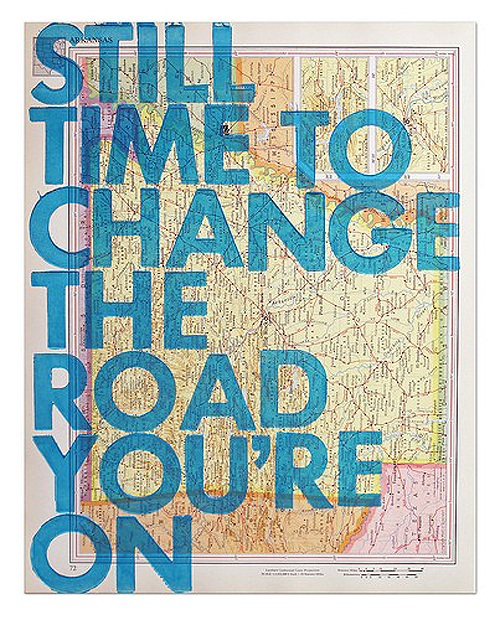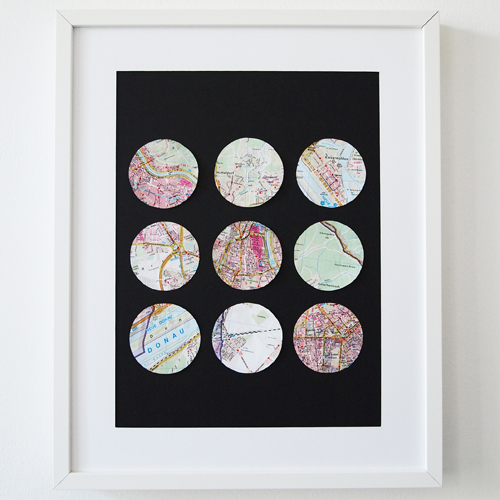 Letter press on Atlas by Amy Rice make a great looking poster, which I'd love to have hanging on my wall. And a self-made map poster I already have hanging on my wall!
One thing maps a great for, is packaging. Because they often are in a larger scale which makes them perfect for covering things up. Why not take some old shoe boxes and cover them up with cool colorful maps. You can store all your small nicknacks or DIY materials in them, or why not keep all your holidays memories and photographs in one. And for your more vintage looking, worn-out maps, use them as gift wrapping paper for birthdays, wedding gifts and christmas. If you are going to a house warming party, no better way to give something personal than wrap it up with a map of the new neighborhood or city.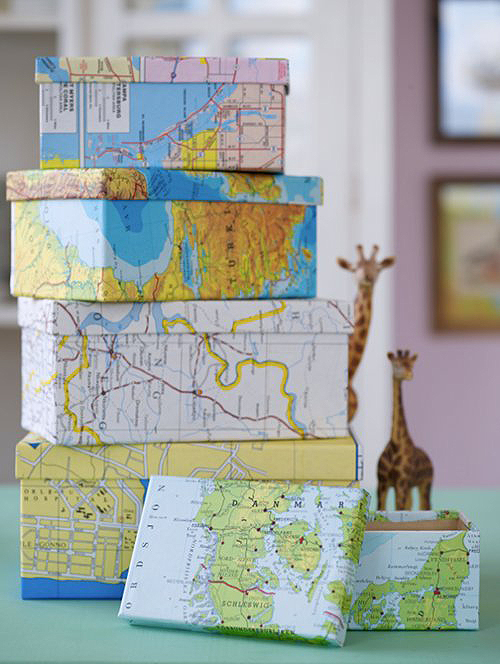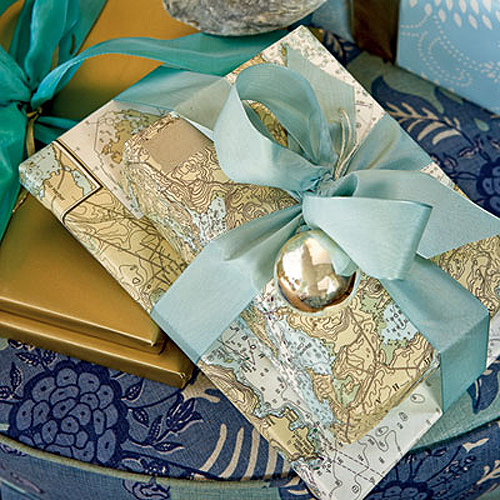 Map covered boxes project from Design*Sponge at Home and wrapped up gifts with maps.
When you use maps to cover up things that are more layered or in multiple pieces, they become more pattern like. Like the cardboard deer head that is covered with old maps of Brooklyn, looks more modern and fun with all the different greens, blues and yellows on it. The same idea can be applied to furniture, picture frames and shelves, anything you can think of.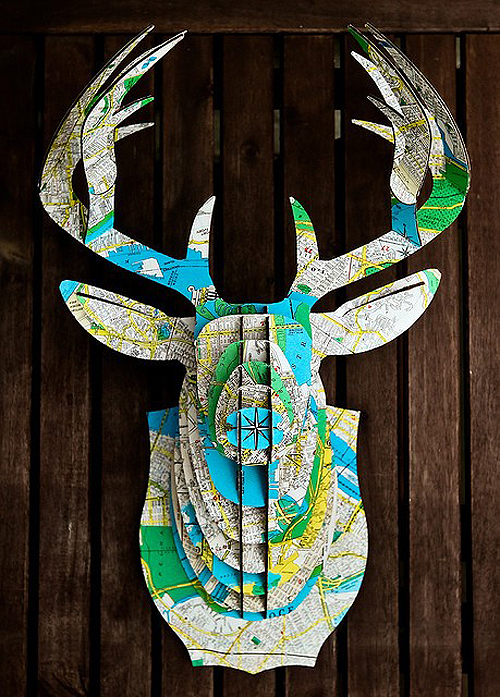 Deer head by Cardboard safari covered with old maps of Brooklyn.
This wouldn't be Design&Paper, if I wouldn't show you some map inspired stationery as well! I absolute adore the woven notebook cover that almost looks like a puzzle. Check out the instruction on how to make it yourself here. Also the envelopes look great. An interesting idea for wedding or party invitations, this way the guest would have a map of the venue ready made for them.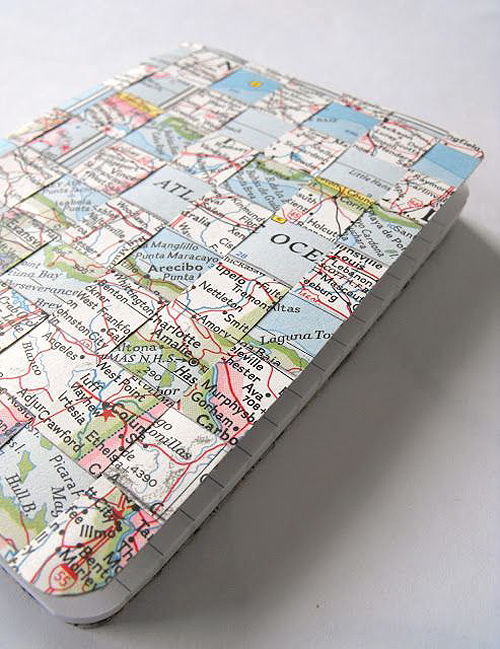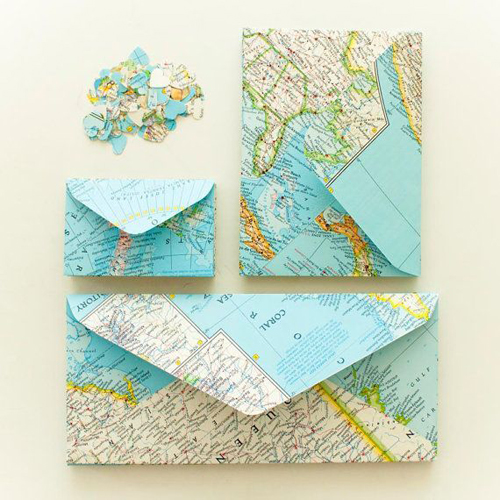 Woven Maps Notebook cover by Ruby Murray and envelopes made of maps by Sallies.
Map inspired decorations are so much fun to make. Just for your own pleasure or for a party, there is many different ways to use them. A romantic heart shapes garland or larger map flags are fitting for farewell parties, or why not home coming parties as well. And not forgetting the young ones, check out the simple instructions on how to make wind wheels out of maps.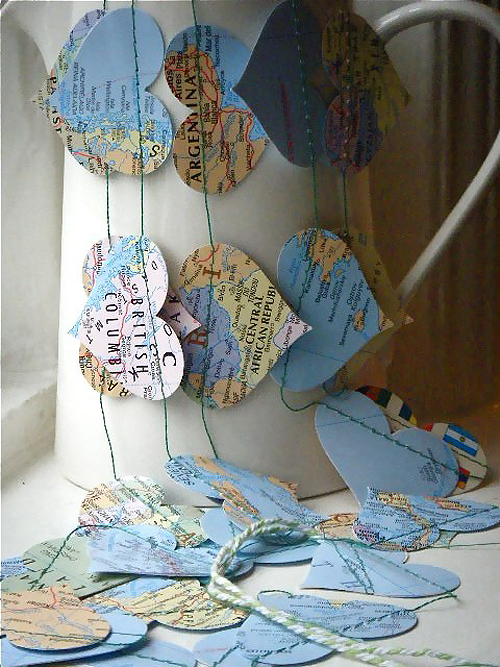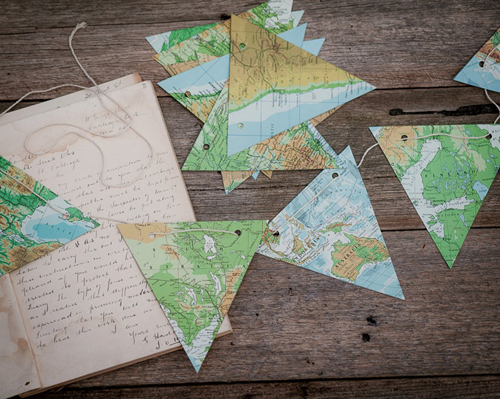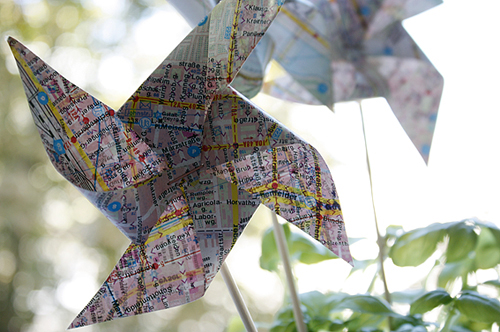 Maisy and Alice has made beautiful heart garland, the larger flag garland you can buy ready made by the Story of Vintage. And for instructions on how to make the wind wheels, check the previous DIY Maps post here.