Ecology and making the world better are the terms on everyone's lips. And we, in the paper industry understand that climate change, forests, water, and paper are interlinked and are working to have a positive impact. The raw materials used are playing their part in the overall ecological character of a paper. Faced with the need for the use of paper and boards for packaging, more and more sustainable alternatives over traditional papers are being considered. Two great new examples are grass paper – made from grass waste – and coffee paper – made from coffee waste.
Up-Cycling is an increasing trend in the paper industry. This means using waste materials, destined to be thrown away, to create new and valuable objects. We at Europapier highly value up-cycling and strongly believe reprocessing raw materials is of great importance to us all. And it will be even more so in the future!
We care about the environmental impact our papers have. That's why our eco-friendly papers range reflects the increasingly preferred international trend for sustainable products. They offer our customers more and more possibilities to make their brands ecologically conscious too, without losing the high quality and design of the print project!
This is why today we would like to introduce to you our latest additions to our up-cycling assortment: SH Recycling Grass and Coffee Paper recycled.
SH Recycling Grass – our new recycled board with grass fibre content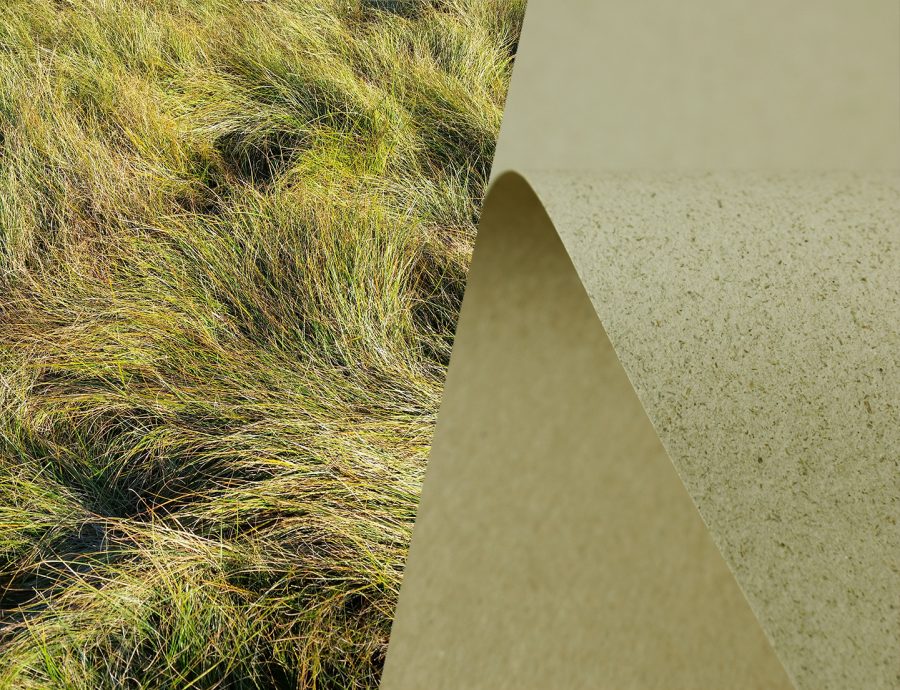 For years, we have been successful with our SH Recycling range – made from 100% recycled fibres and used more and more in premium packaging for luxury goods. Now, SH Recycling Grass comes to complement and enlarge the assortment, giving our customers a paper and board option that contains 30% sun-dried grass and 70% recycled paper fibres.
The sun-dried grass is sourced from compensation areas and fallow land – land unplanted for a season. Therefore the raw material is fast-growing, protects natural resources and the environment.
Choosing SH Recycling Grass you can now make your packaging even more "green" and underline your company's sustainability concept!
For the production of the grass pellets which are finally added to the pulp, less energy, water and chemistry is needed. This is because unlike wood, grass contains hardly any lignin which has to be dissolved from the raw material. You have to know: the higher a plant grows, the more lignin it contains. Lignin is a natural glue that holds the cellulose fibers together. And this is needed for high growing plants. The grass pellets are produced in Germany which ensures short delivery routes to the paper producers in Europe and finally it reduces CO2 emissions.
With an eco-friendly green hue, SH Recycling Grass is surface treated and therefore easy to print even in standard offset printing. No tearing of fiber occurs and therefore no increased blanket cleaning is needed for printers.
The packaging realized out of this ecological quality is food-safe for contact with dry, non-greasy food, and food that is peeled or washed before consumption. It is suitable for offset and screen printing as well as all common further finishing techniques.
Europapier is stocking SH Recycling Grass range in 120 and 350 g/m2. Please note that in the 120 g/m2 option one side has the grass surface, the other side has the well-known, brown SH recycling surface. For the 350 g/m2 (laminated quality) both sides contain the grass surface.
Kaffee Papier recycelt / Coffee Paper – our new up-cycling range with coffee fibre content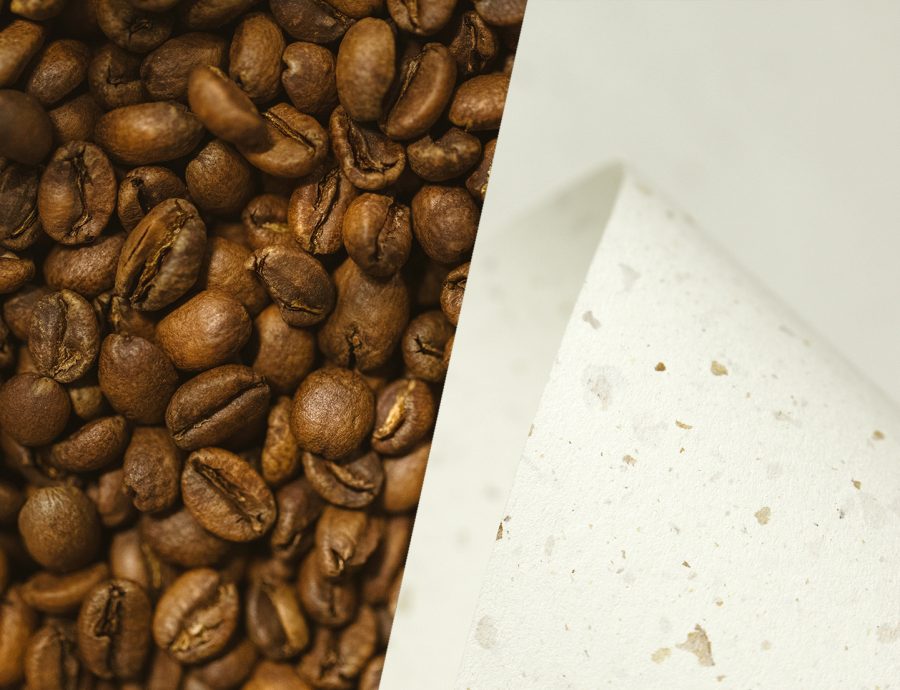 Ecological conscience and sustainability are an important component of brand communication. Coffee paper conveys this at ­first glance: upcycled coffee waste and 100% post-consumer recycling ­fibres give it a spectacular pattern and an obviously recycled character. Its unique optics and excellent printability make it the perfect material for both packaging and printing applications that stand out.
The same as grass paper production, by introducing 5% coffee rests in the pulp, these replace traditional cellulose pulp and require less water and energy to produce. The paper is comprised of coffee peel, which falls during coffee roasting. It is sourced from facilities in the Netherlands and Germany. Due to the recycled content, every sheet of paper is unique and makes its way back into the consumer cycle. Kaffee Papier recycelt was born out of the growing wish of companies and customers to have specialties and exclusivities in terms of their chosen paper.
Kaffee Papier recycelt's unique optics, obviously recycled character and excellent printability make it the perfect material for both packaging and printing applications that stand out.
Kaffee Papier recycelt is safe for indirect food contacts, such as the outside of food bag or packaging. Show your customers that your brand values sustainability and is ecological conscious by using Kaffee Papier recycelt for brochures, annual reports, but also stationary, mailings, packaging, and even self-adhesive labels. You can achieve stunning results due to the optimal printability in offset, laser print but also thermos-relief printing. And it is perfectly welcoming to all finishing techniques!
Europapier is stocking Kaffee Papier recycelt / Coffee Paper range in 120 and 250 g/m2.
Get in touch with Europapier today, to order samples of our new eco-friendly papers: SH Recycling Grass and Kaffee Papier recycelt.