Handsmade Coils is a specialty vape coil maker brand from Maribor, Slovenia, which according to their raving reviews and growing customer base is among the best in the business. To quote one happy customer (Sylvain 12.9.2022), Handmade Coils is "among the best coils I have tried, the vape is both intense and tasty; I recommend these coils to all those who want to make the most of their equipment, you will not be disappointed!" And besides the proven quality product, a great selling point seems to be the brand's new packaging design made in-house. The retro-looking packaging has a certain charm factor, as the brown and colored labels with the wash-off effect remind of simpler times. The various colored labels on the boxes signal the different types of coils – a world in itself for vaping connoisseurs. The retro feel is taken a step further when combined with the custom handwritten fonts, making the overall design inviting, homely, and uniquely memorable to the brand's customers.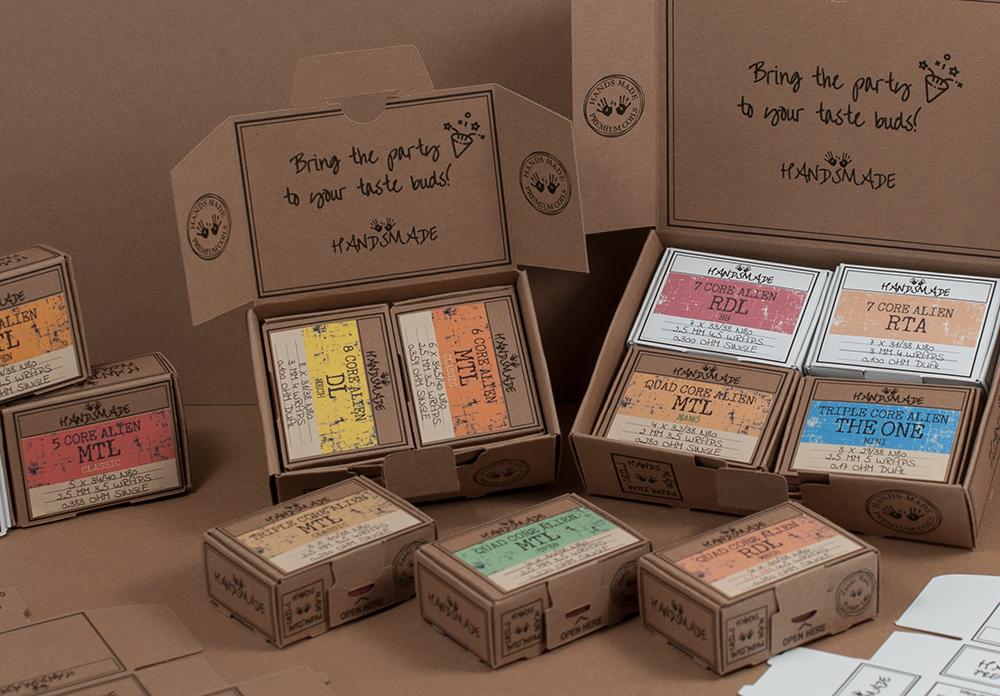 The vintage feel of the packaging design is highlighted with the Color STYLE Recycling design paper, which gives the perfect finishing touch to an otherwise top-notch product
The packaging – both the smaller coil boxes and the larger delivery boxes – was printed with Inkjet Canon without any finishing to preserve the specific recycled look and retro feel, while the concept was specifically designed to not need any glue or other adhesive to simplify the production process.  
"We chose the Color STYLE Recycling Tobacco 270gsm paper because it bends without cracking and the Vinyl cutter can cut it easily", Matija Vogrinec, the founder of Handmade Coils, explains on the specifics attributed to the chosen paper.  "In total,  we chose the Color STYLE Recycling Tobacco 270gsm & 120gsm and the color Color STYLE Diamond 270gsm & 120gsm, with the lighter paper used for the covers inside the box. The only downside of the paper is a slight tolerance in the thickness of the 270gsm paper which makes it difficult to adjust the knife of a vinyl cutter and it takes fingerprints when working on it".
Color STYLE Recycling, previously written about here,  is made from 100% recycled fibres and has also been awarded the Blue Angel, which is regarded as the highest benchmark for sustainable purchasing and confirms that the paper has been produced in a particularly energy- and water-saving manner.