This past weekend at Visual Playground, an illustration and graphic design festival based in Bucharest has been a creative blast. Imagined by creatives for creatives, the festival stashes together 8 days of workshops, a two-day conference, two exhibitions, and a mural painting, all while aiming to create a bridge between the local and international artistic communities. During the epic two-day conference, which took place on 6-7th April at Expirat Halele Carol, nine world-class speakers shared honest, down-to-earth advice and insights into their creative journeys.
"If you don't doubt yourself then chances are you're just doing what comes easy"
First day of the conference kicked off with Jordan Metcalf, who dazzled us all about how rewarding and oh-so-worth it getting out of your comfort zone is. An amazing experimental lettering artist and graphic designer, Jordan is all about seeking discomfort and allowing yourself the freedom to try and fail, rather than to fall into comfortable patterns.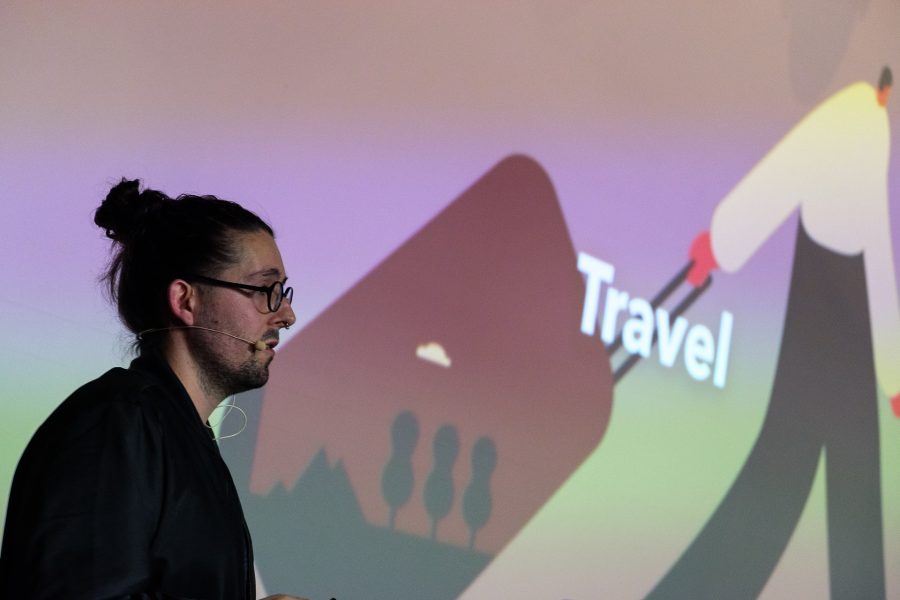 Magoz was born in sunny and exciting Barcelona, but soon enough his work desk became the entire world. I felt mesmerized by his endless quest, and even more so by his simple, minimal illustrations with a loud and clear message. UK, Malaysia, Thailand, Vietnam, Finland and more recently Sweden have all been his office and inspiration, as he can simply pop up his laptop and work from anywhere. "Minimalism is my life, not just my work".  Verònica Fuerte took a walk down memory lane and shared about the 12 years of beautiful and effective illustration and graphic design projects of Barcelona based Hey Studio. From minimalist but impactful illustrations to on-point brand identity, eye-candy editorial design or even contemporary-looking scarves, everything Hey creates sticks to mind and includes bright colors, well-thought shapes and a strong idea to begin with. And just when you think these people can do everything, Verònica shows how her team comes together and cooks beautiful pasta dishes, which they share together and with their visitors once a month.
Iván García: "Embrace your roots"
I was really moved by Iván García, founder and Director of Futura, who is his conference talk "I never listened to Pink Floyd" showed us how he was the very definition of "uncool" growing up. With a lot of ambition and a few good choices, Iván stressed the fact that a great designer can come from anywhere and you shouldn't let your circumstances define who you become in life. The two Muti co-founders Clinton Campbell & Brad Hodgskiss shared the stage and in their awesome conference talk "My mom doesn't know what I do for a living" unwrapped the mysterious world of commercial illustration, what does it mean to run a successful studio and what are the benefits and difficulties of working with friends.
Vasjen Katro spread genuine amazement, who in his "Baugasm" project has been successfully inducing us one eye-gasm per day since 2016. 365 days a year, two years completed already without missing a single day. Vibrant colors, carefully chosen textures, 3D art, tasteful gradients, distorted typography and even a bit of animation – Vasjen combines all these and more in a series of stunning posters that are worthy of being showcased in every home and gallery in this world. In his opinion, having a set style is the death of an artist, he likes to experiment and learn because there is no change without a challenge.
AKACORLEONE: "Graffiti – how to make your parents go insane while you discover the fun about breaking the law".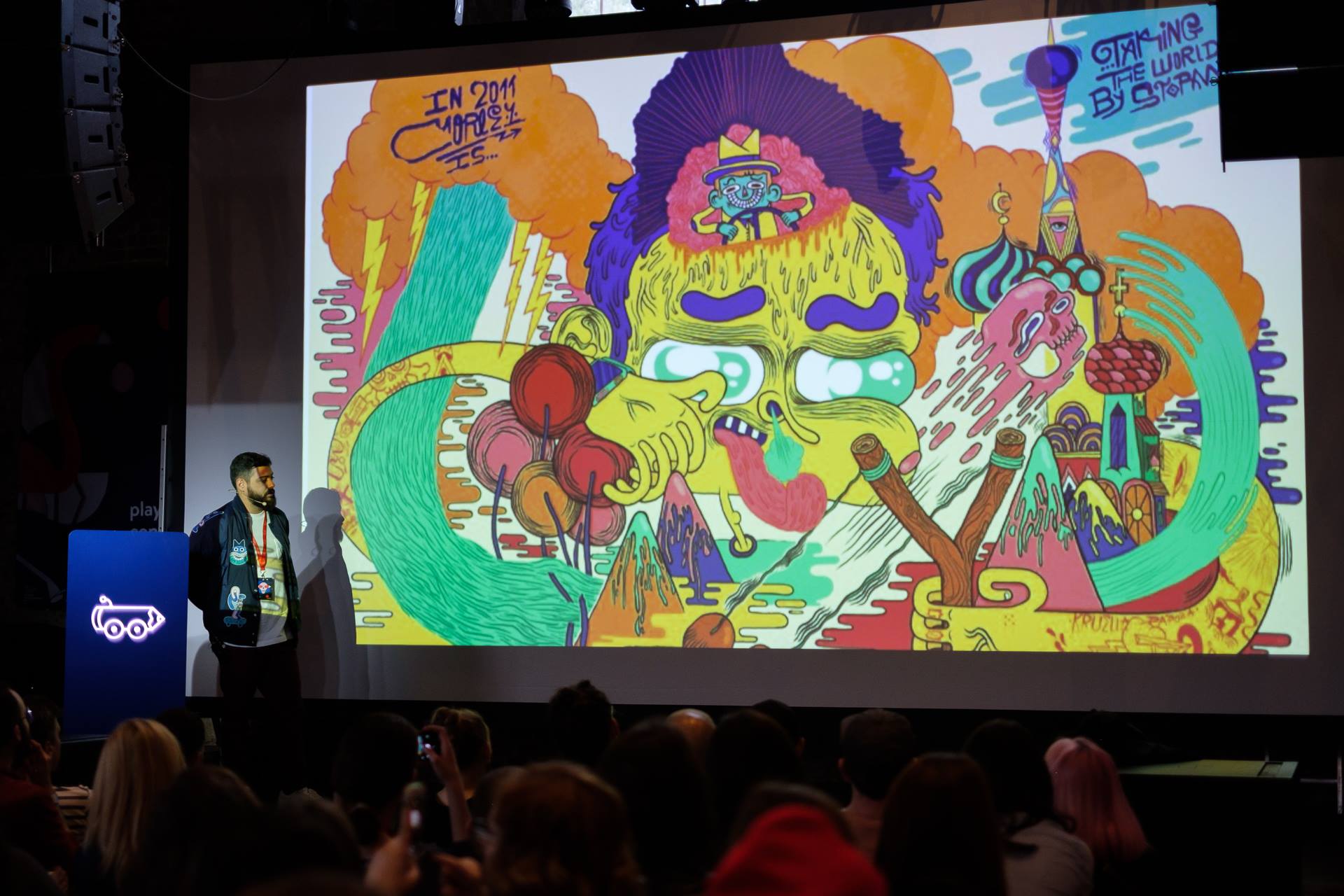 Funky typography, irreproachable use of color, unique characters and, of course, a dash of humour – that's what the work of AKACORLEONE brings to mind, a visual artist who does mind-blowing murals – and not only! AKACORLEONE inspired us to break free from commercial jobs, and to take every possibility life offers: Pedro considers graffiti as his art school.
Emiliano Ponzi's portfolio gives you the feeling of walking right into a museum of memories. One that we would very much like to live in ourselves. In his talk, he stressed "The most successful way to promote yourself is doing a great job", and dazzled the audience with the perseverance of doing one illustration even while on his honeymoon, drawing his way through what he experienced around him.
Handsome Frank: "The best ideas happen in a pub"
And that is also where Handsome Frank got founded, the world-renowned illustration agency and the hotspot for some of the best illustrators and contemporary artists out there. Jon's 9 years of experience in project managing illustration projects got him on stage at Visual Playground, offering advice to help freelancers run their business better.
Visual Playground Conference was an unmissable two-days-long conference where some of our long-time heroes talked about their favorite subjects such as their careers, lives, challenges, beginnings, crazy stories and more. Oh, almost forgot to mention – the goody bags of the events contained some very adorable notebooks and postcards sets, realized in cooperation with Europapier Romania the paper partner of the event. The chosen paper for them was PERGRAPHICA®, the premium printing paper that has devoted itself to this attention to detail, along with IQ Color in coral red, pink and oyster grey, to match the colors of the festival. The post-card sets had the works of these amazing speakers printed on them so that everyone could take a little piece of creativity home with them.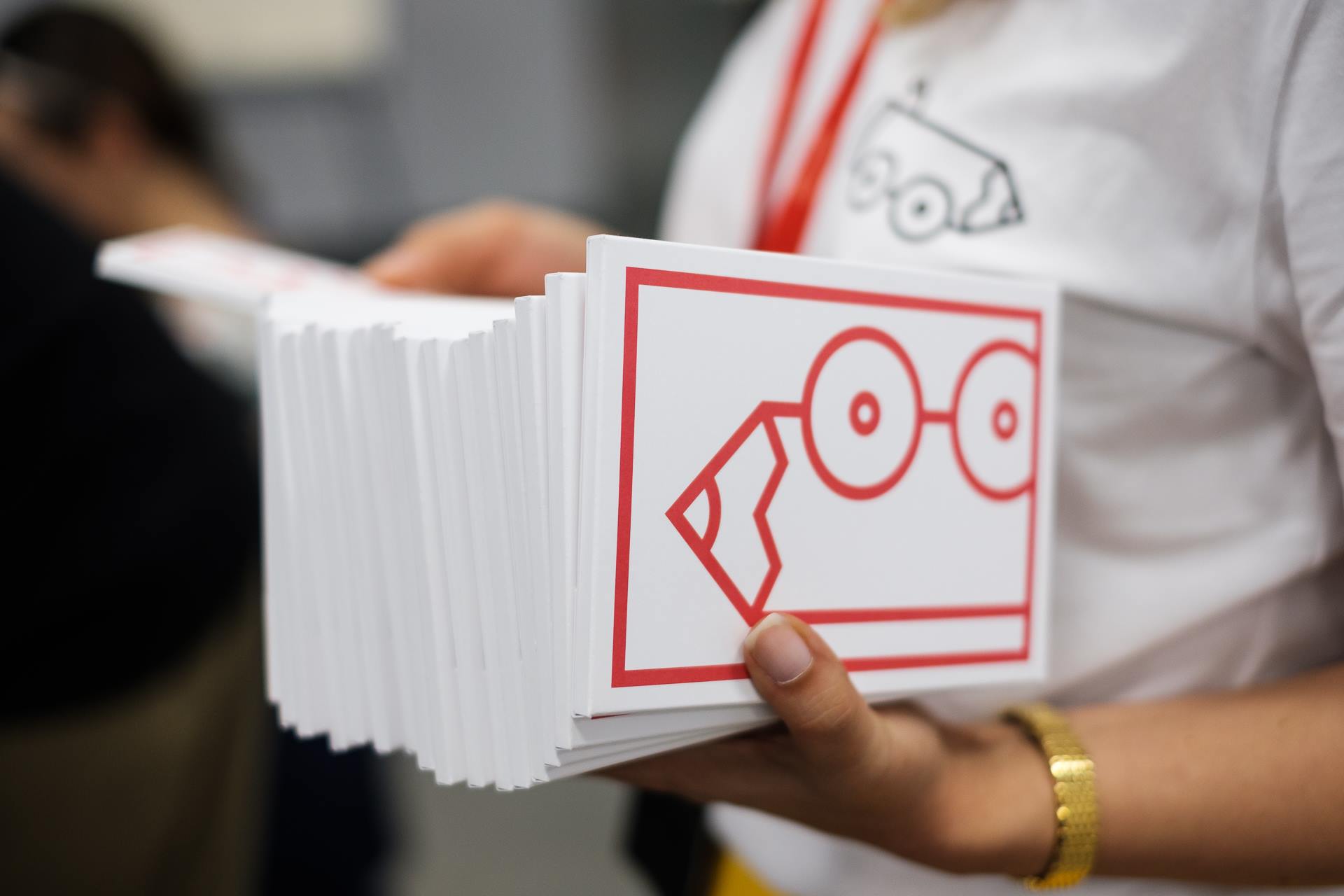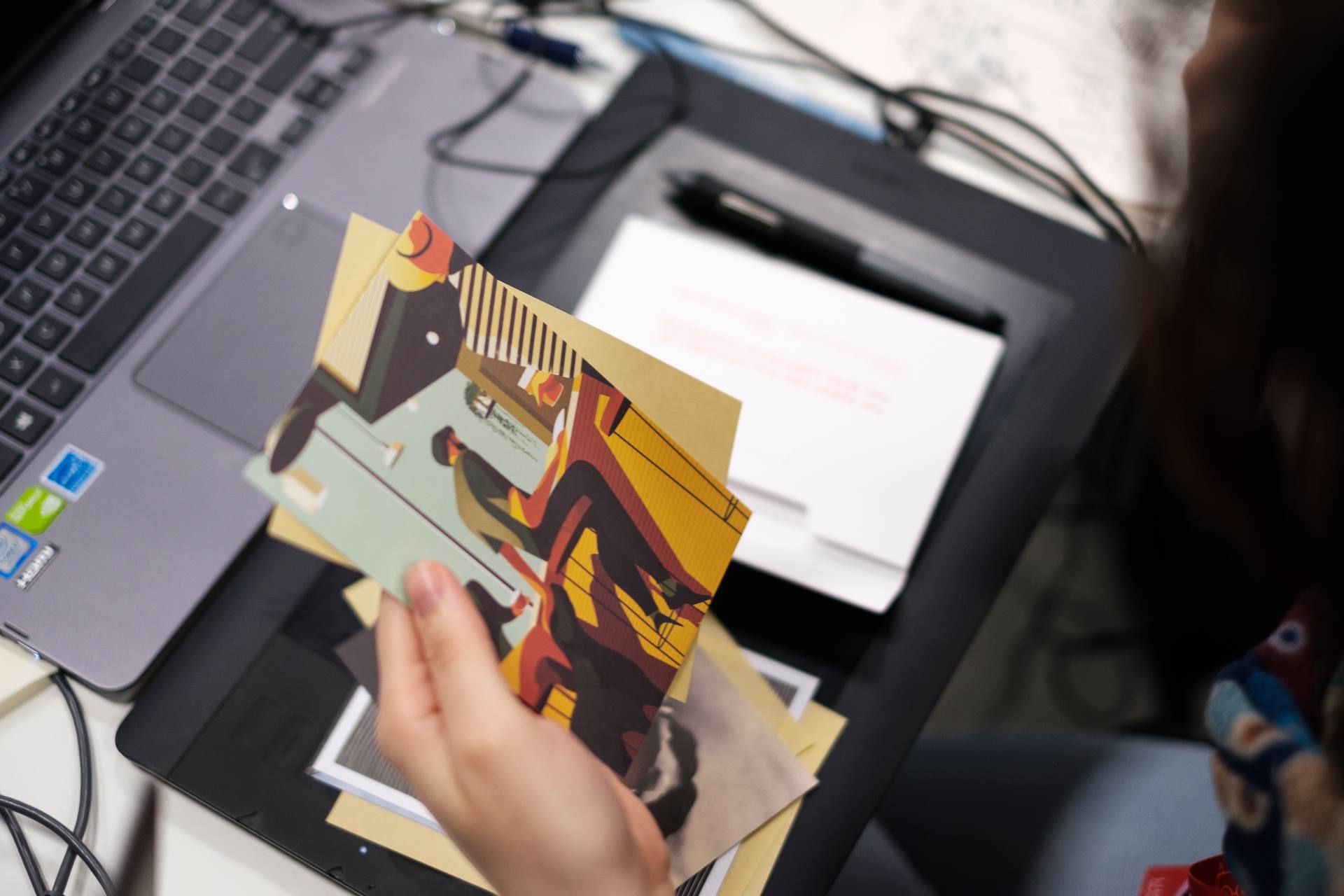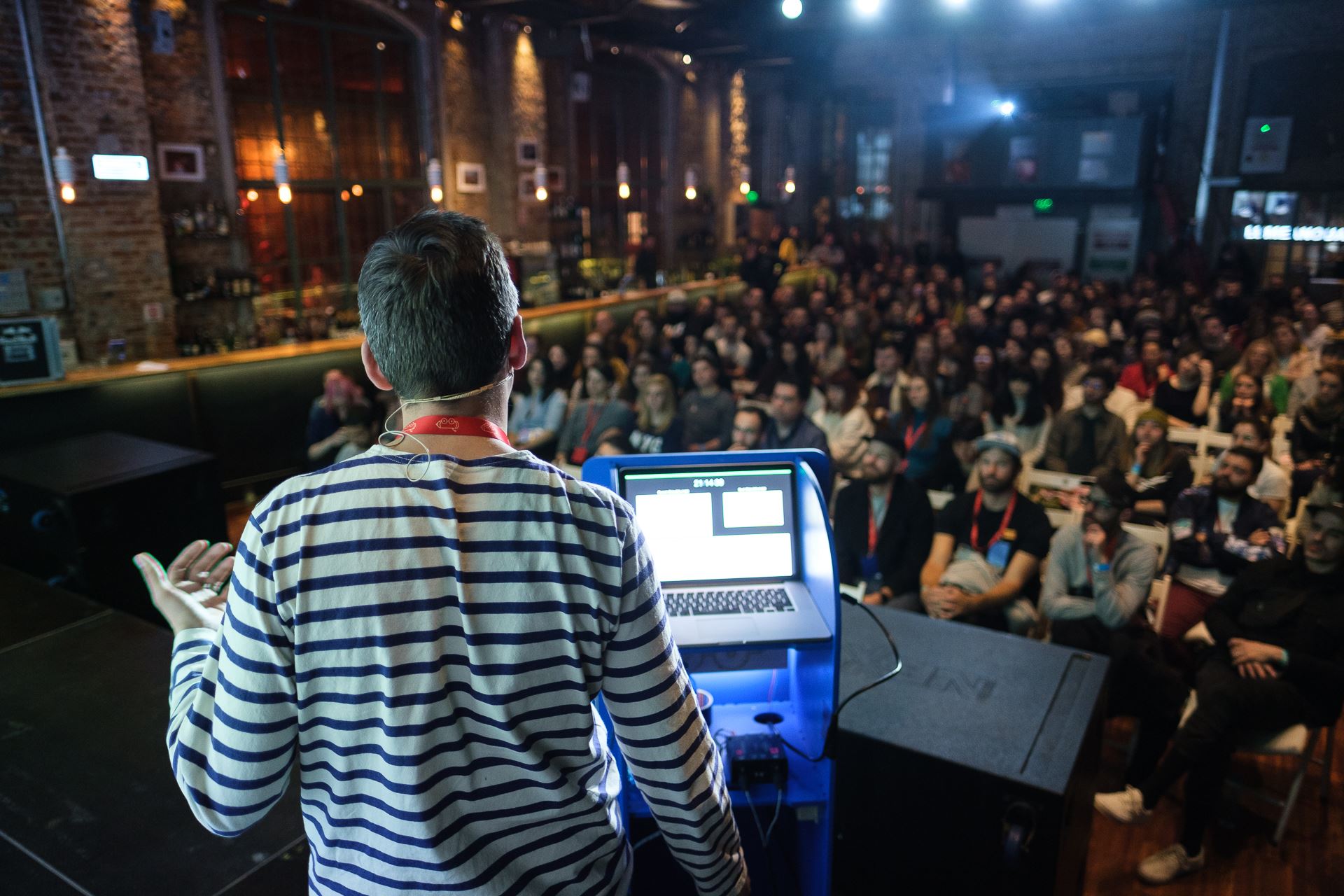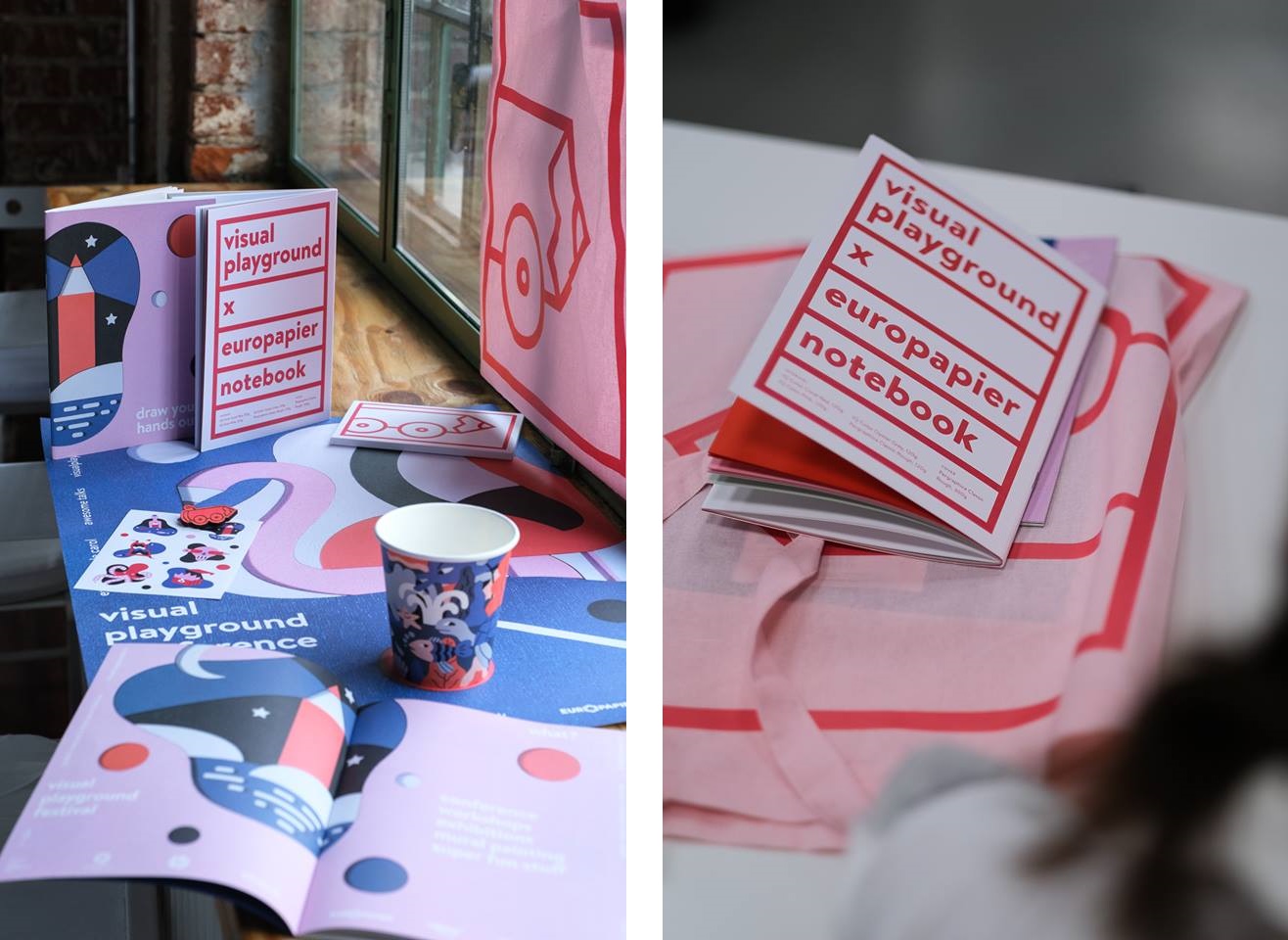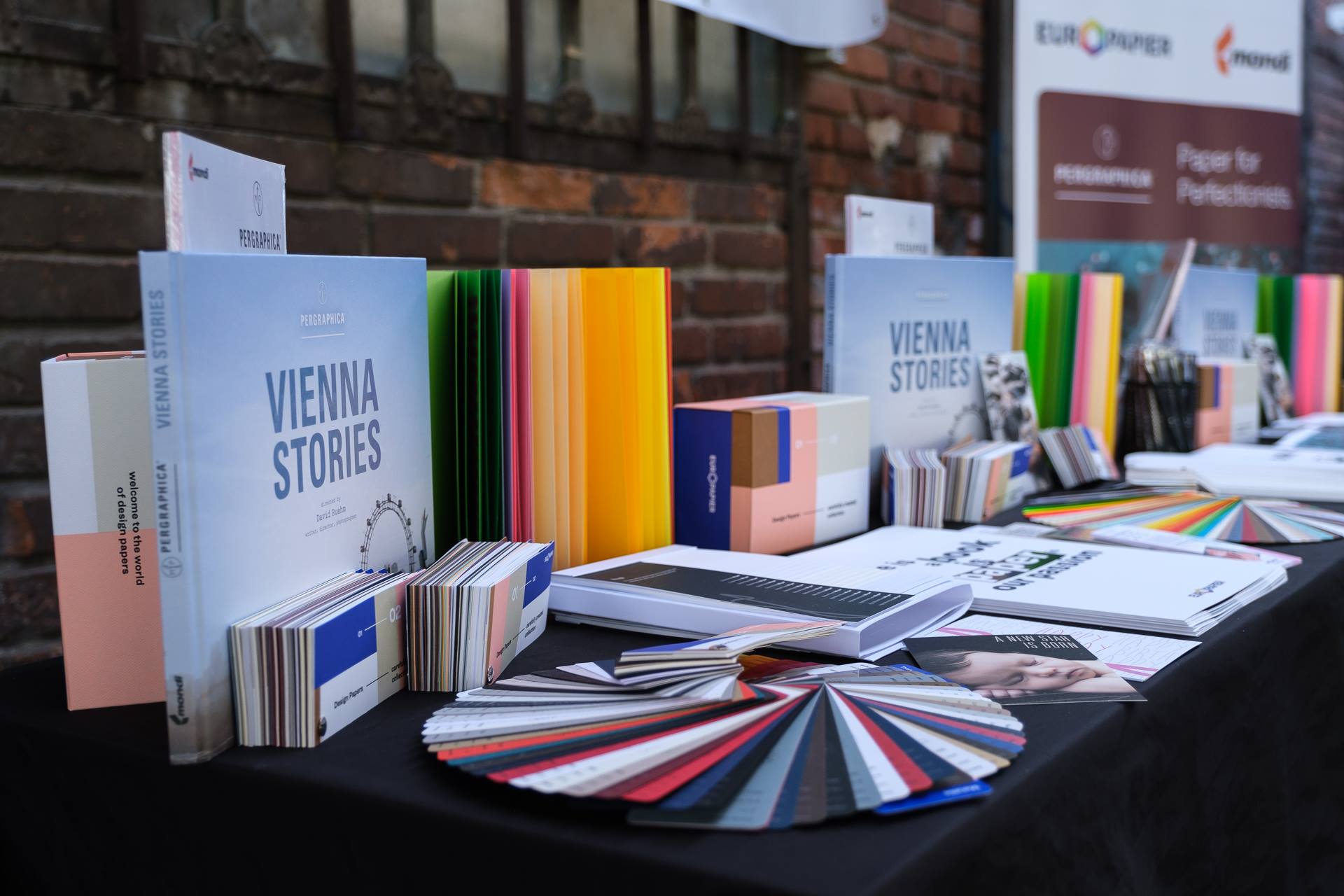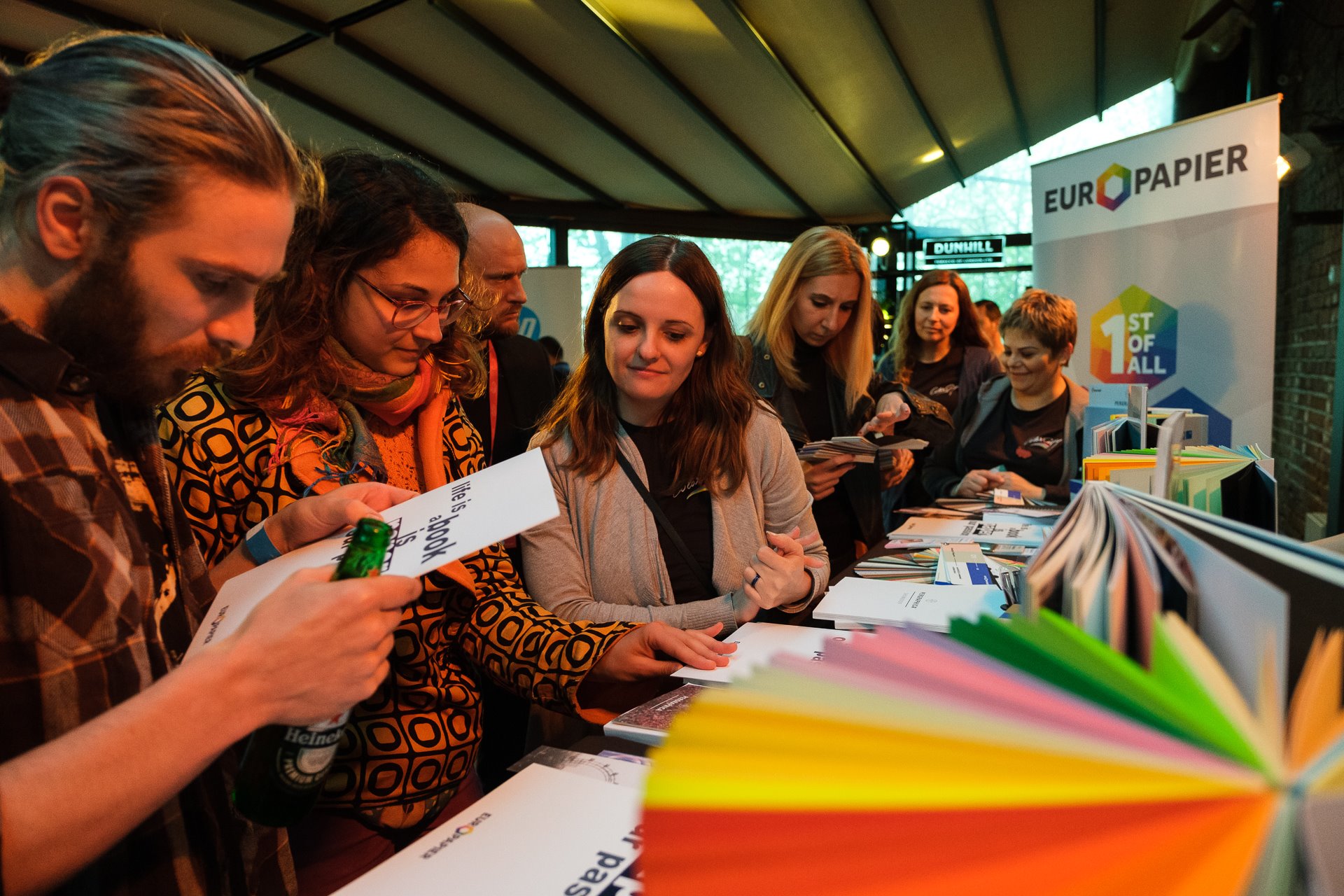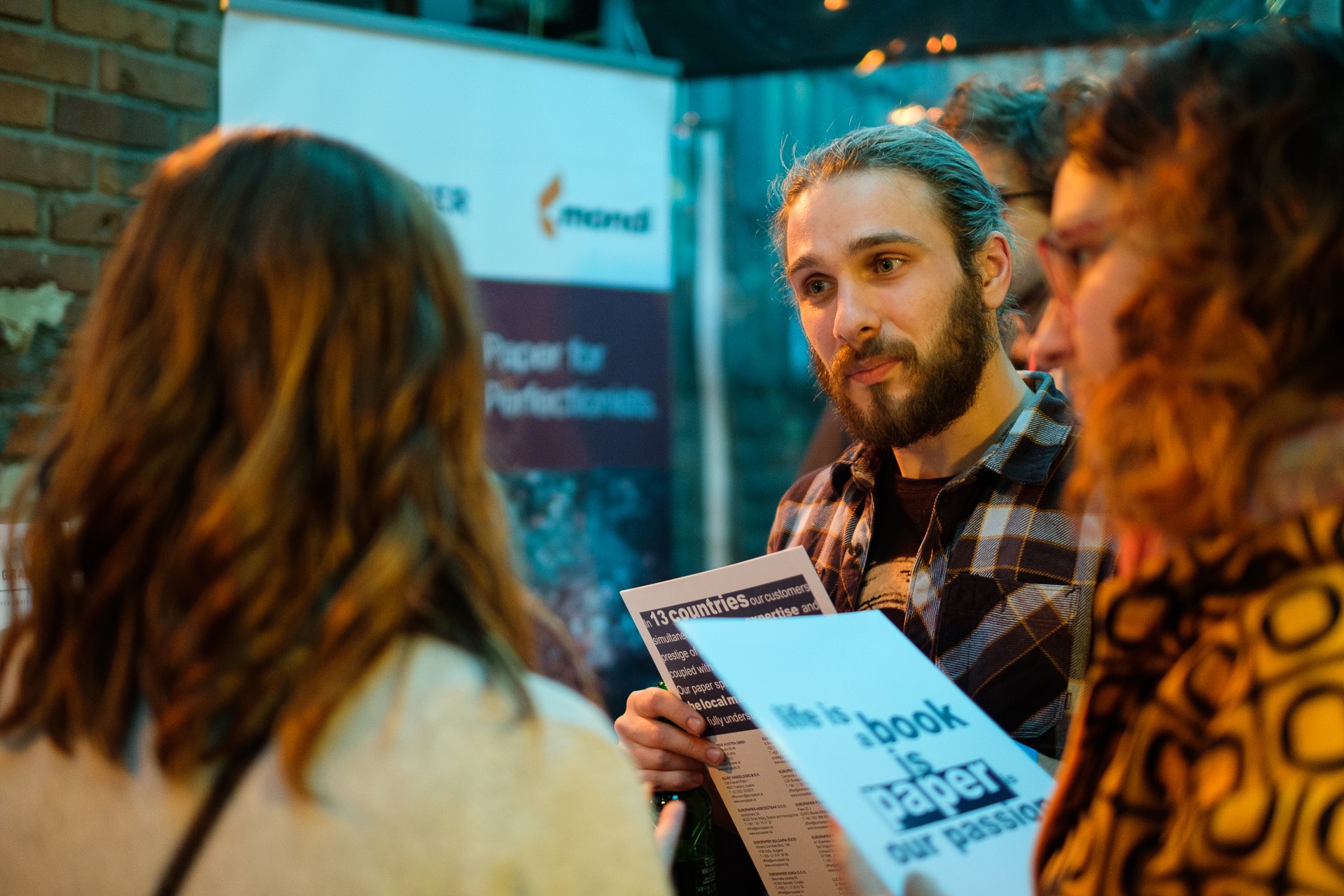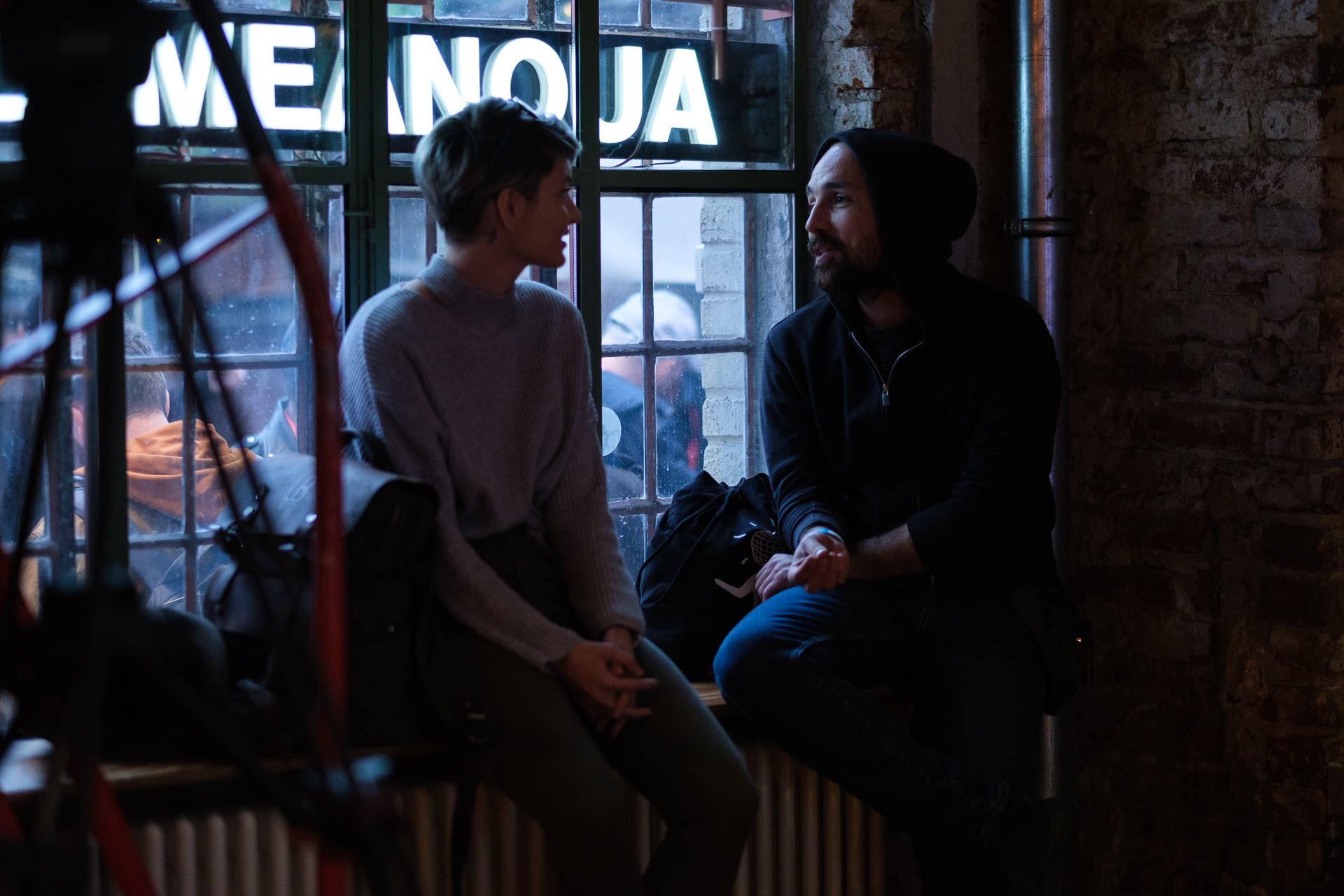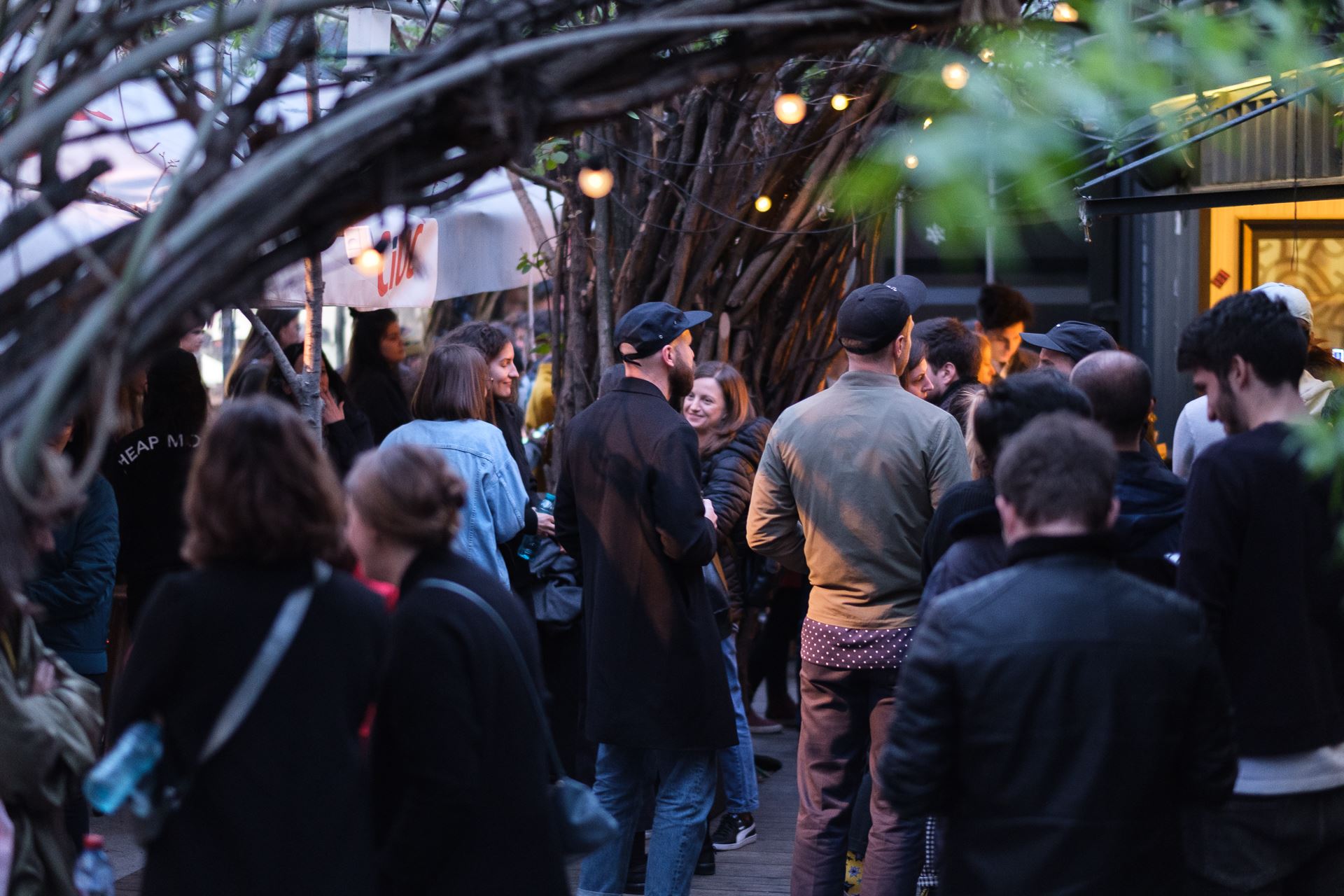 Images © Visual Playground