We've searched high and low for the best gift ideas for paper and design lovers this Christmas, and we've listed them here in our traditional Holiday Gift Guide for your convenience and ease. Whether you're looking for the perfect gift for your significant other, colleague, or maybe, yourself? Look no further. Below you can find our top recommendations of inspiring books, calendars, notebooks, and diaries, all various genres, styles, and tastes, something for any age and interest – all 100% inspiration guaranteed! But this is not all, on Friday we'll give you Part 2 of our extensive Gift Guide, with more gift idea for design and paper lovers, from posters to ornaments and cosmetics to wrapping paper, so make sure not to miss part 2 coming up!
And if you are wondering how to wrap that pile of gifts? Check out Print Your Own Gift Wrapping Paper With Patterned Rollers or Creative Kraft Paper Wrapping Ideas for inspiration.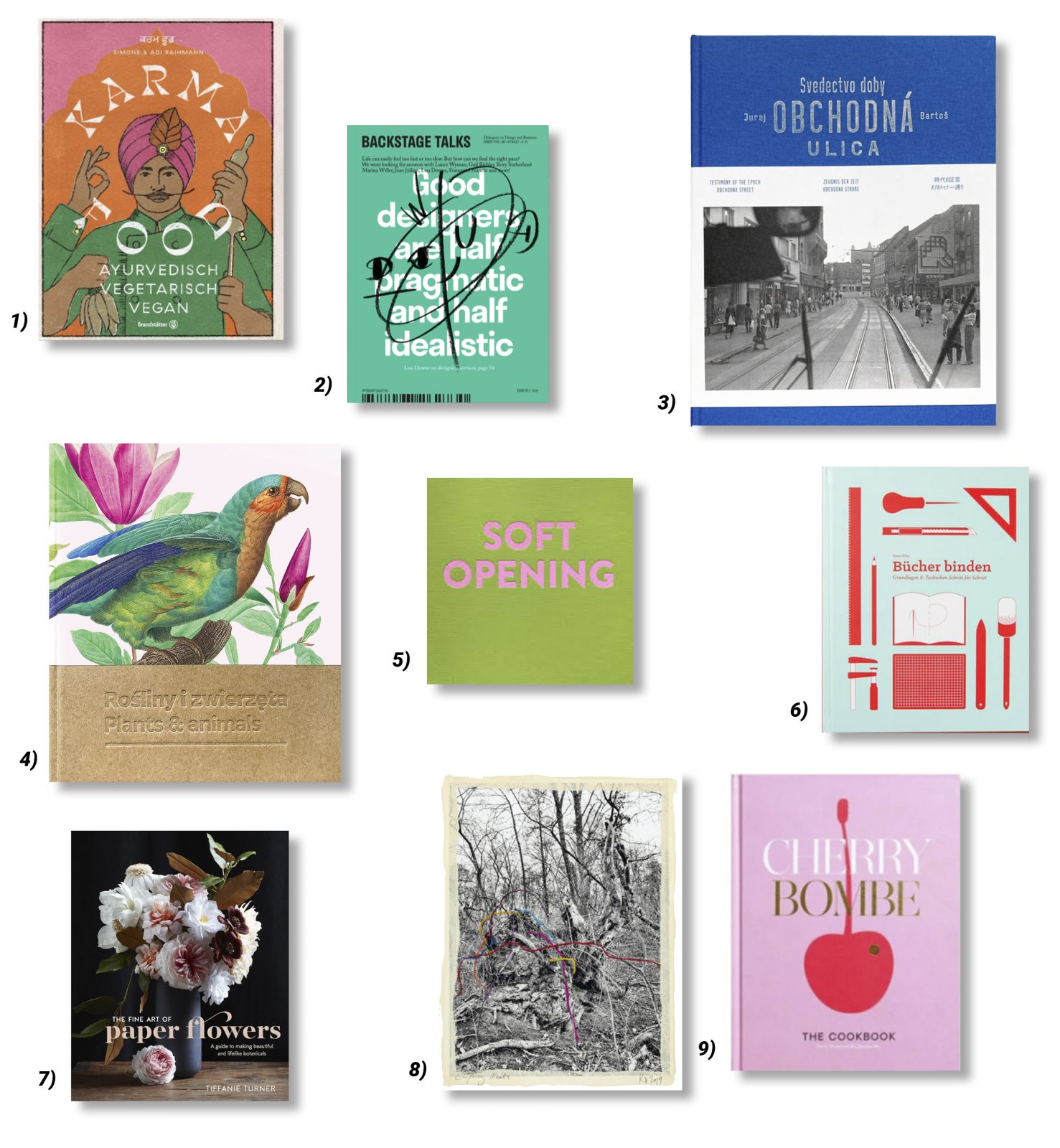 1. Karma Food – Cooking for Karma, Austria
"Eat good and good things will happen to you" is the motto Simone and Adi Raihmann thought of when creating their new cookbook Karma Food. A book comprised of 70 vegan and vegetarian dishes inspired by the Ayurvedic knowledge of Adi's Indian mother helps you collect those much-wanted karma points. Recipes based on the colorful, aromatic, and diverse cuisine of India, have their own contemporary twist added and are easy to make by any kitchen novice. Available to buy here
2. Backstage Talks magazine, Slovakia
Life can easily feel too fast or too slow. But how can we find the right pace? We went looking for answers with world-class creatives, including Lance Wyman, Gail Bichler, Rory Sutherland, Marina Willer, Jean Jullien, Lou Downe, Francesco Franchi, Shantell Martin, John Maeda, and more. Backstage Talks is a magazine of casual, but in-depth dialogues on design and business. Our decisions shape and influence this complex world—to have a chance to make the right ones, we need to talk. Available to buy here 
3. Testimony of the Epoch Obchodna Street (orig. Obchodná ulica Svedectvo doby), Slovakia
Photographic record of reality, in which we lived once. Testimony of the epoch of 80ies and one street by Juraj Bartoš. Images of passers-by, architecture, sellers, shop windows, and households,…  He (Juraj Bartoš) depicted the epoch with surgical precision and took authentic pictures of people exactly the way they really were, their facial expressions when they thought nobody was looking. He was not after aesthetics and beauty; he sought the truth.
This book was listed in the collection of "The Most Beautiful Books of Slovakia 2019" organized by "Bibiana" and gained the "Award of the Ministry of Culture of the Slovak Republic for a Book Design". Also was chosen for the finalist's exposition of Slovak Design Award 2020. Available to buy here.
4. Plants and Animals (orig. Rośliny i zwierzęta), Poland
Over 240 pages of the album are presented with colorful illustrations from atlases of natural history, created by the skilled hand of draftsmen and colorists at the time when the modern systematics of plants and animals was only being born. We find here reproductions on a scale of one to one and large-scale enlargements of microscopic details of fauna and flora, which in the times before the invention of photography fed people's hunger for beauty. The graphics come from the collection of the Cabinet of Prints of the Scientific Library of the Polish Academy of Sciences and the Polish Academy of Sciences in Krakow and the Library of the Institute of Systematics and Evolution of Animals of the Polish Academy of Sciences. Available to buy here.
5. Soft Opening – The Blacklight Book Full of Surprises, Hungary 
Soft Opening is a good fit for early readers, but thanks to the complexity of the narrative, and the hidden stories printed in invisible ink which can only be discovered with the help of a small UV-flashlight that comes attached, the book engages it's older demographic as well. Wanting to create a long-lasting, high-quality experience not only for kids but for the whole family, the authors spiced the story and illustrations with tons of references to arts and pop culture, adding nuance to the main narrative. And if all this wasn't enough, you can access the soundtrack of the book on Spotify and Apple Music. Available to buy here.  
6. Book "Binding Books. Basics and techniques step by step ", Austria
Written and illustrated by Anna Frey, " Binding books "is a declaration of love for the craft itself, with the aim of preserving the wonderful art of bookbinding from oblivion and bringing book enthusiasts of all ages closer to it. Learn how in next to no time you can make your own personal notebooks, notebooks, and photo books – regardless of whether you are a beginner or advanced. Available to buy here.
7. The Fine Art of Paper Flowers
The Fine Art of Paper Flowers is an elevated art and craft guide that features complete step-by-step instructions for over 30 of Tiffanie Turner's widely admired, unique, lifelike paper flowers and their foliage, from bougainvillea to English roses to zinnias. In the book, Turner also guides readers through making her signature giant paper peony, shares all of her secrets for special paper treatments, candy-striping, playing with color, and creating botanical imperfections, and shows how to turn paper flowers into gorgeous garlands, headdresses, bouquets and more. Available to buy here.
8. Shifting Roots, Austria 
Shifting Roots was photographed along a small river near Vienna. In times of climate change, water is the blood of the earth. The river becomes a metaphor for life. Shifting Roots tells of the origins, of going on, of ends and beginnings, of permanent change, the course of life, and the generation change. The forest becomes the source of energy and inspiration for all creativity. Available to buy here.
9. Cherry Bombe
Get a copy of Cherry Bombe: The Cookbook, a compilation of 100 recipes and stories from 100 of the most inspiring women in and around the world of the food. Guaranteed to spark creativity in the kitchen. Available to buy here.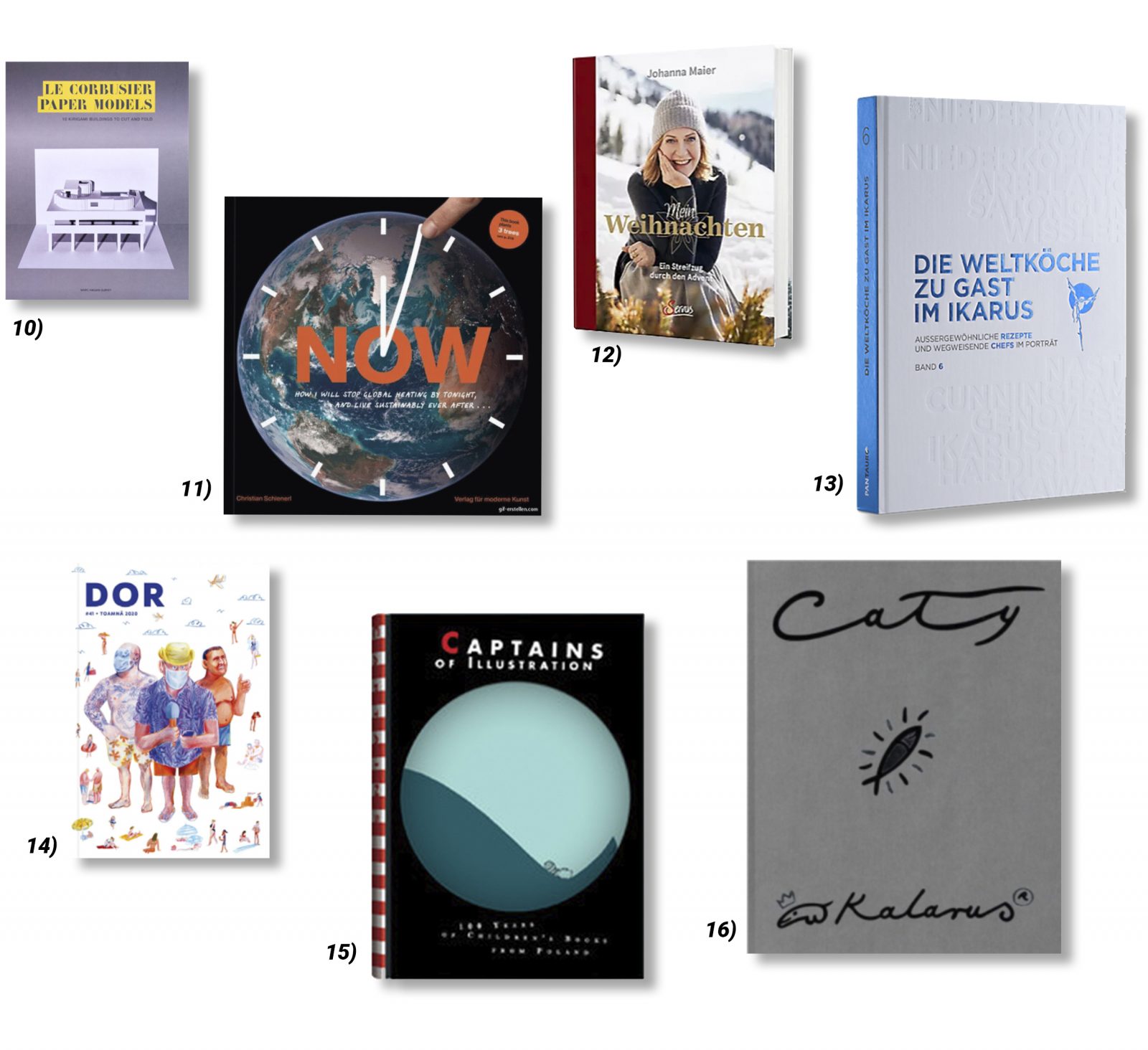 10. Le Corbusier Paper Models – 10 Kirigami Buildings To Cut and Fold
Le Corbusier is a Modernist icon whose buildings and theories have influenced structures the world over. With the help of Marc Hagan-Guirey's new book, Le Corbusier Paper Models, you can create 10 of his most important works in a paper using the art of kirigami (cutting and folding). Each project features step-by-step instructions, cutting tips, and a template that you can remove from the book. All you need is a scalpel, a cutting mat, and a ruler. When you are done, simply display your model and admire your handiwork! Le Corbusier Paper Models is a must for Corbusier fans and architectural model enthusiasts. Available to buy here.
11. NOW. How I Will Stop Global Heating by Tonight, and Live Sustainably Ever After . . ., Austria
A Visual Guide to the Science and Everydayness of the Climate Crisis, by Christian Schienerl. NOW is a highly visual "textbook for Fridays": It explains the scientific basics, causes, and impacts of the climate crisis in layman's terms. "In the book, I let the science of global heating collide with my everyday life—thereby raising myriad questions about my own ecological footprint . . . and hopefully also answering some."—Christian Schienerl. Available to buy here.
12. My Christmas: A Foray Through Advent (orig. Mein Weihnachten – Ein Streifzug durch den Advent), Austria 
A coherent Christmas story is revealed in the cookbook "My Christmas – A Stroll through Advent" written by Johanna Maier and brings back childhood memories of Advent and the Holy Festival. Everyone associates the scent of Christmas with something different, but it is always unique and something very special. For Johanna Maier, the Advent season smells of cinnamon and vanilla. But there are also many other smells in the air at this time of year. A fresh scent of juicy fir branches, the smoky aroma comes from the fireplace and combines with the sweet smells of freshly baked cookies from the kitchen. Available to buy here.
13. The world chefs at the Ikarus (Volume 6, 2020) (orig. Die Weltköche zu Gast im Ikarus), Austria
For over 16 years, the international culinary elite has presented their sophistication in the Salzburg restaurant Ikarus. The restaurant in Hangar-7 serves month after month as a platform for the world's best chefs to present their extraordinary creations. The results are then recorded in a high-quality cookbook. Available to buy here.

14. Decat o Revista magazine – DoR, Romania
DoR is an independent publication that tells true stories to help its community understand, empathize, discover solutions, and take action. For 10 years, DoR has been telling stories online, in a quarterly magazine of narrative journalism, in podcasts, on social media, and on stage. Started as an experiment that had to happen only once, the magazine (then "Than a Magazine") continued due to the financial and emotional support of a large community of Romanians in the country and abroad, who bought the magazine, bought tickets to events and products with the DoR logo. Support journalism that brings people together and gifts to your loved one's quality journalism magazines from DoR. Available to buy here.
15. Captains of Illustration- 100 years of Polish illustration in books for children, Poland
The book presents the century of Polish book illustration for children in 100 alphabetically arranged entries. They provide a cross-sectional picture of the achievements of this field from 1918, describing the thematic areas and motifs appearing in the illustrations, artistic techniques, stylistic trends, the best illustrators of children's books, and the most important publishing series. Available to buy here.
16. "Cały Kalarus" – A catalog of Roman Kalarus' works, supplemented by his biography, interspersed with texts – about himself and himself, Poland
"I often wonder what a phenomenon a poster is. I naturally mean an art poster, one that stands out from many others seen on the street and catches the eye like a beautiful painting, stays in the memory. Like those designed by Roman Kalarus. But what words to use to describe them? And how to write something original about an artist who has already been written about and whom you have known for years? And additionally – he is a member of the family … of the Polish poster family. Kalarus, Master, Professor Kalarus, Roman, Romek, Romeczek … "Roman Kalarus is a versatile artist – graphic artist, poster artist, designer -" a poet of writing, color, and image ". Available to buy here.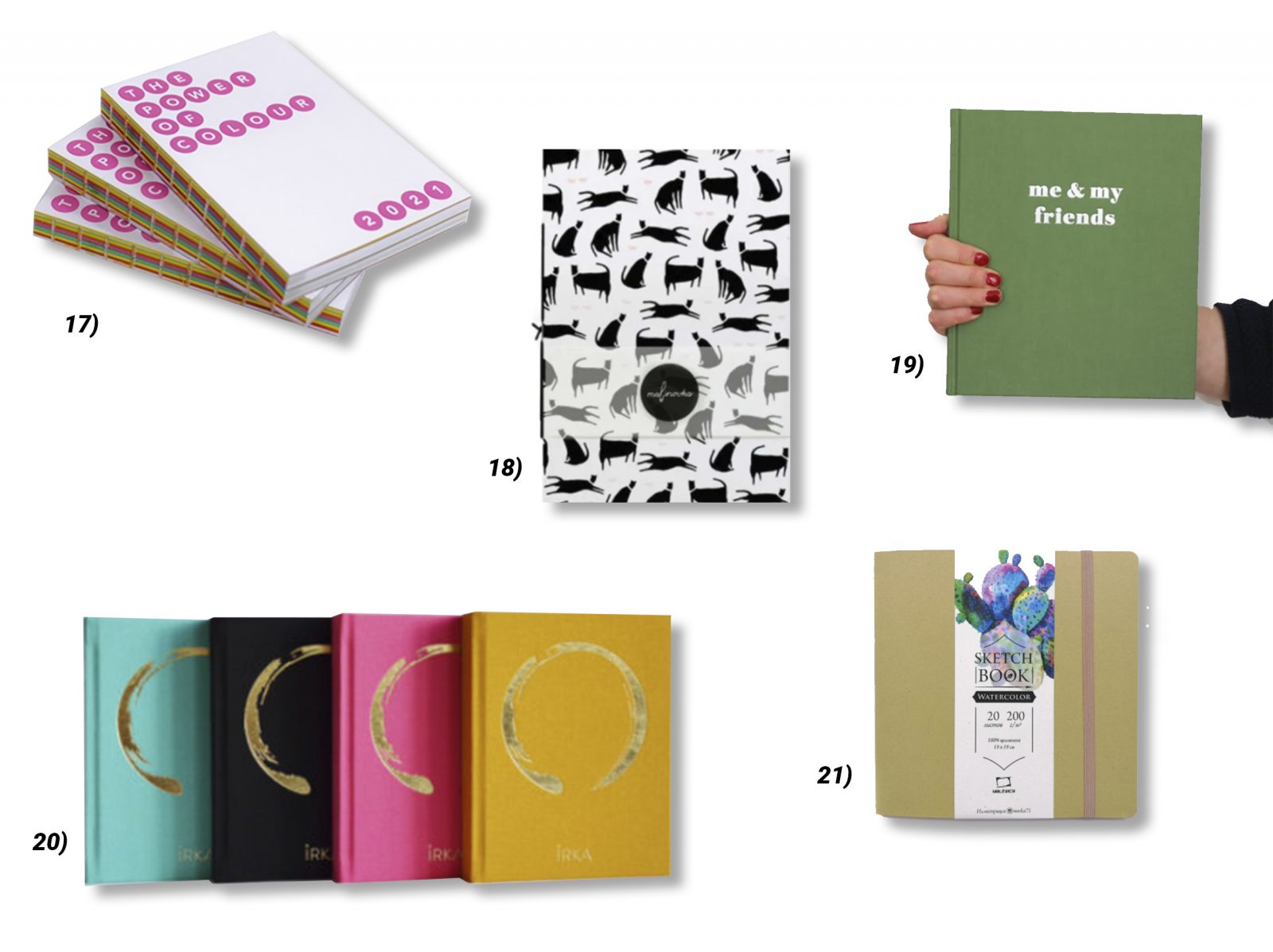 17. Munken agenda 2021
The Munken Agenda of 2021 introduces you to the practice of color breathing, simple stress-reducing activity in which you visualize a color base on how you're feeling. The agenda is so much more than a diary to help you with planning. It also gives you the tools to track and improve your mood – something extra important in these times. Each page also gives lots of white space and room for reflection which also highlights the qualities of the different paper grades in the Munken Design Range. Available to buy here.
18. Malinovka Notepad, Hungary
Malinovka works on the creation of the objects in cooperation with several printing houses, workshops, and bookbinders. The brand is the market-leader stationery brand in Hungary. The secret of its success is to meet the diverse user needs of creative professionals and creative people at a very high level and in addition, the brand gives inspiration to creativity. Available to buy here.
19. Me and my friends, Austria 
Love in book form: the 21st Century Friendship Book for you and 30 friends. For everyone who likes to spread joy. Because it is simply wonderful to collect positive thoughts about beloved people. As a memorable gift for someone you really like, for a special occasion, or because you would like to have the book for yourself (such a sweet ego-boost). Because it's fun and a super cute gift. Available to buy here.
20. Dot for you – IRKA 2021 deadline diary, planner, calendar, Hungary 
IRKA is more than an appointment book. Calendar and notebook in one. It is characterized by minimalist design and structure. Hardboard on the outside, with a canvas cover, gold embossing on the cover. Inside 224 pages threaded with a 100-gram premium paper marker. IRKA is a dated diary that provides a minimal framework for your daily, weekly, monthly tasks and gives you plenty of space to display them in a personalized way. Available to buy here.
21. Malevich sketchbooks for watercolor, Russia
A series of sketchbooks with an optimal balance of price and quality. The inner block of the sketchbook consists of 20 sheets of 19×19 cm square format. Fine-grained paper with a density of 200 g/m2. The paper is resistant to aging and does not turn yellow over time, provides a uniform watercolor fill and controlled edge, absorbs water, but does not deform, drain to washout and does not "eat" the color, leaving bright colors unchanged. The sketchbook is equipped with a removable elastic band to match the cover. The cover is made from sustainable paper made from 30% recycled materials and containing natural dyes and available in 4 color variations. Available to buy here.