Each year Pantone chooses their official color of the year, but for 2021, they made an exception and chose two instead of one. You might have already crossed paths with the contrasting duo — PANTONE 17-5104 Ultimate Gray and PANTONE 13-0647 Illuminating Yellow, chosen to convey a message of strength and hopefulness that is both enduring and uplifting. And while others have fallen for this combination of dull, almost mundane grey and bright, highlighter yellow, some criticize it for not being so much of a color trend forecast, what we've used to believe it is, but more of a metaphor for the hard times and grey skies of our times, and the light we should see at the end of the tunnel.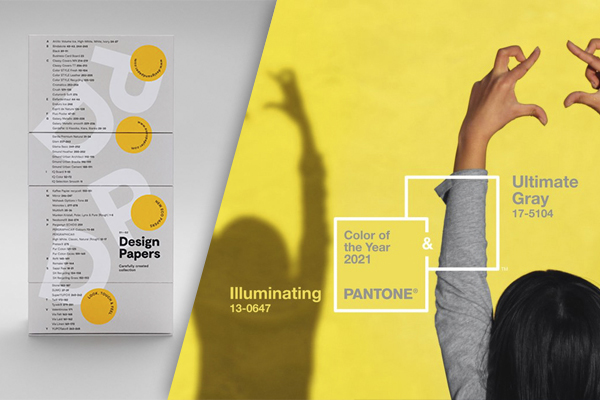 Finding inspiration beyond Pantone's vision, matching beautiful photographs with our favorite papers
Whether you see the metaphor in the color combination or not, we can't argue we were pleased to see it, as it perfectly echoes the visual style of our new Design Papers Collection we launched last fall.
And besides managing to hit the nail on the head when choosing the color palette for our collection, we can definitely see the potential in the grey and yellow colors beyond their meaning as "past and present", as both colors, and their numerous hues and shades are very strong and can convey various moods, feelings, and emotions. Different greys and yellows offer various ways to inspire, and we see the potential for many applications, from branding to packaging as well as editorial design.
To showcase this potential we've built 10 very different mood images, in which we combine beautiful photographs with our favorite papers, for your inspiration. From papers that most accurately match the Pantone Illuminating Yellow to shiny golds and neon yellows, and light and lemon-like yellow shades. Our range in color covers the whole spectrum, as do the grey's which offer numerous unique finishes and completely new, haptic experiences. All the chosen papers are in our current Design Papers Collection, exclusively available at Europapier.