Julie VonDerVellen is a paper artist and design educator living and working in Milwaukee, Wisconsin. Her contemporary paper works often utilize abstract painting and weaving techniques, as well as other creative methods in manipulating and shaping paper. Besides her work as a teacher, illustrator, and graphic designer, VonDerVellen's paper artworks have been exhibited widely and can be found in numerous private and public art collections.
In January 2021, VonDerVellen was invited to participate in Var Gallery's 30x30x30 exhibition. The show asked 40 artists to work within the parameters of making one piece of art a day for 30 consecutive days within a 6x6x6″ dimension. Resulting in an exhibition showcasing 1 200 unique pieces that range in various mediums.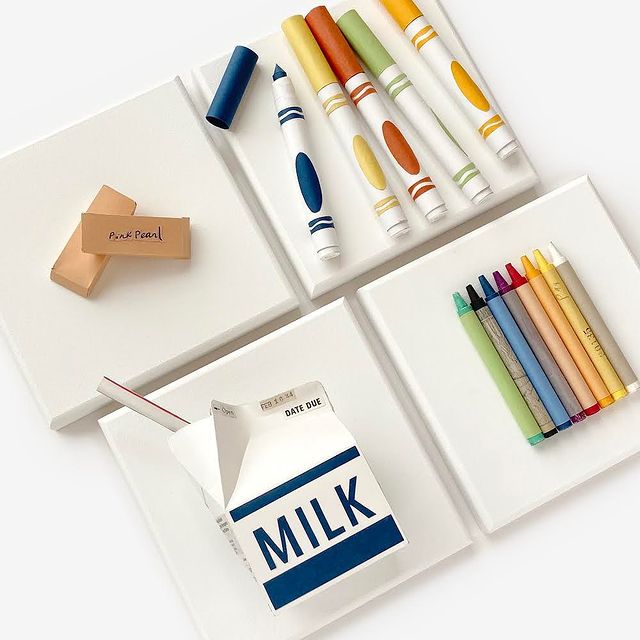 On Reserve is a paper sculpture series of  3d pieces that are recreations of objects that evoke memories
The series titled On Reserve narrates the universally nostalgic, back-to-school mentality, as well as the value of reading, research, and the centric role of the book within a student's educational experience. During a year of virtual and hybrid learning, most students have become accustomed to during the pandemic, the book has remained a reliable, tangible source for information – serving as a healthy escape from the persistence of obligatory screen time.
The paper artworks weave a network of assignments, diverse course content, and learning methods into a display of small objects signifying the renewal of an academic term. 
As an Assistant Professor in Carroll's Graphic Design program, VonDerVellen participated in the challenge in between academic terms. "I found myself reflecting on all the virtual teaching and learning, and felt a strong pull to create a tangible experience for the students. So I called Carroll University's Todd Wehr Memorial Library to request a couple of books be put on reserve. I quickly learned that the pandemic was also affecting the textbooks. The request was met with, "well, yes, but library books are put into quarantine for three days after they've been returned… " Clearly, this was not great news, but from there, the idea for On Reserve was born". 
Below you can see examples of the works, but visit VonDerVellen's Instagram for more inspiration – or shop the On Reserve series here.