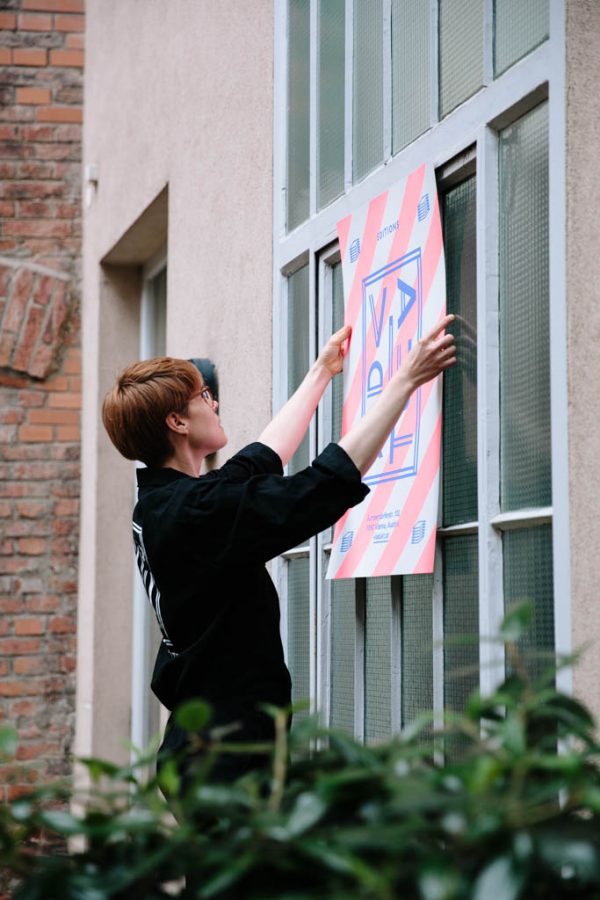 Last Thursday, I was lucky enough to attend the "Print Out Loud!" event in Vienna, hosted by Viadukt Screen Prints. The event is part of the bigger 2019 WIR SIND WIEN.FESTIVAL (Festival of the Districts), a yearly art trip through the districts, together with artists and cultural lovers of this wonderful city. Every year in June, unusual or sometimes perhaps unnoticed places in the Viennese districts are revised and celebrated with much joy, starting with 1st of June in the 1st district, up to June 23rd, when events are hosted in the 23rd district. Each district is given free hand, to be as creative and versatile as possible, and it's amazing to see how the peculiarities of each group open up new perspectives for the artists and the audience.
Moreover, between June 1st – June 23rd a freely accessible white grand piano is placed in each of the 23 districts of Vienna. The performance is called "The Open Piano for Refugees", takes place within the same WIR SIND WIEN.FESTIVAL of the districts and playfully invites music lovers to take part. True to the motto:  everyone is allowed to play. Everyone is allowed to listen.
Come visit us and print your own poster
Seeing how Viadukt is located in the 6th district, the "Print Out Loud!" event took place on June 6th. Viadukt offers contemporary artists and designers of all backgrounds an opportunity to professionally implement print projects. As part of the WIR SIND WIEN.FESTIVAL OF THE DISTRICTS, they gave paper & print lovers the chance to get familiar with screen printing, print their own poster and get to know and the entire team.
The event took place in their cozy studio on Gumpendorferstraße, where I got the chance to view different works of artists from all over the world created in the Viadukt exhibition space. Each work of art comes in a limited edition of ten pieces, and plays with the infinite possibilities of screen printing: colors, textures, patterns, layers and not lastly materials – paper, cardboard, wood or textiles.
The Print Out Loud! workshop had such a relaxed and intimate atmosphere, it was as if old friends got together to experiment with screen printing, while chatting and having fun. The very welcoming Viadukt team, comprised of Bernadette Meisel – the Founder and project manager, Barbara Heiner und Jasmin Schaschl – Master Printers and Pippa Parragh, Lena Santner und Katharina Löffelmann – print assistants, made everyone feel right at home and patiently explained the beauty of screen printing to visitors of all ages.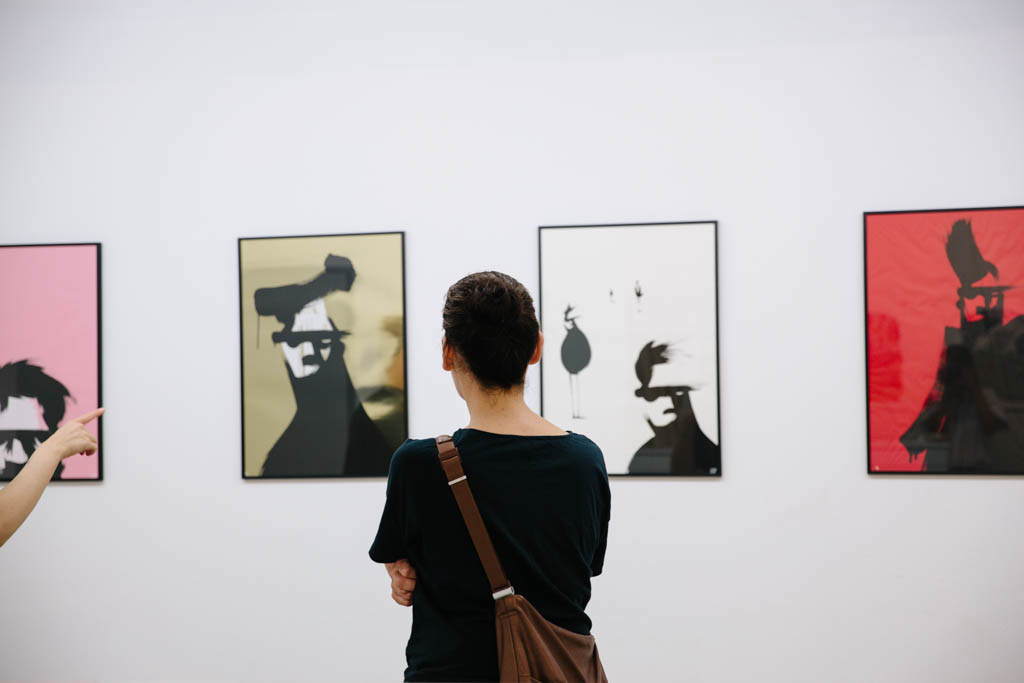 I asked Bernadette why they named the festival "Print Out Loud!" and she explained that they chose the name due to two reasons: the event takes place within the WIR SIND WIEN.FESTIVAL, which is a month of celebration in itself, and second, because at Viadukt they are so passionate about screen printing, and their wish is that as many people as possible hear about and identify with it.
How a poster is printed via screen printing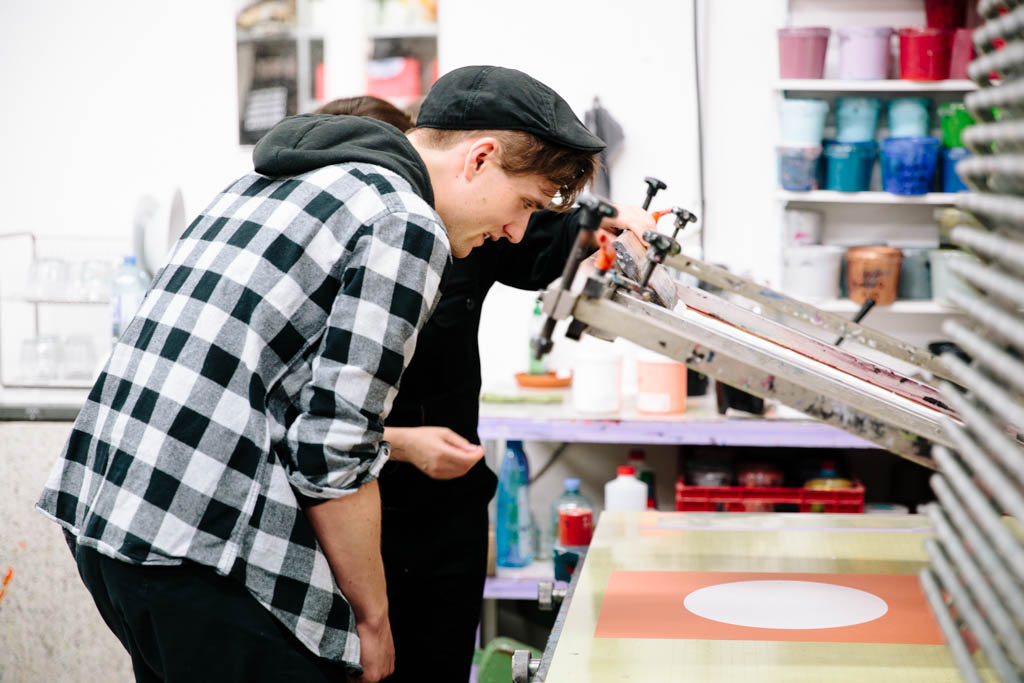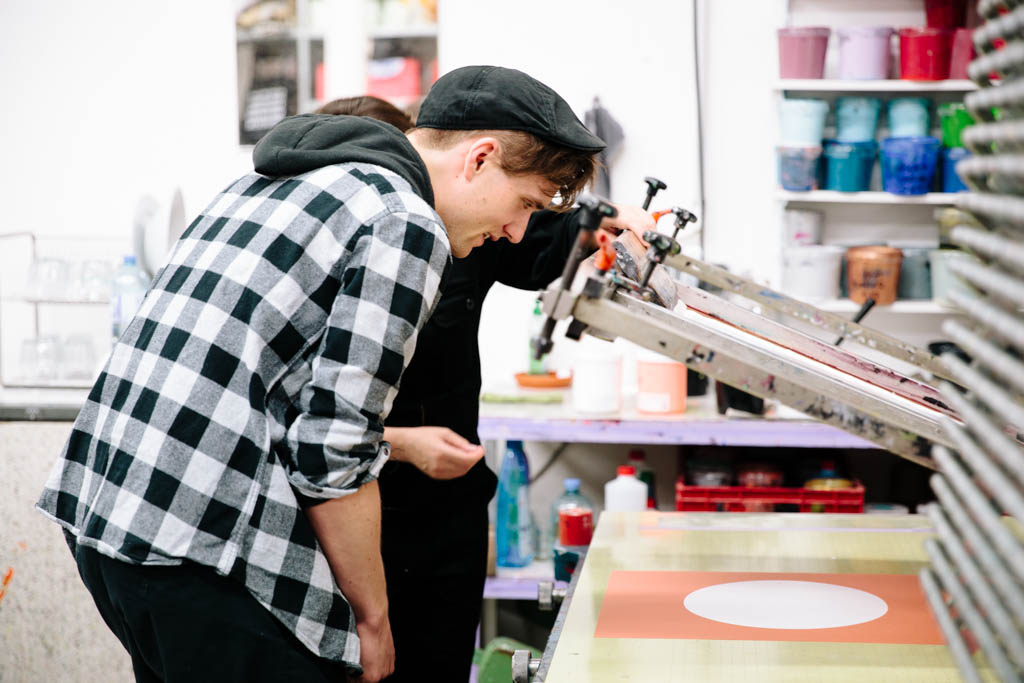 Firstly, you choose what color paper you would like to use for your poster, there was a big display of Color STYLE in 20 colors (previously here), ranging from vibrant shades to both warm and cool tones. Guests were orbiting around the paper display, feeling the papers and imagining the possible combinations for their future posters.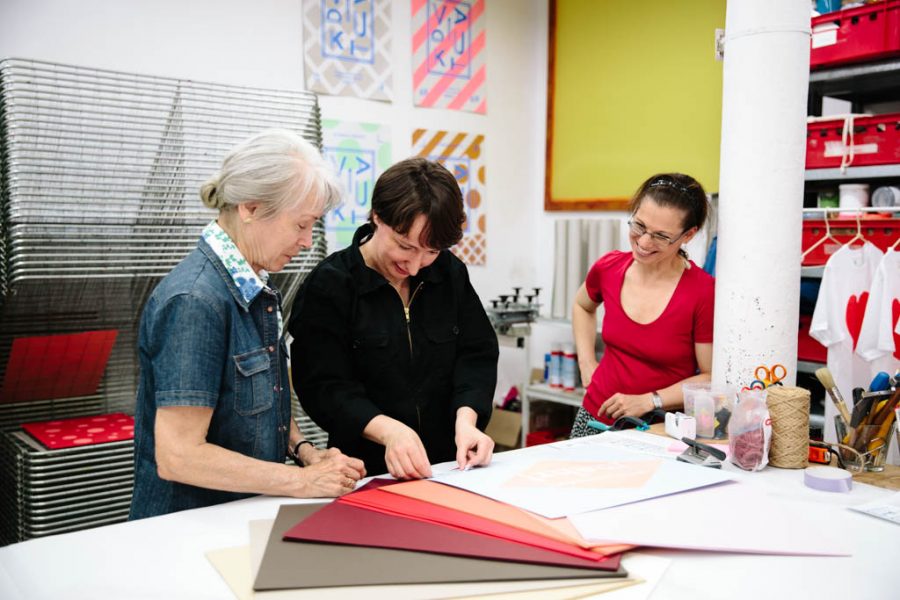 Afterwards, once a paper was selected, everyone was buzzing around the screen print machine, waiting for their turn. The machine has a thin mesh stretched tightly over a frame, with a matrix of the design. The print was done in multiple stages, therefore they had 4-5 backgrounds planned, and 4-5 writing matrix prepared, for the guests to choose from.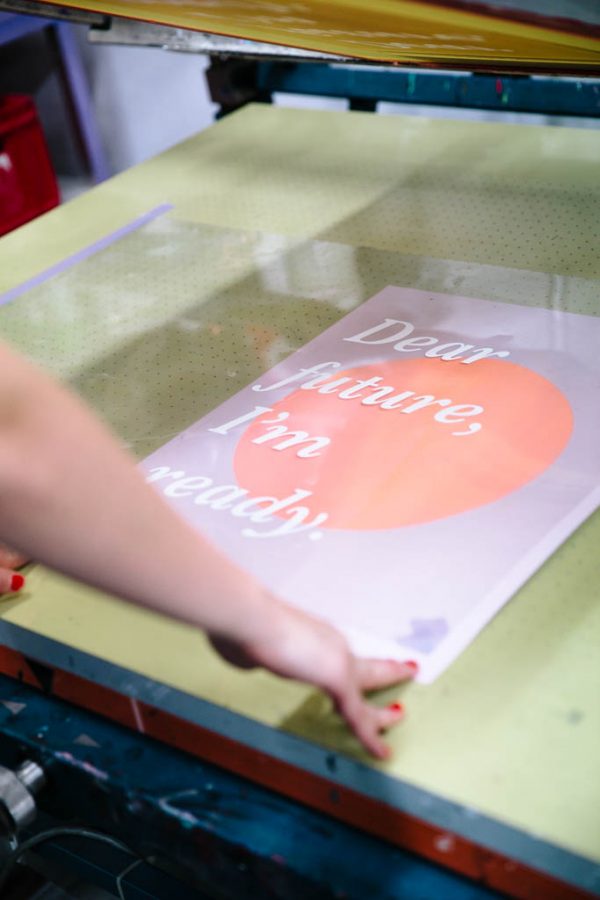 Before the actual printing, there is a transparent layer instead of the paper, which is easily printed over. This is used so the paper can be set correctly, in the position you wish. Afterwards, acrylic paints were placed over the matrix of the design, for this workshop there was a choice of 3 colors: white, black and a neon orange color. The Viadukt team quickly explains the guest how to print: you use your whole body weight to draw a scrape towards you, rolling the ink over the screen, which is then printed only on the areas where the matrix allows ink to slip through. And voila – the background is done! The poster needs about 10 minutes to dry, in between printing different layers, time in which you get to know the other attendees, admire their posters in progress and get inspired.
Afterwards, you can choose what the second layer will look like – it can be either another background, or a matrix with writing, in different colors. The combinations are endless!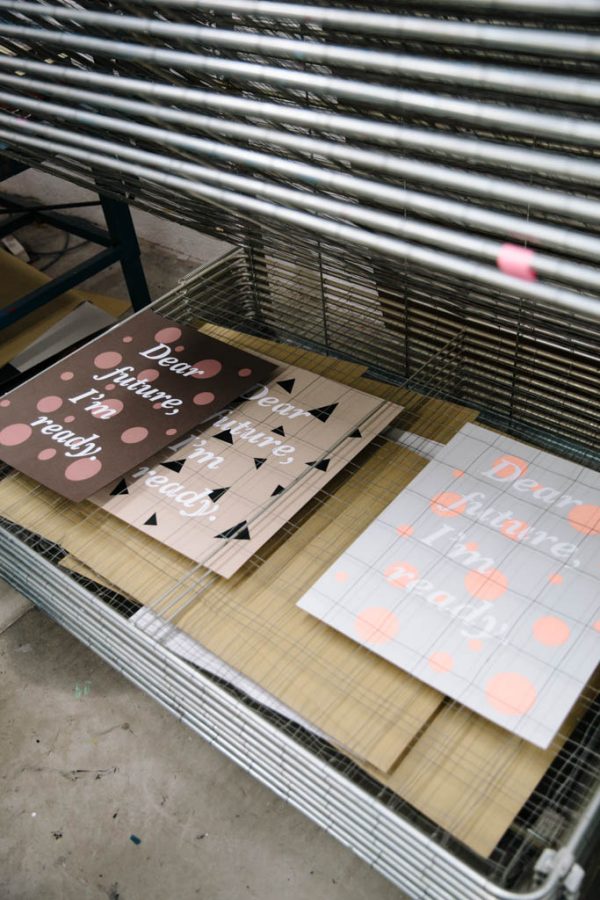 I fully enjoyed the workshop in the cozy little courtyard on Gumpendorferstraße, and I absolutely recommend you keep an eye on Viadukt's upcoming events and experience them yourself! Everybody left with their own-made beautiful screen printed posters, which are probably already hanging in their homes or offices, brightening their day.
About Viadukt
Viadukt offers artists and designers the opportunity to professionally implement screen printing projects.
In the facilities of printmaking studio artists are free to use full equipment, technical support and the open atmosphere, in order to pursue their creative work. The active cultural exchange is encouraged by artist residencies, collaborative exhibitions and the sale of artworks. Thereby the independent organization creates an important junction for artists, collectors, museums, galleries and educational institutions to access and experience contemporary art.
Print Out Loud! was realized with the kind support of WE ARE WIEN.FESTIVAL OF THE DISTRICTS, district executive Mariahilf and Europapier Design & Paper.
Color STYLE is available exclusively at Europapier.