Le Shop is a lovely little design store right in the heart of Neubau, hiding in a little snook on Kirchengasse. It's a gold mine for all design and art lovers, and what is common among most of the unique designs and products sold there – they are sustainably produced. The welcoming atmosphere and the feel-good designs make this shopping experience above the rest, so if you're looking for something special for Valentine's Day, take a look around!
An amazing little store with a selected range of original design objects, far from mass production and the high street, affordable to the everyday customer. At LeShop you can find a range of products from international as well as local designers, from Norway to Indonesia, all hand selected by the owner Heidi Stadler-Wolffersgrün. Sustainability and fair production is an important factor for her, and it shows on the shelves of the shop.
As Wolffersgrün also works as a graphic designer, running her own studio from LeShop, you can always find her behind the counter welcoming customers with a friendly smile. And don't be shy, she is more than happy to tell the origins and stories behind each sold product.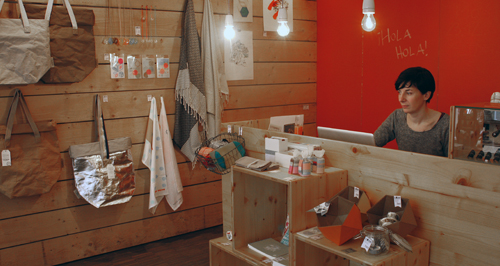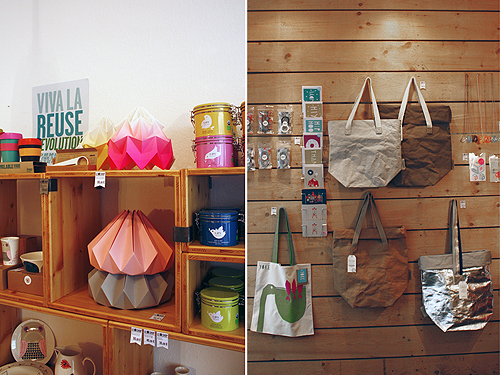 Among the beautiful objects, I, of course, found my favorites! The origami-inspired Dutch Studio Snowpuppe paper lampshades, which we wrote about last year, can also be found and bought here. And they happen to sell mint, which still is my personal favorite. This is definitely going on my birthday wish-list!
I also love the washable paper bags by Italian brand Uashmama, which you can find at LeShop. They have them in multiple different colors, from light to brown, as well as gold and silver. The wax coated paper bags are hand washable, and Le Shop has just added the smaller baggies to their range. You can use them as bread warmers, fruit baskets or even plant pots. The gold and silver ones are right on the nose with current trends, and if you are wondering what to get someone on the upcoming Valentine's Day, this is definitely worth considering. Great, feel-good design!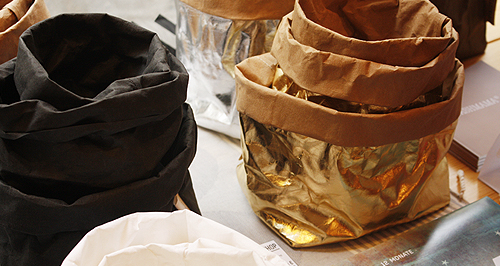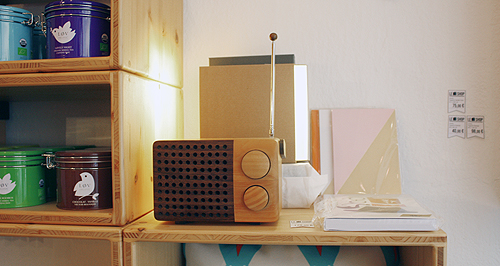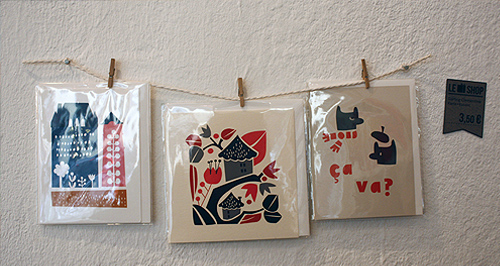 Among the great designs you can find cool postcards, calendars, sketchbooks, notebooks etc. Also, some amazing household items have found their way into the shop – and the best thing is – at very affordable prices. With less than a hundred Euro you can find a lovely hand-woven carpet or new tableware set with so cute illustrations you want to hang it up on a wall.
But as the shop is filled with many amazing designs, it is your job to go and find your favorites! And where else would you find this lovely little shop than in the hip 7th district of Neubau, home of numerous design stores and studios (right next door to Bilderbox). Make sure to add it to your weekend shopping list, I promise you it will not disappoint!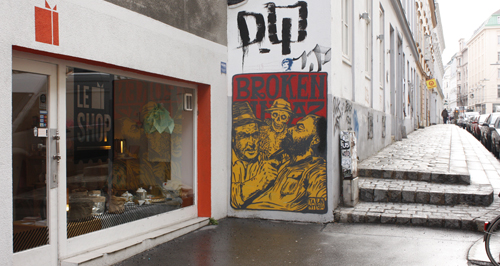 LeShop
Kirchengasse 40/1
1070 WIEN
tue-fri 11-19 sat 11-18
Website/Facebook