The founder and creative director of The Letterist, a design studio specializing in sophisticated wedding stationery and branding for artists and creative professionals, Anja Savic creates work that feels soulful. Understanding the elegance the right paper, or a printing technique can offer, Savic has an eye for details and color schemes that capture the viewer, as well as her clients. The creative's work has previously been featured (here), yet recent work for a California-based jewelry brand is the perfect example of Savic's skills and artistry in luxury stationery design.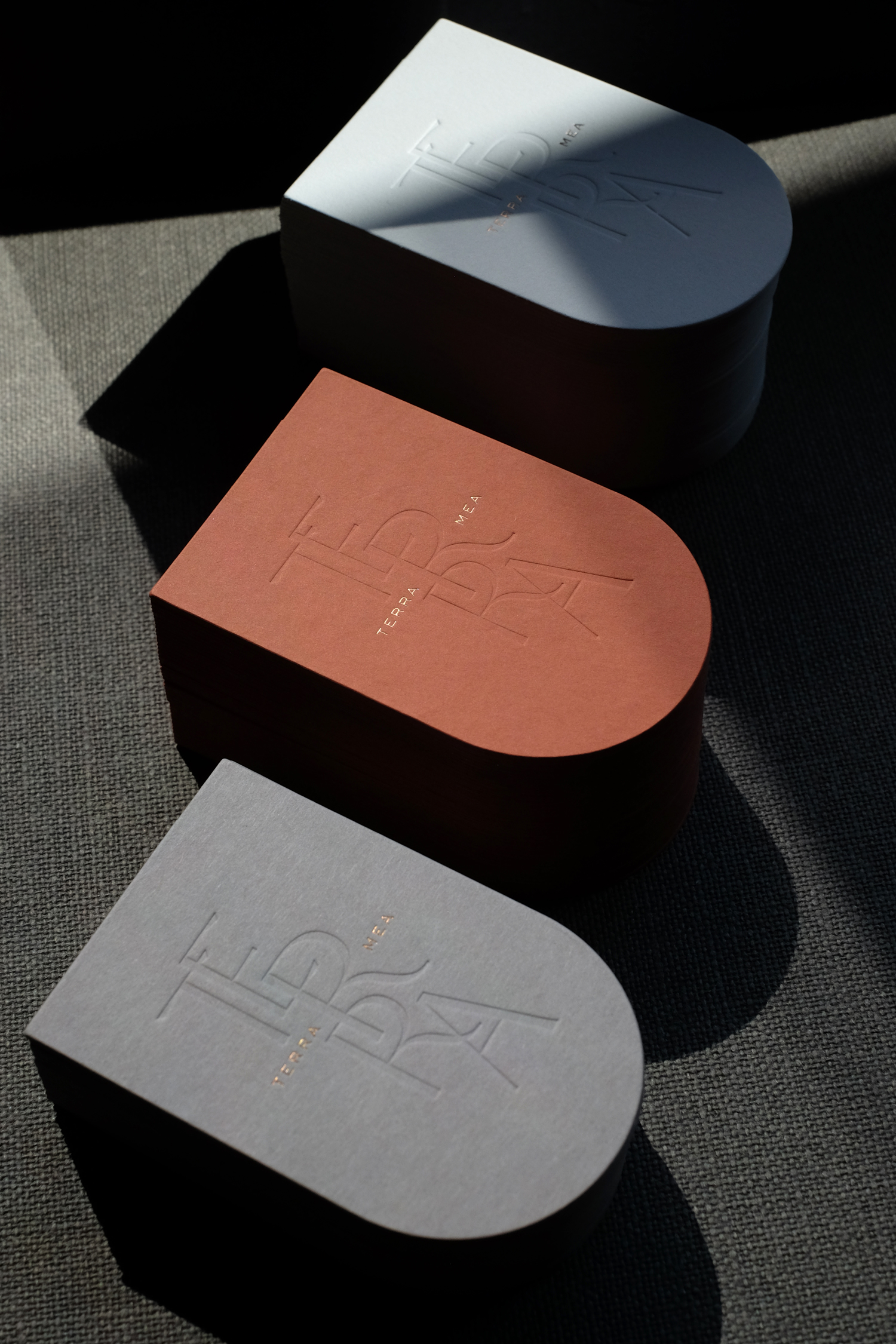 Founded by the award-winning jewelry designer and master stone setter Pamela Harris, Terra Mea is a unique fine jewelry line that calls attention to unexpected gemstones. Overlooked, found, or vintage stones are surrounded by more traditionally revered gems like diamonds, pearls, and sapphires resulting in an astounding collection of bold, whimsical, and truly one-of-a-kind pieces. The once overlooked stones become the stars of the pieces that make up the Terra Mea collection.
Inspired by the brand's name and approach to jewelry design, the elegant business cards echo Terra Mea's whimsical aesthetic and idealogy
Taking inspiration from the name "Terra Mea" – meaning my land, or my earth, in Latin, Savic chose to use a striking terracotta color – Color Style Copper Orange and two other muted complementary shades Esprit de Nature Sienne and Pur Coton Smoke to create three different business cards in the brand's earthy color palette. Again, referencing the earth, the cards were die-cut in an unusual geometric shape to echo the designer's unique approach to stone "foraging," composition, and stone setting. While the logo was blind-embossed with gold-foil type details, for an elegant and polished finish.
The papers used Color Style Copper Orange 300gsm (duplexed), Esprit de Nature Sienne 350gsm (duplexed), and Pur Coton Smoke 710gsm are exclusively available at Europapier Group.