KYIV TYPE is a magnificent title designed by Sebastian Schubmehl as a bachelor thesis project that focuses on the design scene in Kyiv, the capital city of Ukraine. The book places itself on a middle ground between a typical Coffee Table Book and an emotional view of the city, including its inhabitants and a specialized design publication. The 304-page paperback is a beautiful showcase of Schubmehl's skill and talent – and any Type lovers' dream come true.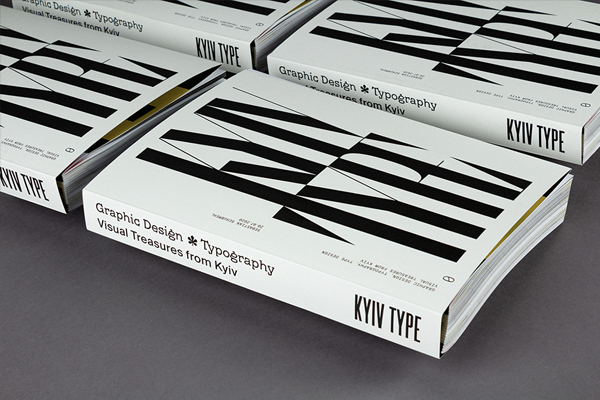 KYIV TYPE beautifully ties together Sebastian Schubmehl's love towards the art of type and skill for conceptional design
Trier, Germany based Schubmehl is a self-confessed type-nerd, which is evident in the quality and concept of KYIV TYPE. The book beautifully ties together Schubmehl's love towards the art of letters and conceptional design. 
The visual storyline of the book is built around a collection of design and typography objects and photographs that the designer collected during his stay in the capital city of Ukraine. They give an overview of what types of outdoor design, signage, posters, postcards, print publications, and more you might come across on a trip to present-day Kyiv. The book also provides an overview of the history of Kyiv, the Ukrainian language, and an emotional view of the city and its inhabitants. For this purpose, designers as well as all other citizens – old and young, poor and rich – are invited to speak.
As a spacious, green, and open city, Kyiv carries a certain seriousness within itself. The open and printed book spine, the large, almost bulky format, the color scheme, and the open feel of the Munken Pure Rough 150 g/m2 paper, helps to reflect the character of the city.
Even though no previous knowledge of Kyiv or typography is required to enjoy the book, don't be surprised to fall in love with both by the end of the last page
Related to Schubmehl's chosen field of study, and the inspiration and red-tread of the project, KYIV TYPE includes a professional examination of type design, typography, and design from and around the greater area of Kyiv. Type designers and creators present their work exclusively for KYIV TYPE and provide detailed information on their practice. The development of Cyrillic character sets is reviewed, illuminated, and compared to the Latin alphabet. One focus is on how to deal with Cyrillic languages in type design and how multi-language type design can change if we do not use Latin as a standard to work from. For this purpose, a custom type system was designed and historically relevant examples are shown in the book.
Yet all the contents of the book have been edited in such a way that they are suitable for people completely unfamiliar with the subject and typography – no previous knowledge is required. The individual chapters benefit from each other but are not based on each other so that random access to all chapters is possible, Sebastian Schubmehl writes.
As a testament to Schubmehl's attention to detail, KYIV TYPE is printed climate-neutral on FSC-certified papers and is designed to be printed on standard oversized A3 sheets almost loss-free at a low cost. All original texts are, next to English, published in their original language, Russian or Ukrainian. To ensure accessibility for an international audience, all texts are written in English.
Follow Sebastian Schubmehl's work on
Instagram
.
For more typography inspiration, read our previous
TYPE
articles.