Polish graphic designer and type designer Mateusz Machalski knows type! Following in the footsteps of previous Polish type masters, Machalski keeps the long tradition of Polish typography alive. Machalski is the author of over 30 type families, numerous corporate and multi-script typefaces, and over a hundred visual identifications of companies, institutions, and events locally and internationally. With an incredible skill for creating innovative yet undeniably stylish and high-quality typefaces, the designer carries the torch of contemporary type design in Poland.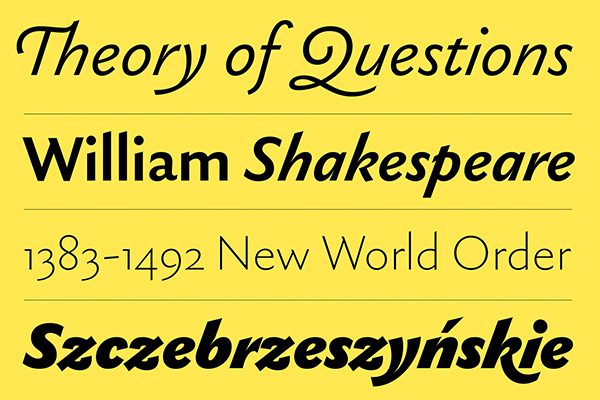 Multi-awarded Machalski is an integral part of the present and future of the Polish type scene
Having studied at the Faculty of Graphic Arts in the Academy of Fine Arts in Warsaw, Machalski now works at the Faculty of Graphics in the Studio of Multimedia Artistic Creation, as well as the artistic director of newonce.paper and Warsawholic magazines, as the co-founder of the BORUTTA group and Capitalics Warsaw Type Foundry, the very first type foundry in Poland. 
Being an imperial part of the Polish type scene, he is also the author of numerous texts and articles about graphic design, visual culture, and typography. Co-author of the Polish Typography Index and numerous exhibitions and cultural events. Parallel to his design work, Machalski conducts research projects, workshops, and lectures in Poland and abroad. The designers work has not gone unnoticed, as he's been awarded with the Designer of the Year 2019 in the Polish Graphic Awards, the scholarship of the Minister of Science and Higher Education for outstanding young scientists, the "Młoda Polska" scholarship of the National Center for Culture, and the Best of Design 2018 award – Klub Twórców Reklamy.
Among some of Machalski's most high-profile projects include being the team leader in revival project "BRYGADA 1918" which premiered at the Presidential Palace with the participation of the President, and the intergenerational Bona Nova project carried out together with Andrzej Heidrich – the designer of Polish banknotes. Below you can see some examples of the designers work, but make sure to follow him on Instagram for more inspiration.