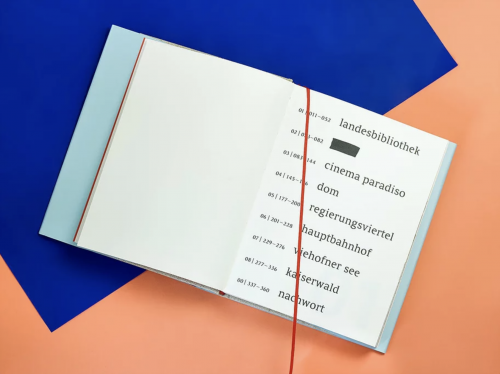 After graduating from the New Design University of St.Pölten graphic design department, Teresa Teufl and Hannah Zinöcker both wanted to play their part in making the world a bit more colorful by founding Abteilungeins, a small graphic design and illustration studio based in Vienna. While working on a range of projects from branding to book design for various clients, they've found time to focus on a more personal project. A book titled 3100, after the official zip code of the city of St.Pölten, was born out of the feeling that Teufl and Zinöcker had neglected their old hometown of St.Pölten. 3100 is a colorful book, which simultaneously represents the young designer duo's fun and playful aesthetic, and offers a unique take on the Lower Austrian state capital, inviting the reader to discover the city from a new perspective.
3100, exploration of the city of St.Pölten
3100, eine gestalterische auseinandersetzung mit der stadt st. pölten (3100, a creative controversy with the city of St. Pölten in eng), is a creative exploration of the city St.Pölten in the form of an art book, providing a visual and written review of different locations of the city. Teufl and Zinöcker chose eight specific spots dear and near to their hearts, and showcased them through visual and written content, offering the reader an unconventional view in discovering the city.
The book itself contains 360 pages, printed on different types of paper, with an embossed linen cover, creating a haptic experience, any paper lover would appreciate. Done in cooperation with the Gugler Kommunikationshaus printing house, 3100 was created with particularly sustainable production techniques.
Having taken two years to finish, 3100 was published last fall and can be purchased at the Buchhandlung Schubert, Thalia in St.Pölten or from Abteilungeins own webshop.
Images © Abteilungeins