A recent graduate from the graphic design department of Moholy-Nagy University of Art and Design Budapest, Adrienn Csaszar's master thesis work tackles an important yet daring subject matter. By attempting to erase negative prejudices and bias towards the mental illness of schizophrenia, he created a book visualizing the rare condition under the title "Visuality of Schizophrenia".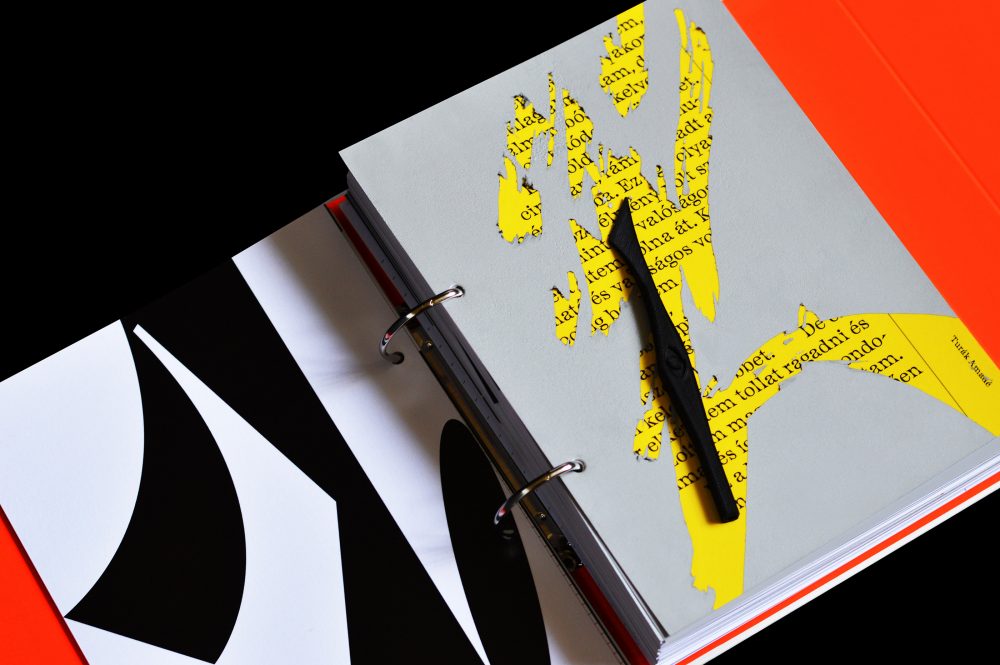 Nowadays, one in a hundred people are diagnosed with schizophrenia, yet stigmatic and negative stereotypes are common in the social judgment of this mental illness. Adrienn Csaszar's aim for the project is to present schizophrenia in a precise and dexterous way, starting from the basics of psychodiagnostic to visual arts. To hopefully help people understand, and accept the condition. 
All graphical details of the book are related to the schizophrenic visual features
The folder-like book with a beautiful blind-embossed grey cover hides within a bold orange-red inlay, with separate pages for an interactive experience for the reader. The abstract patterns on the cover continue within the book in black and white.
The book presents two schizophrenic artists, and their thoughts and personal views on the illness, as well as their creative processes. All the graphical details of the book are related to the schizophrenic visual features – based on psychodiagnostic drawing tests: left marginal compositions, distorted forms, and empty and crowded compositions. 
The scratch-away pages where the reader can reveal the experiences, thoughts, and works of the schizophrenic creatives, in the form of colorful illustration or text or other designs, is a beautiful detail – helping the reader to understand this mental illness, and remind us all how you can never know what's happening in someone else's mind.
The core paper used by the bold designer is Pergraphica Classic Rough 240 g/m2, while for the chapter pages chapter pages Color Style Leather  White (00) 300 g/m2 was chosen. Both papers are exclusively available at Europapier.