Anna Normand
is a multi-disciplinary artist who moves, evolves, and creates – with equal enthusiasm – between set design, paper art, and fashion styling. With a degree in Visual Arts and Architecture, and fashion design studies at the Ecole Nationale des Arts décoratifs de Paris (ENSAD), Normand has worked in the fashion accessories industry carrying out advertising campaigns for brands and products, which trained her as a skillful photo stylist and set designer.
"Paper is a magical material. It bends, literally, to all the desires we may have. I sculpt paper and explore the infinite possibilities it offers to the imagination. Showcases? Sceneries? Art object? The paper, in its simplicity, surprises and enchants."
Throughout the artist's work, one constant remains: paper  
Passionate about the art of the early 20th century and the Golden Age of Hollywood cinema, Normand uses a rich background of historical references in her work. "As for my taste for architecture, it encourages me to constantly explore the complex forms of the mineral and vegetable worlds. And I like to tell stories, especially when it happens in the company of other enthusiasts from complementary horizons to mine!"
We asked the creative to draw back the curtain of mystique and reveal to us her secrets on creating such beautiful paper works, sets, and accessories. She spoke to us about her working process, the inspirations behind her imaginative projects, and her way of working. Below you can learn more about four specific projects by Normand, all different yet each one very representative of the artist's style, imagination, and flawless execution. For more of the artist's work and behind-the-scenes looks, follow her on Instagram.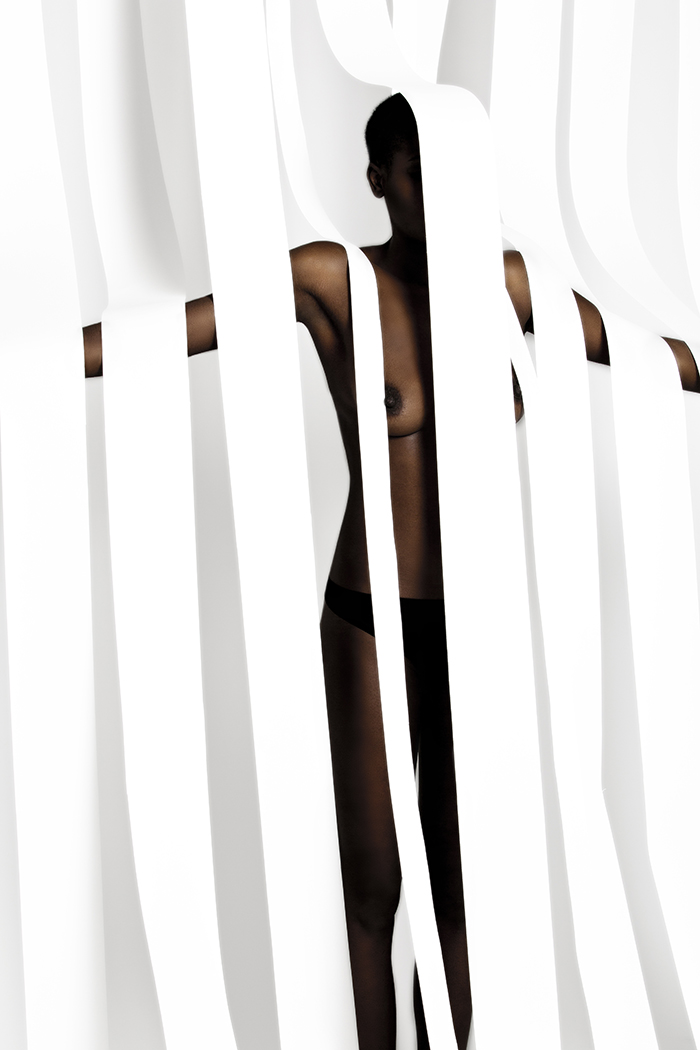 "Whatever shape I make in this
I stay contained
But ever moving…
Moving on, restless sometimes: tumbling, cascading
In little waterfalls along the way."

– "Flowing water" by Lorri Proctor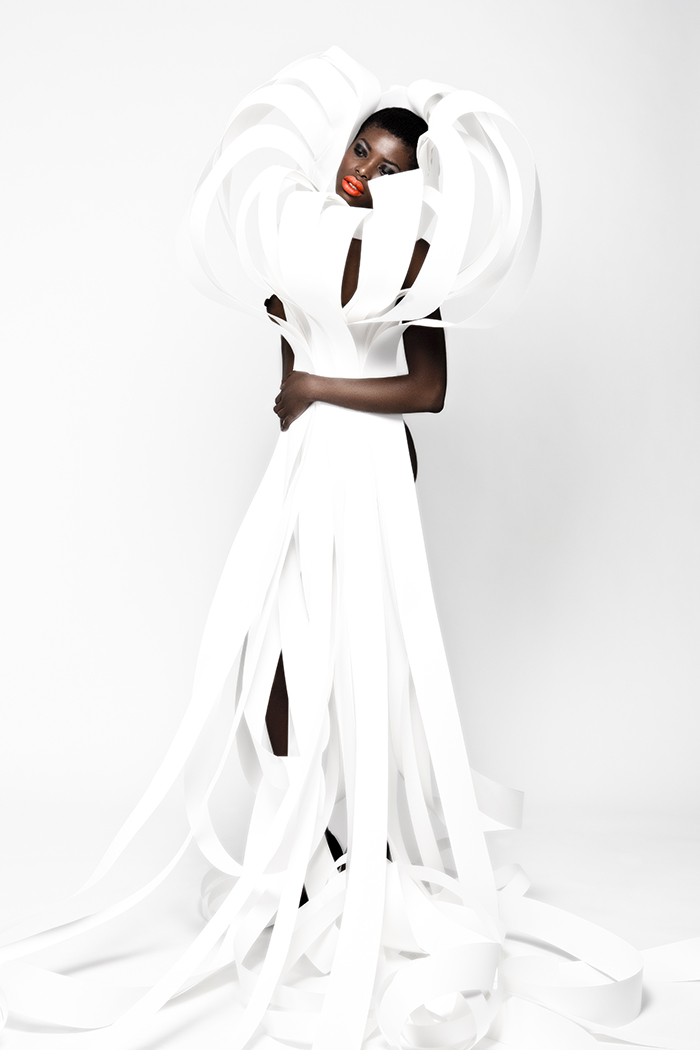 Photos © Jérôme Pannetier
"I am in love with the aquatic element, I wanted to capture its metamorphoses through the use of a paper art technique." By interlacing strips of paper of different widths, Normand created a moving, flowing surface. The strips of paper flow, swirl, and hug surfaces like water currents. A mix of various paper materials were used in the project. 
"A mermaid woman, enigmatic and supple, as her muse, she wears on her ebony body ornaments formed by strips of paper. A mask, a dress, a cape – the shapes intertwine and ripen into each other."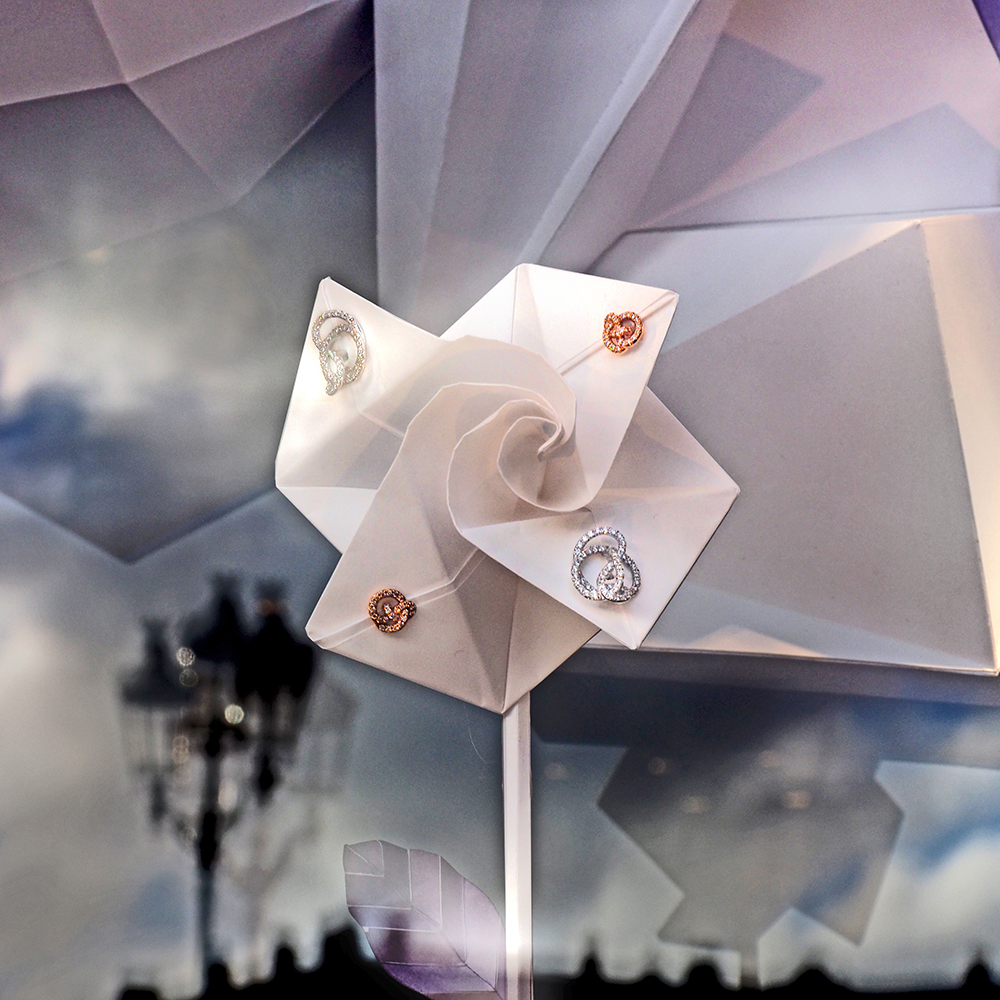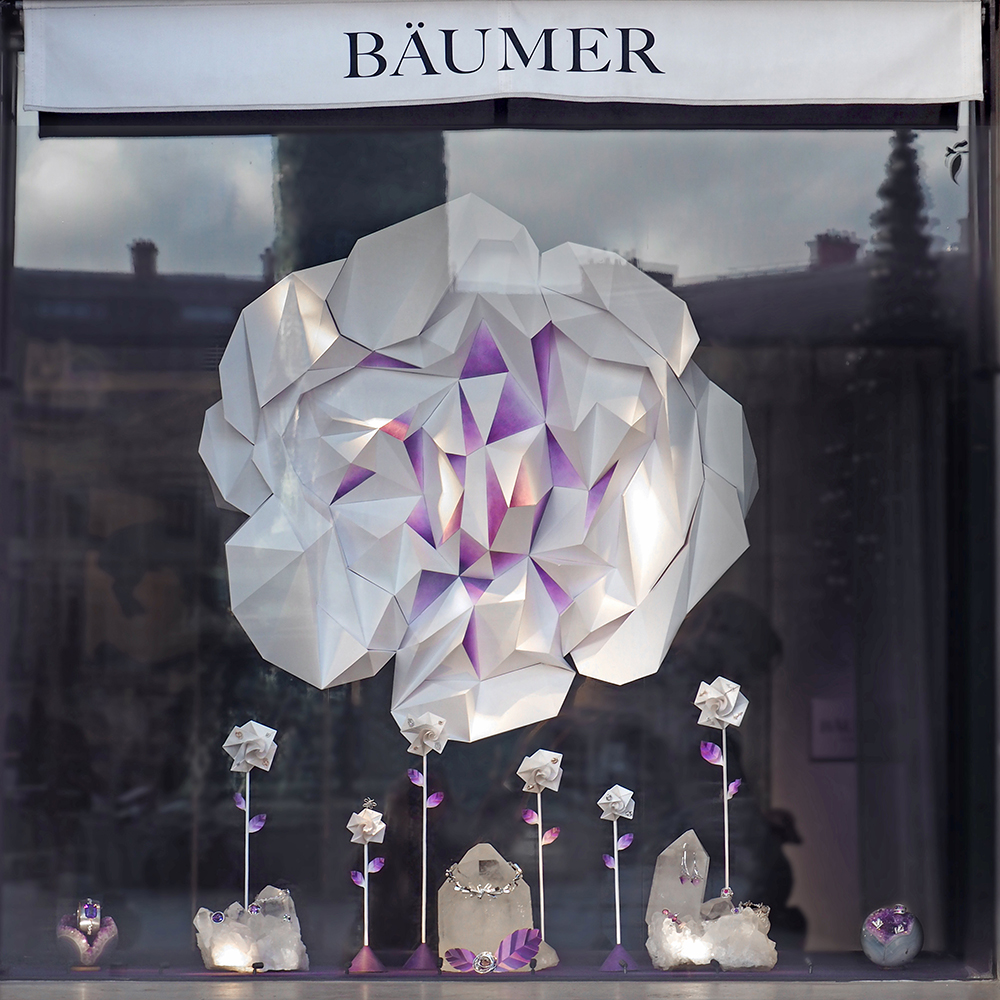 JARDIN MINERAL  – Mineral Garden
The last independent jeweller still located at Place Vendôme in Paris – the Mecca of fine Jewellery in France – , Lorenz Bäumer, has a passion for beautiful stones. Especially those with violet hues. Bäumer asked Normard to design the Christmas showcase display of his store, and so she immersed herself in his world of precious stones. Normand imagined and created a giant rose, suspended like a cathedral rose window in mid-air, and surrounded it with small roses designed to wear the diamond drops of the Jewell. Made with 300 gsm drawing paper, chosen for its whiteness, very smooth appearance, and strength to hold complex, architectural shapes. The small roses were made with a lower grammage paper to allow greater flexibility for origami folding.
"The large rose is a structure halfway between an amethyst druse and a contemporary building. Incidentally, it took me back to my studies in architecture, as I had to work with software in order to calculate the patterns' complex shapes. I chose to use the Origami technique for the small roses to ensure that the flower would bear the weight of the jewelry. The color is obtained by spreading pastels in a gradient using a sponge."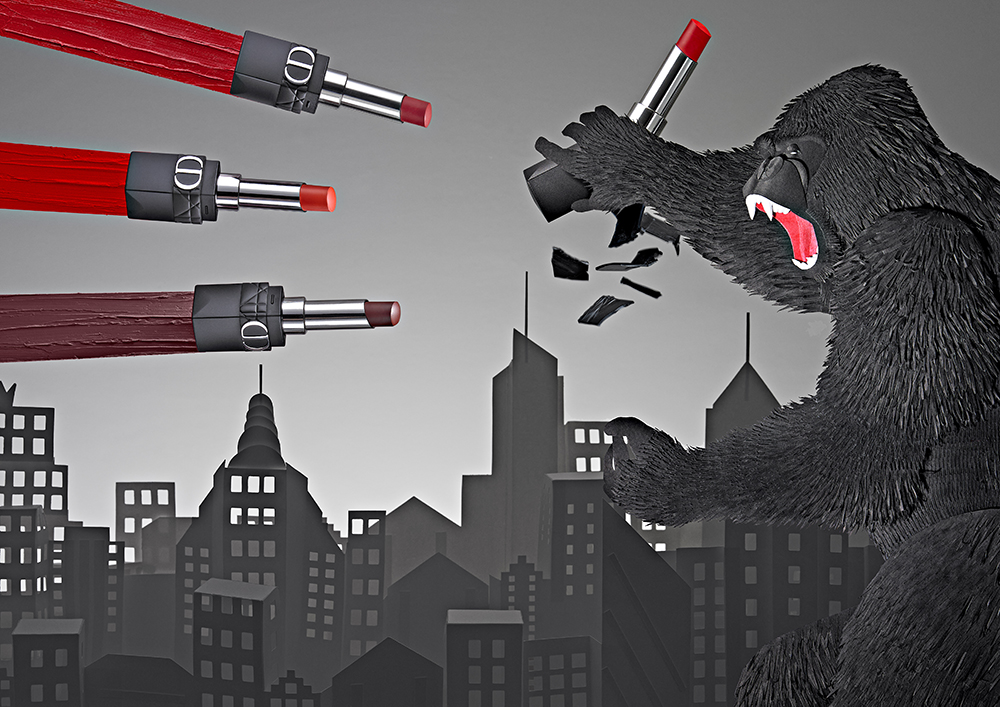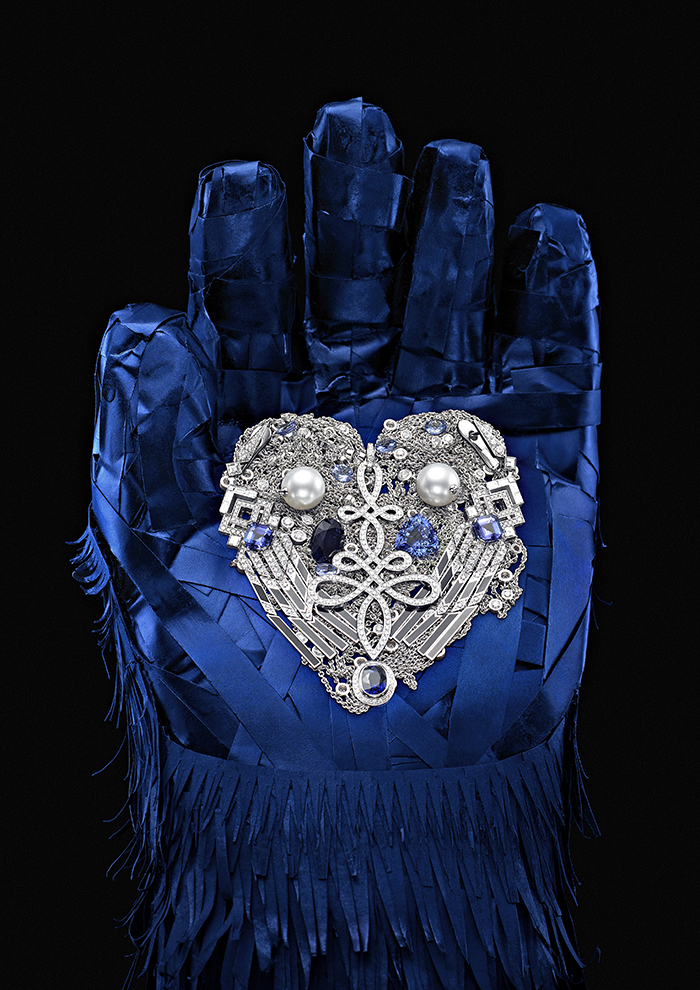 "Oh, no, it wasn't the airplanes. It was Beauty that killed the beast! And lo, the beast looked upon the face of beauty. And it stayed its hand from killing."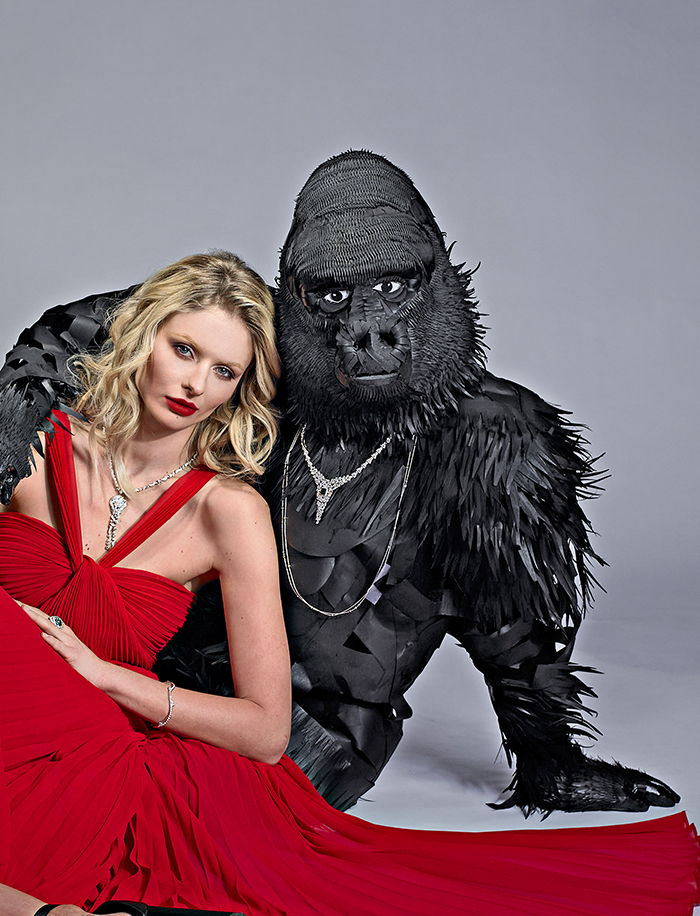 BEAUTY KILLED THE BEAST 
Inspired by the legendary 1933 film King Kong, Normand wanted to explore the story of a woman's emancipation. "From a precious prey, women free themselves and take over. I found it interesting to play on the contrasts between the brutal appearance of the Beast and the feminine paraphernalia: jewelry, bags, and cosmetics that end up engulfing the Beast."
"At first sight fragile and ethereal, Beauty reveals herself to be eager for power and domination. Once free of her possessive master's imprint, she donned part of her armor. Now it was her turn to dominate the landscape, proudly displaying her trophy of the war of the sexes."
Normand's greatest challenge was to make two paper gorillas. The first was 45cm high made using a bas-relief technique and the second one was human size with a head and torso worn by a model. For the small gorilla, she used a digital cutting machine to produce a large volume of paper form, while the larger gorilla was formed from thin strips of paper intertwined on a sewing mannequin, the head and torso of which she constructed from wadding. "I used 180 gsm and 250 gsm colored drawing paper. The pastel paper has a grainy, matt surface, which helps it look pretty in photos." The paper city was built under Normand's direction by architect Daphné Leport-Dumerey with 250 gsm paper.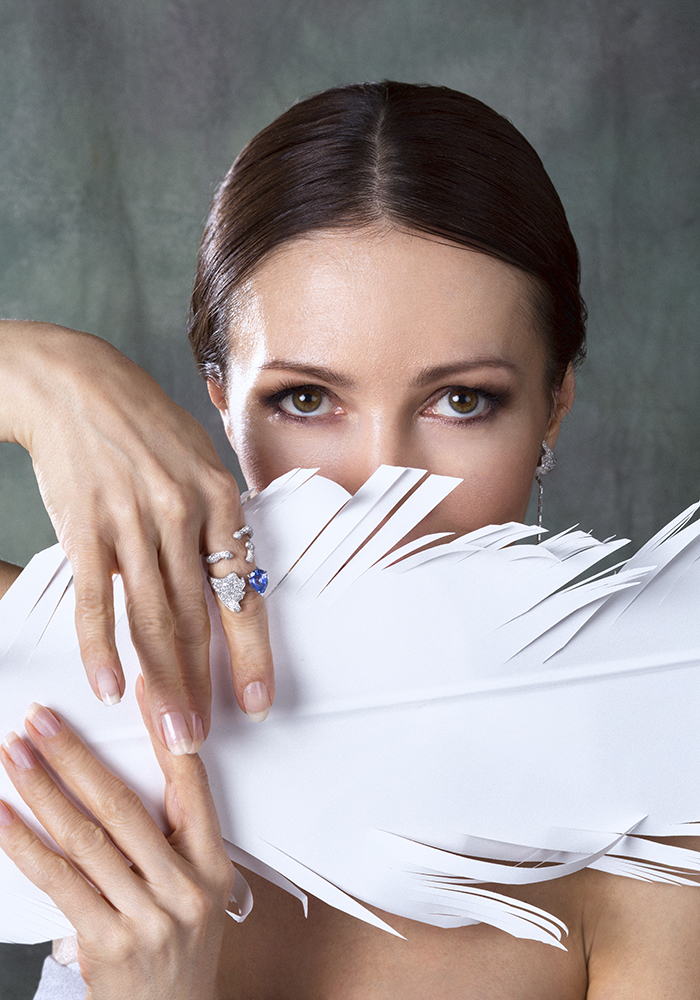 "The poet is akin to the prince of clouds
Who dwells in the tempest and scoffs at the archer
In exile on the earth, mocked by the jeering cloud, His giant's mighty wings impede his very step."

"L'Albatros" – Charles Baudelaire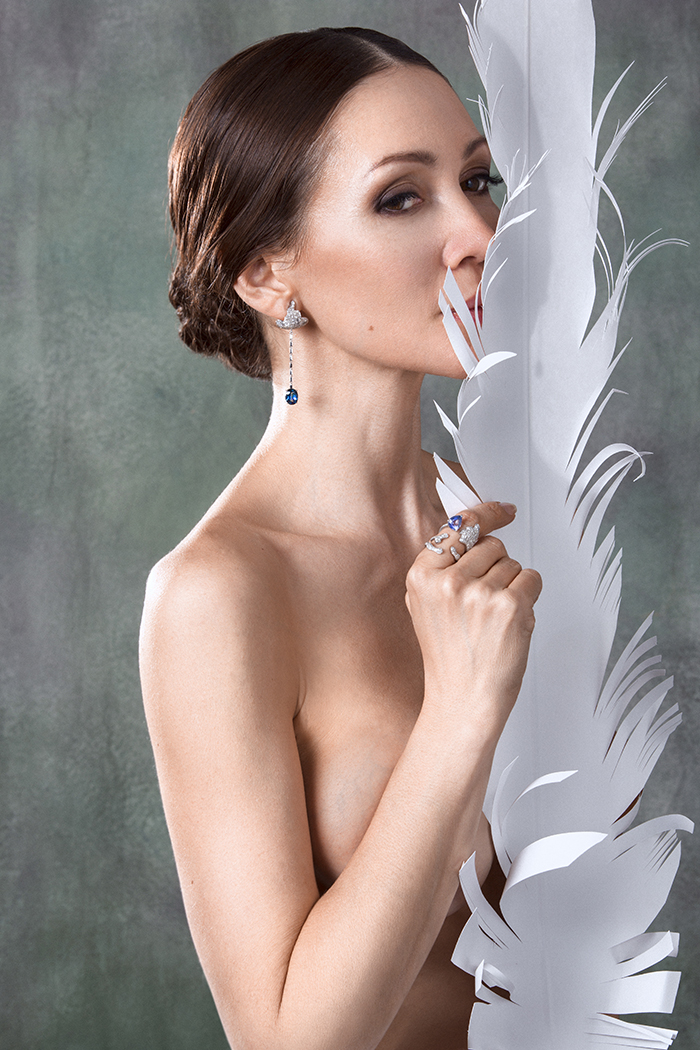 Photos © Jérôme Pannetier
FEATHERING
"He continues its flight despite the storm; hold on, hold on, brave albatross, land is close! We can't help but admire the great bird. Its vigor, momentum, and splendid whiteness inspired the Feathering project."
Fluffy, light, and supple. As an object, a feather has that elusive something, which even Normard says she struggled to translate with her scissor cuts. But with each feather reinforced at the back with a metal wire for better shape retention, the artist managed to create a consistent yet flowing piece. Normand chose to work with 300 gsm specialty Japanese paper which provided her with a needed strong and supple material, that also has a fluffy, matt surface. Little by little, the paper feathers took form, all together forming a giant 3-meter-long wing.
"Is she a woman? Is she a bird? Like an albatross, she soars above everyday life's waves. With arms and wings moving gracefully, she takes us into a dreamlike world filled with beauty. A classic dancer only could embody this woman. I was fortunate enough to work with one for this project – Sofia Lozé played this role to perfection."