Saint Petersburg based Asya and Dmitriy Kozin's Art Group is a creative duet focused on exploring the possibilities of contemporary paper sculptures in the unique form of baroque wigs and fashion. The talented duo transforms pieces of paper into eccentric headpieces, masks, and wedding dresses with incredibly intricate details, winning over everyone's hearts from fashion designers to art collectors to paper enthusiasts alike.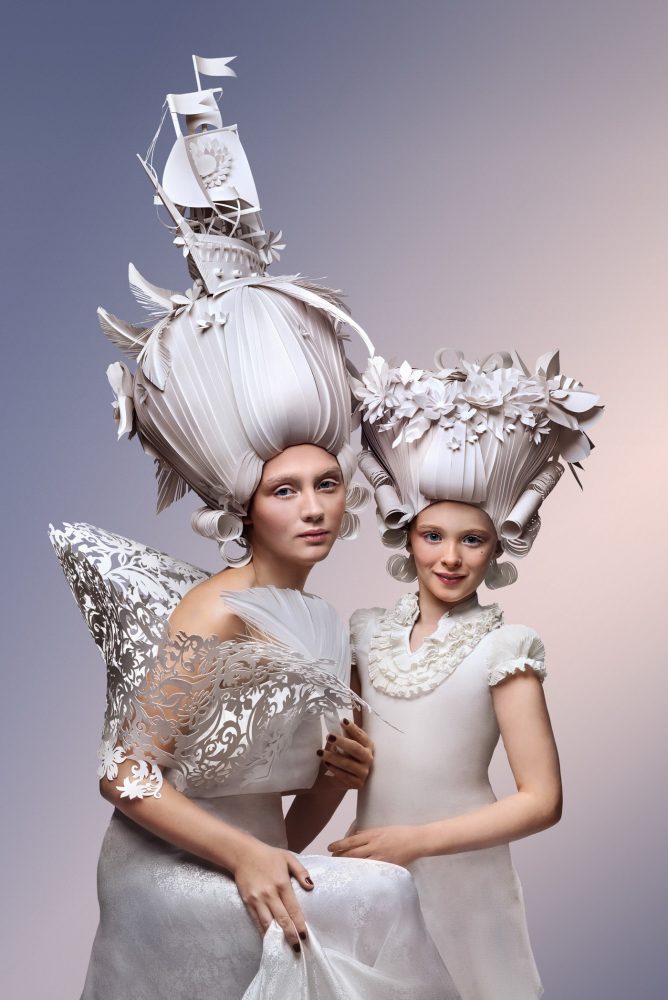 Creating complex designs with a unique flair with the most modest of materials
The artists draw inspiration from their original interest in cultural research, archiving, and plastic expression of different historical, traditional, and artistic renderings, creating complex designs with a unique flair.
The Art Group's work with white paper has become their signature medium for expression, and it is the only material with which the creatives seem to experiment tirelessly. The decision to work with a modest material like white paper is not simply based on its versatility but on a concept that helps to express the historical process in a symbolic fashion. The references to Mongolian, African, Scythian, Venetian, Baroque, Art nouveau movements are recognizable while the white material creates a stripped-down, contemporary take, almost statues-like homage to the past days. 
I don't understand any other material as well. I take paper and it's a continuation of my hands. For the most part, it's art for art's sake, aesthetics for the sake of aesthetics, there is no practical point, Asya Kozina explains.
The founder of the group, Asya Kozina, believes that white paper allows her to accent form and conceal secondary details. All of the works are crafted by hand, each unique in its own right, while none of the shapes or forms are repeated.
Baroque paper wigs on the catwalk in Paris
Working at the intersection of contemporary applied art and fashion, Kozin's Art Group's project "Baroque paper wigs" has garnered the artist's growing popularity. in the past few years. Having originally begun as a private commission work for a commercial client has now grown into a full series of paper fashion artworks from "Brides of the World" to "Mongolian Wedding Costumes" and now, to a catwalk in Paris, as the Baroque wigs were part of the fashion house Dolce & Gabbana's recent runway show. Asya and Dmitriy Kozin's Art Group is currently working for numerous commercial clients and well as private commissions and art exhibitions. Follow their recent work on Instagram.