Andrea Castelletti
is an Italian multidisciplinary creative director and graphic designer known for his contributions to the wonderful world of wine labels and packaging design. A true wine design specialist, Castelletti has created numerous beautiful wine labels, which have won awards and praise for their unique, thoughtful concepts and extraordinary execution.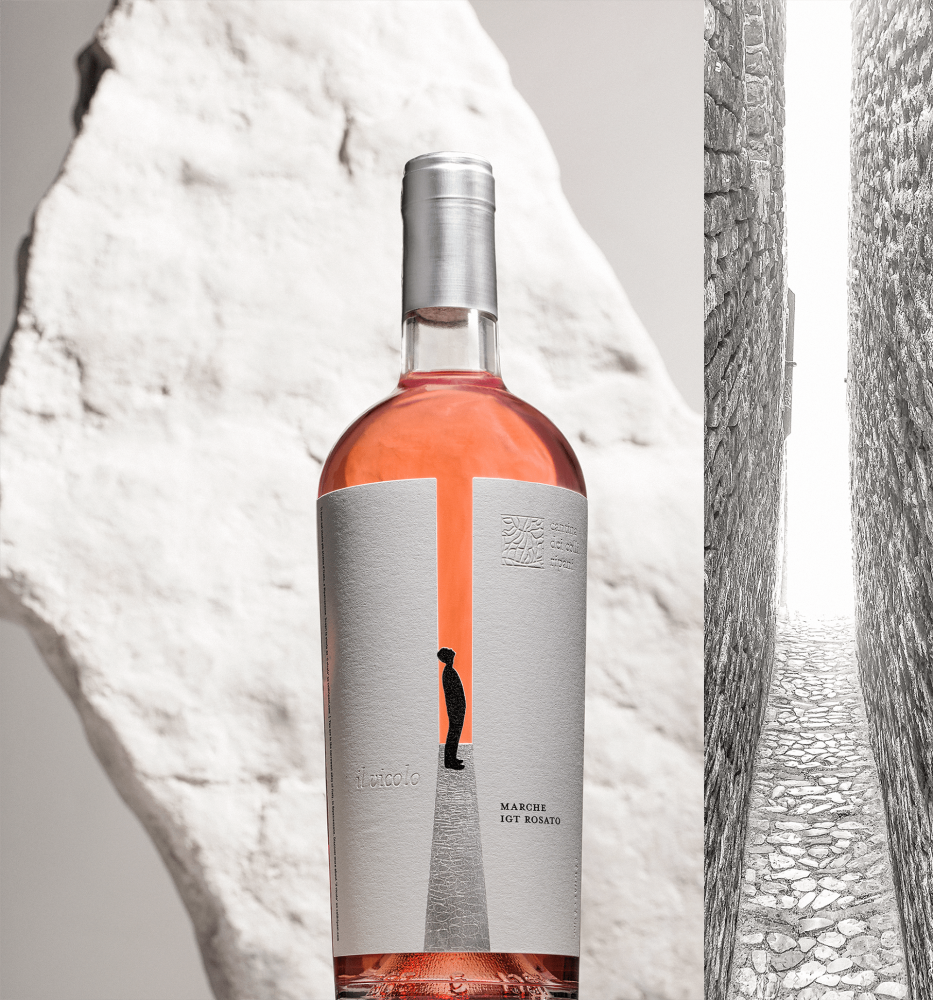 Andrea Castelletti's design for

'il vicolo'

 Marche IGT Rosato wins the

"Silver Label" at the 24th International Packaging Competition of Vinitaly
Honored with more than 50 international awards, including three Platinum, eight Gold and two Silver from Graphis and one Silver and one Bronze from the Art Directors Club in Italy, one of Castelletti's recent designs for Cantina Dei Colli Ripani Soc. Coop, a well-known winery in the Marche region in Italy, won the Silver label in the pink wines category at the 24th international packaging competition in Vinitaly. 
The award was won with the uniquely clever label design of 'il vicolo' Marche IGT Rosato, which challenges your sense of perspective, in both design and aroma.
"Take one look up and one to the sides. Yes, the road is narrow. Extremely narrow in fact, barely 43 cm wide.

You are in the narrowest alley in Italy

, in the town of Ripatransone, where Cantina Dei Colli Ripani is located", Castelletti writes. 
"I
n one bottle, two views of the world, two perspectives that make their narrow way towards a shared memory"
With its pale bright pink color and fruity aroma, 

'il vicolo'

Marche IGT Rosato celebrates this unique and bizarre place, the narrowest alley in Italy, while the design draws inspiration from the way it challenges one's sense of perspective. "I
n one bottle, two views of the world, two perspectives that make their narrow way towards a shared memory", Castelletti beautifully puts it.
This gorgeous and intricate label is printed on an uncoated paper that offers a unique watermark effect by using hot stamping without the foil, while the white of the paper goes in perfect contrast with the wine pink shades.
The label is printed with one color and presents spectacular details, like the metallic silver with micro-engraving that recreates the alley's cobblestones, and the watermark effect that makes the paper translucent, but more than anything its outstanding effect is given by the special die-cutting and partial removal, which creates the perspective of a narrow alley and allowing the see-through effect that makes the wine's pinkish color stand out.