Whether you've been bitten by the travel bug or want to give the impression of being well traveled, maps are the perfect way to show your favorite memories of places close to your heart. Be it a map of your home town or a favorite vacation spot, metropolis or no man's land, maps do more than show streets and landmarks – they connect us to another part of the world.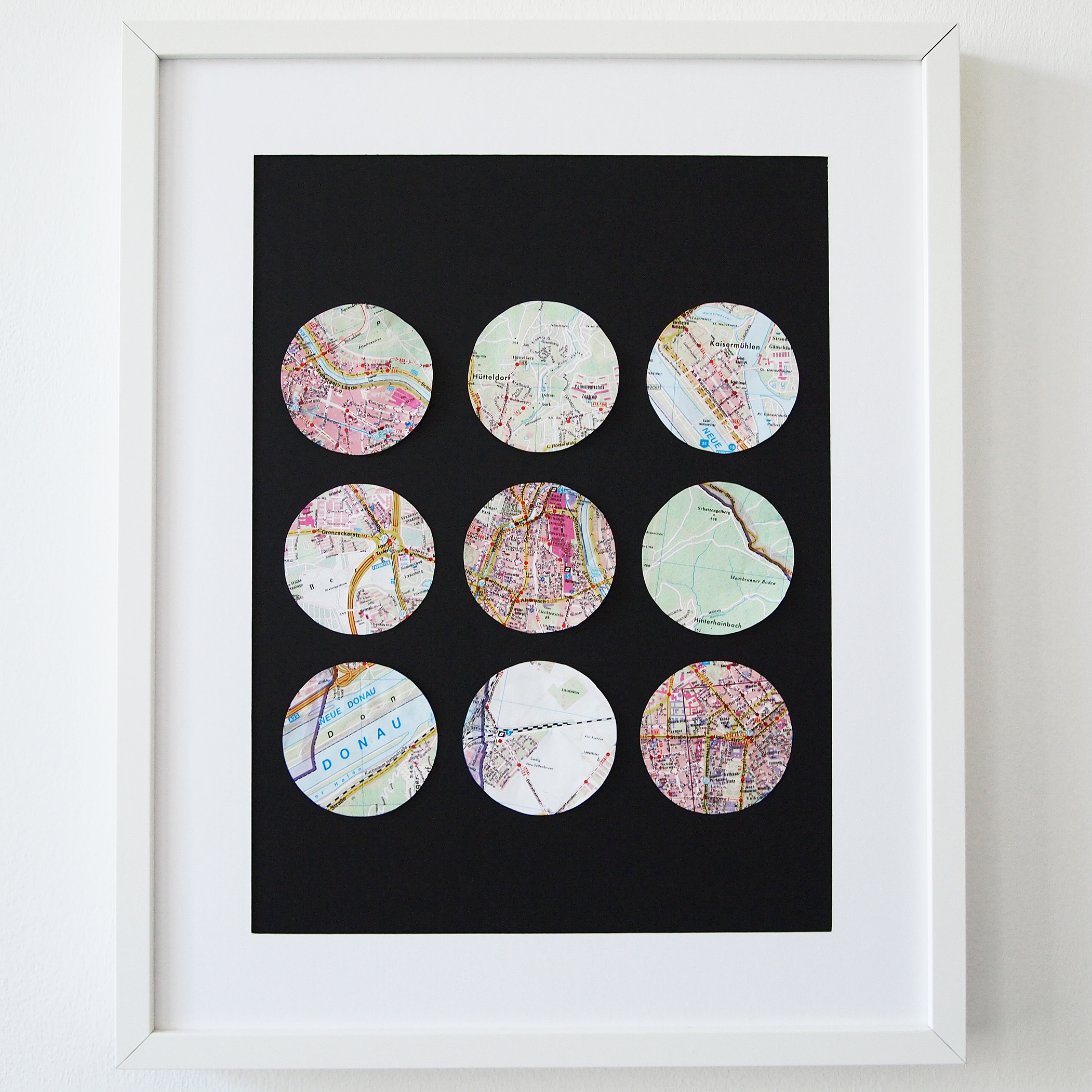 It is a D.I.Y. trend that has been around for a while, but as it is a great project to do with friends, or something to add to your home decor, there are so many things you can do with maps. Everything from party favors to gift wrapping and book covers to personal cards and invitations. We browsed through some great map D.I.Y. projects and ideas, which we wanted to share with you. And of course we tried out some of our own!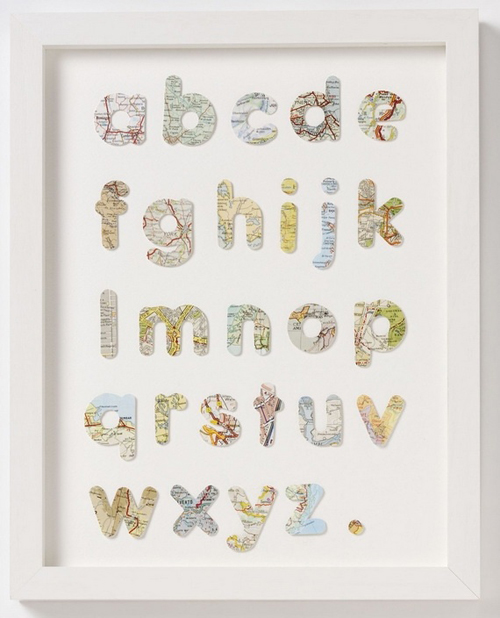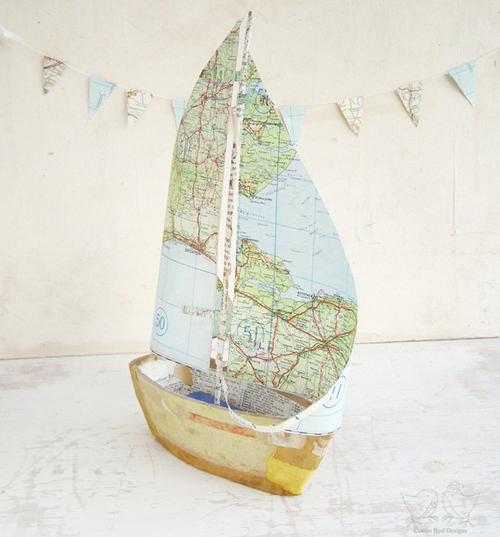 Great ideas for decor around the house! Why not make an alphabet poster for the kids room, or a small sailboat of your last sailing trip.
An easy way to use maps is in personal art work. You can make a poster out of your favorite spots in your home city, cut out a heart which shows the place you first fell in love with your loved one or a trip you shared with your best friend. It's the perfect way to keep memories with you, incorporated in your interior.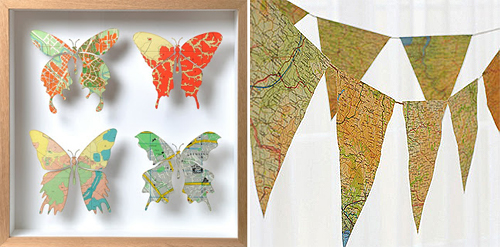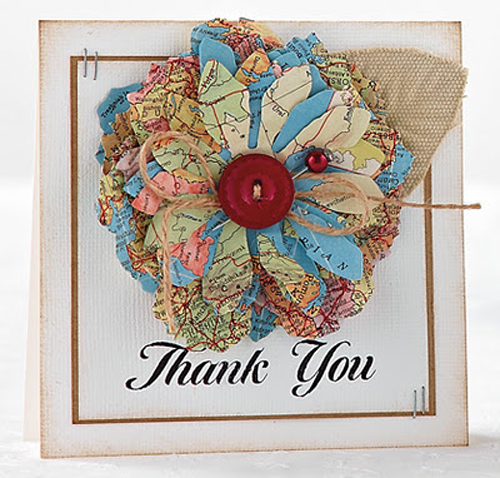 Artwork, decorations or cards, your imagination is the limit!
If you are throwing a party, you could use maps or traveling as the theme. It's very fitting especially for a fare-well party for someone who is leaving for a longer trip or moving to a new place. It's a way to show the guests more about the new place. Or if you are having a party in a new and exciting location, why not use the map of the area as the invitation, or the envelope!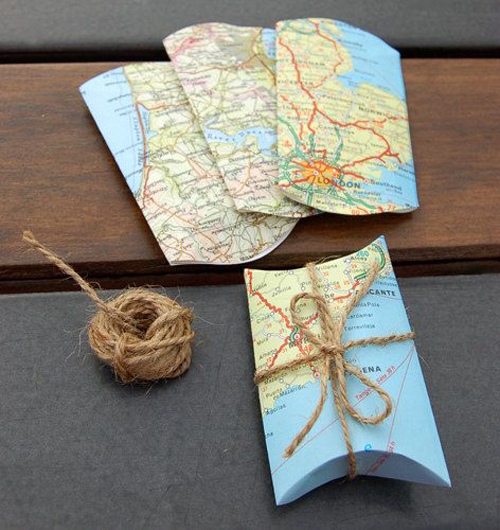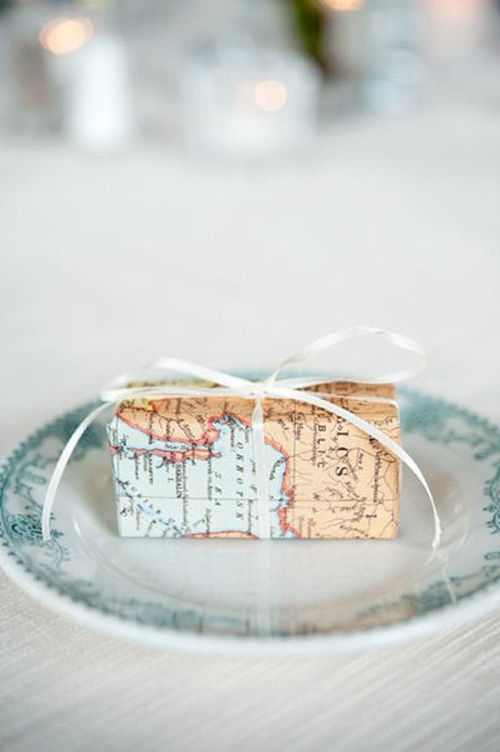 Clever idea of covering toilet paper rolls with maps, and folding them into neat little parcels! Maps also make very cute personal wrapping paper.
As places and holidays are often dear to people's hearts, why not make it extra special and make a card or a gift out of someones special place. They often look great in the interior, without being too underlining. They make a great conversation starter or you can keep the meaning to yourself, as your own little secret. Why not make a lamp pendant out of maps of your own secret places. You can easily use our Design & Paper D.I.Y Artichoke Lamp instruction, only instead of using paper, you use maps!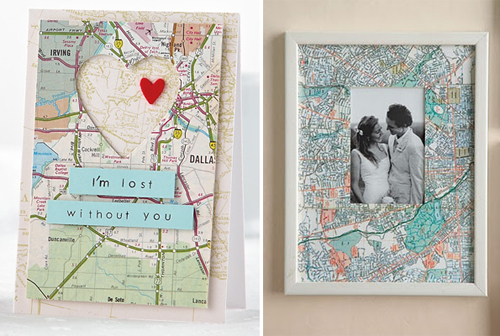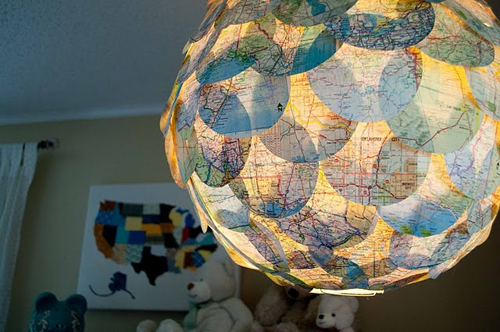 Secret spots, hide-away holiday…where ever is your favorite spot in the world! We think the Artichoke lampshade done with maps looks great!
Browsing through all these cool D.I.Y.'s, I of course wanted to try out my own. First I did something I haven't done since I finished elementary school, the pin wheel! So simple, but so much fun. I opted for the "pinless Pin Wheel" as I didn't have any special pins around, but they still came out cute. Check out this video for the simple instruction of folding & cutting. It literally takes about a minute to make one.
I also made "my favorite places in Vienna" poster which also came out pretty good. As I love geometrics and a very simple style, I opted for the circle. I looked for places on the map that have some special meaning to me, places with great memories I wish to remember for a long time. I chose places, which I then cut out in a circular shape. Simply glueing these circles to a black board (250 gsm) and putting them in a frame with a white passepartout, gives the poster a clean look. Even though I take quite a few photos, it's rare that I print them out, so the map poster is a great way for me to have something special hanging on my wall. It looks great, fits to the interior and shows places dear to my heart! I love it!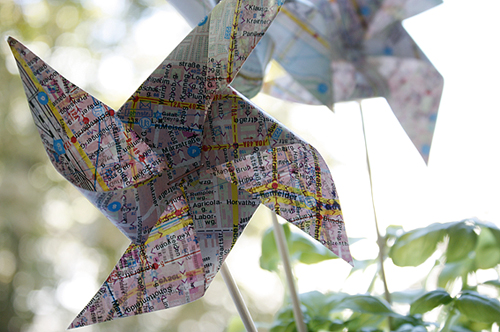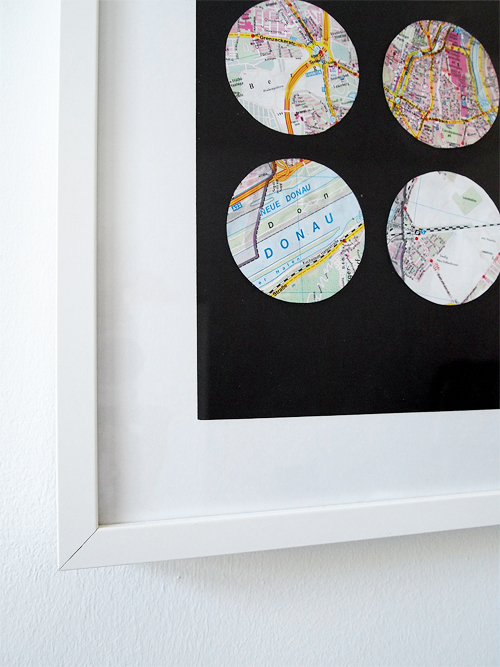 Pin wheels made out of maps are great for children parties. A close up of "my favorite places in vienna" poster.