KAVARNICA is an extension of Luka Jakupak's daily mobile coffee-to-go business, but also the culmination of true love, affection, and appreciation towards the coffee culture and everything coffee-related. The concept for the Kavarnica project was designed by Simon Levar from IN ALBIS Graphic Arts Project Management Office in collaboration with Jakupak, owner and founder of the Kavarnica brand. 
The new coffee sets 'ZRNO' (Grains) by Kavarnica come in various color themes and coffee blends, which were built for all enthusiasts and coffee lovers who love aromatic, freshly ground coffee, And as the name suggests, the sets contain whole beans, which you yourself grind to the desired structure. Three of the box sets contain four different coffee blends, while one box, in particular, contains two His&Hers coffee cups.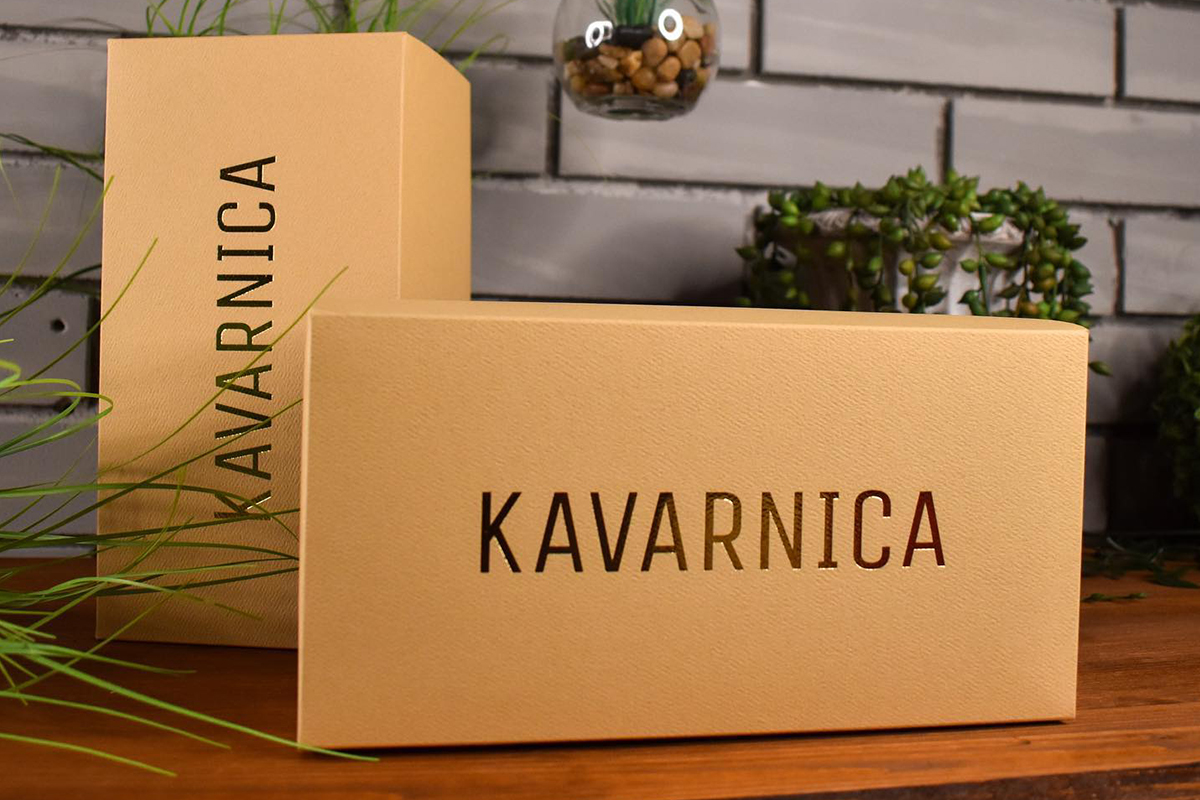 Specifically chosen design papers for their food contact suitability, and soft earthy tones, and natural feel
Pergraphica Infinite Black 350 gsm was chosen for the bottom section of all the boxes, while Pergraphica Gentle Brown 330 gsm, Crush Cherry 350 gsm, Via Felt Ginger 300 gsm, and Via Laid Natural 350 gsm was used for the top section of the boxes, as well as a small portion of the inside cup holders. All the above-mentioned papers – which are inclusively available by Europapier –  were chosen specifically for the Kavarnica project, especially the Pergraphica Infinite Black due to its food contact suitability. The top side materials were chosen for their soft earthly tones and natural connection to all things coffee.  
For printing, a simple yet elegant technique was chosen: gold hot foil stamping. Foil stamping creates a stylish contrast with the earth-toned papers and was followed by die-cutting and creasing. The packaging was manually ensembled which reflects the attention to detail and creates a perfectly crisp finish. For a brand, the values quality and respects natural products and materials, the packaging is a great representation of its character.